TNQ's 2018 Edna Staebler Personal Essay Contest Longlist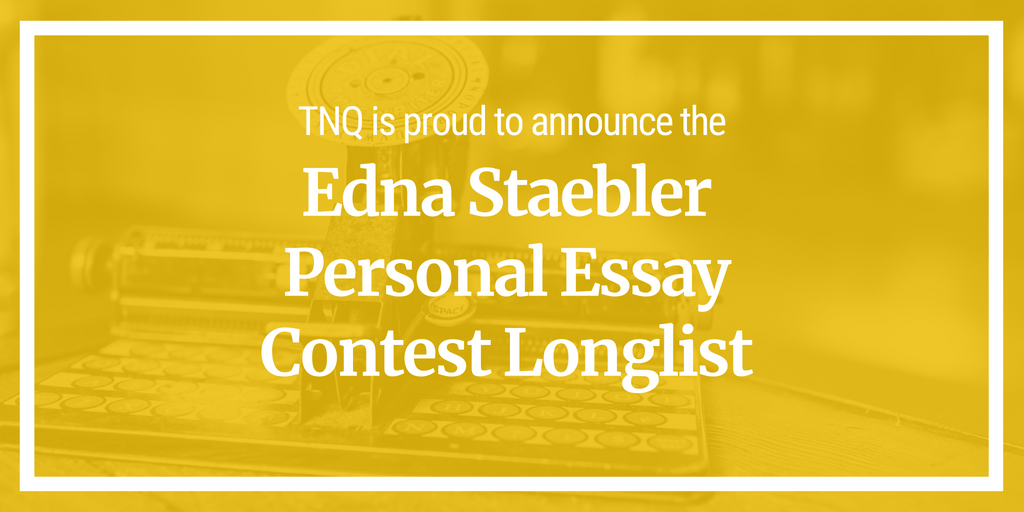 Edna Staebler was a pioneer in the field of literary journalism and a beloved figure in Waterloo Region. In 1981 she helped to found The New Quarterly  (TNQ) and in 2005 her generous bequest allowed us to establish this award, in her honour.
"The 2018 longlist surprises, provokes, and heartens, as diverse voices across the country weigh in with works that are smart, intimate, down to earth, clever without being precious, and that reflect with humour and empathy on the human need for real connection—with earth and animals, with one another, and with the ever-imperfect self," notes Susan Scott, TNQ's lead nonfiction editor.
TNQ is pleased to announce the 2018 Edna Staebler Personal Essay Contest longlist:

K.D. Miller, "One Good Place"

Suzanne Stewart, "Delicious Heat"

Isabella Wang, "Risk of Rain"

Jennifer Londry, "Sissy"

Maureen Scott Harris, "Come Caribou Come"

Alice Major, "Confessional: The Battered Heart"

Maryam Rafiee, "The Magic of a Pen"

Rachel Jansen, "How to Become a Nihilist"

Sara Jewell, "The Trees Have Ears"

Meaghan Rondeau, "Half-Thing"

Francine Cunningham, "Half-Breed"

Annick MacAskill, "Are You One?"
Contest winners will be announced August 31, 2018.
The New Quarterly has been publishing the best of new Canadian writing—fiction, poetry, author interviews, essays, and talk about writing—for more than 35 years. TNQ also has two other contests: the Nick Blatchford Occasional Verse and the Peter Hinchcliffe Short Fiction Award.