Kirsteen MacLeod's Writing Space
I have a problem for a writer: I hate to sit down for extended periods. It wasn't always thus, but right now I feel restless, compelled to roam, to seek writing spaces in all corners at home, or outside by the woods or the water, or in public libraries, those treasure-filled temples without which I'd never, ever have become a writer.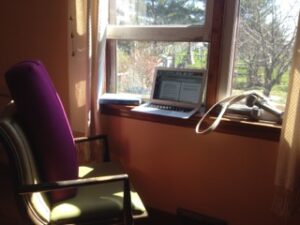 When I'm home I might perch the computer on the windowsill in my small yoga studio, seeking ways to make writing a dynamic activity. I'm fond of the view from this window, which includes a cherry tree, a chicken coop with five fluffy birds, and beyond the backyard, a cemetery – an "If not now, then when?" to imbue my days.
When I feel the need for a safe underground writing bunker, which happens more and more in these anxiety-provoking times, I work in my basement study. It features a movable desk that goes from low—sitting cross-legged on the floor—to medium—sitting on an exercise ball or a chair—to standing height. Beside the desk a treadmill collects dust. When I go down there, I set a timer for one hour—upstairs, so I have to run and turn the infernal thing off. This prevents me from losing track of four hours, spine in a C position, not breathing, concentrating hard, which happens regularly despite how much I loathe sitting still and all the yoga I do to remind me to breathe and be conscious of my body.
When I feel most sensitive or beleaguered, I take my rat's nest of papers and books and write under the duvet of my bed awhile, propping myself up on the pillows.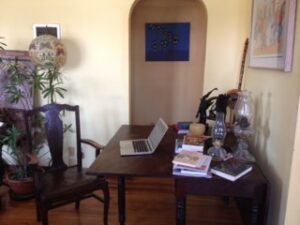 In brighter times, when the sun is in the west, I write at the front of the house at the kitchen table, a centrifugal mess of papers, books, pens and sticky notes spinning out from my computer. Or I open the front door to let in the light and fold out the cherry leaf of the antique hall table. This blocks the path to the hallway, impeding the progress of others, who look significantly from me to the wall-sized bookshelf in the living room. Like my study the shelf was lovingly built for me with hopes of containing my workspace sprawl. Whichever place, I also pace.
I'm often driven offsite by noise. It's a myth that living by a cemetery is quiet: the dead require constant lawn care. When mowers drone and leaf-blowers belch I go to write up to the conservation area five minutes' drive north of my house. I park in front of the reservoir and go for a walk, and then work in the passenger seat of my car, glancing up to see the odd swan, duck or heron take off or land, or I go sit in the window of the Outdoor Centre, saluting the stuffed owls and taxidermied fisher on my way in. And there's always my cabin by the river.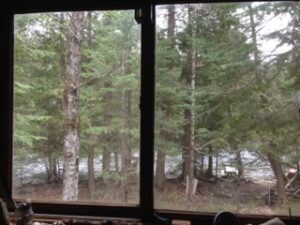 At times I imagine remaining in one rooted writing space, where I lounge in a comfy chair, perhaps breathing deeply, surrounded by precious and curated objects, having orderly thoughts and writing them down. But for whatever reason, my writing spaces change with my moods, and my moods are in motion.
Photos courtesy of Kirsteen MacLeod.
Header photo by Debby Hudson on Unsplash