Natalia Zdaniuk's Writing Space
I write well on the plane. There are the practical reasons, ones that I've seen other writers point out: the benefit of few distractions, the discomfort of the narrow chair keeping you awake, the potential inspiration from unknown passengers. But for me there is also a specific emotional experience that comes from the liminality of the plane — the state of being in-between two places, momentarily nowhere so as to get somewhere. I find this gives space for a particular reflection and force of writing. 
As a child I spent my summers in Poland and lived there for a year when I was four, developing a strong attachment to the place and people that cared for me there. As such, I found, and continue to find, myself living two very different lives: one as a settler on Turtle Island, within and complicit in the project of Canada, where I am shaped by my mother's chosen family and queer community; the other, in Poland, a land that holds the long history of the family my mother and I were born into. 
Like many other immigrants, I am often torn between these two places, never feeling a full sense of belonging in either. On the plane, however, there is a temporary suspension of this dichotomy. The flight attendants speak English and Polish interchangeably and there isn't a clear sense of which language comes first. I am still full of the place I have left while becoming newly aware of the place I'm going, all the while having a particular distance from both. It's a rare moment of cohesion that is inevitably lost once my feet touch solid ground and I immerse myself in the place I've landed. 
I first drafted the story "It Freed You, Didn't It?" (for the Scatterings Series, Issue 157), a few years ago on the plane, returning from my most recent visit to Poland. I remember trying to turn off the little T.V. screen in front of me, but it would not go off completely. Instead it showed a map of where we were in our journey, the pixilated plane right in the centre of the electric blue ocean. As I wrote about my mother in Canada and my aunt in Poland, and the very different trajectories of their lives, I felt a certain significance in knowing that I was currently at the midpoint between them. I wrote steadily from this place, looking up occasionally at the screen to watch my own trajectory.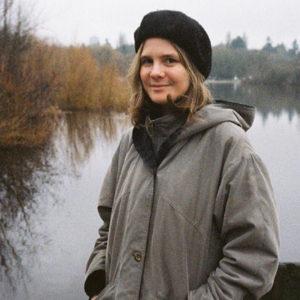 Natalia Zdaniuk was raised in Pittsburgh and Poland, and is now based in Toronto, where she works and writes. In 2018 she was runner-up for the Penguin Random House Canada Student Award for Fiction. Her short story "It Freed you, Didn't It?" is part of The New Quarterly Scatterings Series highlighting new views on migrant experiences.
Header photo courtesy of Natalia Zdaniuk
Biography picture courtesy of Kerria Gray