The Nick Blatchford Occasional Verse Contest: $1000 for one glorious poem
Deadline: February 28, 2019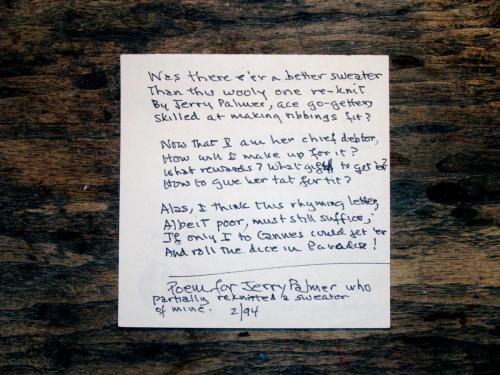 Sponsored by former TNQ editor Kim Jernigan and family in memory of her father Nick Blatchford, in celebration of the man who sparked the family's love of poetry. This contest is for poems written in response to an existing occasion, personal or public, or poems that make an occasion of something ordinary or uncelebrated by virtue of the poet's attention. We are interested in light verse and in verse more sober, in the whole spectrum of tones and occasions. One of Nick's own poems, which we think captures the broadness of his (and our) sense of occasion, is pictured at left. It originally appeared in Issue 100 of TNQ.
Entry & Eligibility Details
One $1000 top prize will be awarded for one work of occasional verse (no word limit).
An additional $1000 will be distributed as the judges fancy.
Entry fee: $40 for up to 3 poems (includes a 1-year Canadian subscription or renewal to The New Quarterly). Additional poems are $5 each and can be purchased here.
Submissions must be unpublished, nor can they accepted for publication elsewhere.
Submissions are accepted online only.
Entries may be accompanied by a brief paragraph describing the event that occasioned the poem.
Entrants must be Canadian (citizen or resident).
Entrant's name must not appear on the submission document.
All entries will be considered for publication in The New Quarterly ($40/poem paid upon publication).
Please note: Entrants' anonymity will be preserved throughout the judging process. Decisions will be made by August 31st. Finalists will be notified by email.
Interviews with Past Contest Winners:
2017: Fiona Tinwei Lam for "Test"
2016: Ruth Daniell for "Wedding Anniversary"
2015: Cori Martin for "Quilters"
2013: Suzanne Nussey for "Poem for the First Sunday of Advent"
2012: Anne Marie Todkill for "Non sequitur"
2011: Kerry-Lee Powell for "The Lifeboat"
2010: Jeanette Lynes for "The Day John Clare Fell in Love (1818)"