He was a twenty-year-old guide, leading a gaggle of teenagers down the South Nahanni River on a wilderness canoe trip north of the 60th parallel. Malcolm went for a walk, alone, to view Virginia Falls and scout the river below, where three years before he had capsized. Malcolm Thomas never returned from his walk.
RCMP and Nahanni National Park officials searched the land with tracking dogs for close to a week. They dragged the river looking for clues. The only things found were running shoe prints leading down to the river below the falls and back up the portage trail. The prints then disappeared.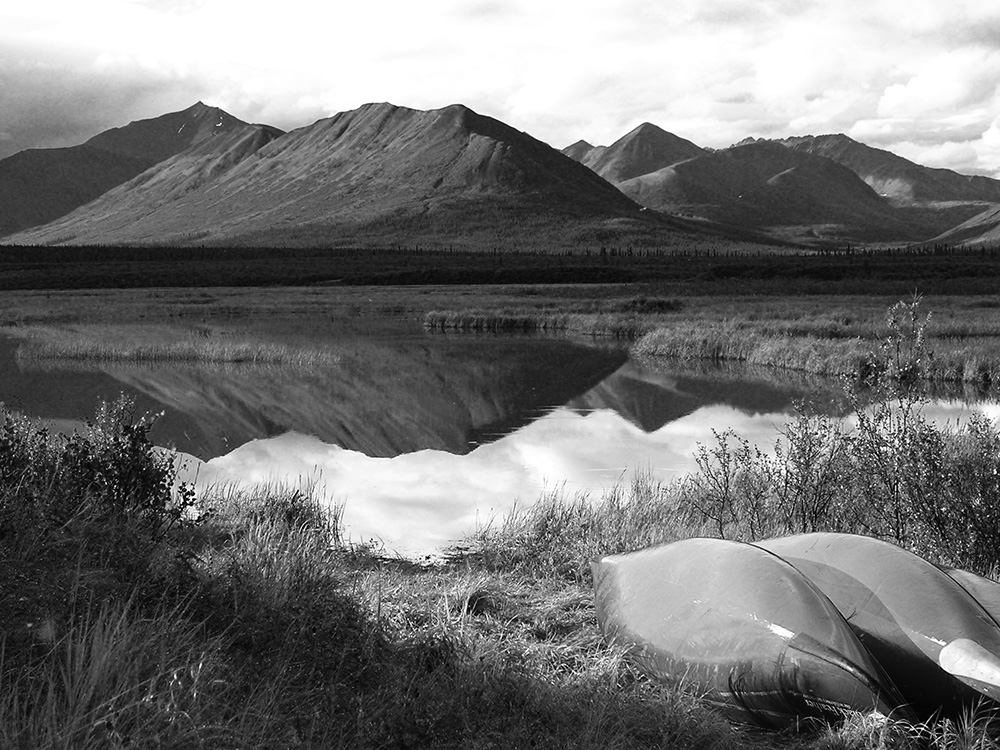 Nothing else was found. No clothing. No scent. No reason why. The RCMP finally said that Malcolm, my kid brother, was "missing and presumed drowned."
What happened in 1978 will never be known. There are, though, many imaginings. "In my heart, I think Malcolm lost his balance while reaching out for the ideal photo or movie angle. In my nightmares, he falls from the top of a cliff." Glenn Hodgins was a young lad on that trip. "In a more rational frame of mind, I think he slipped at the river's edge and bumped his head. The river is cold and powerful through the canyons."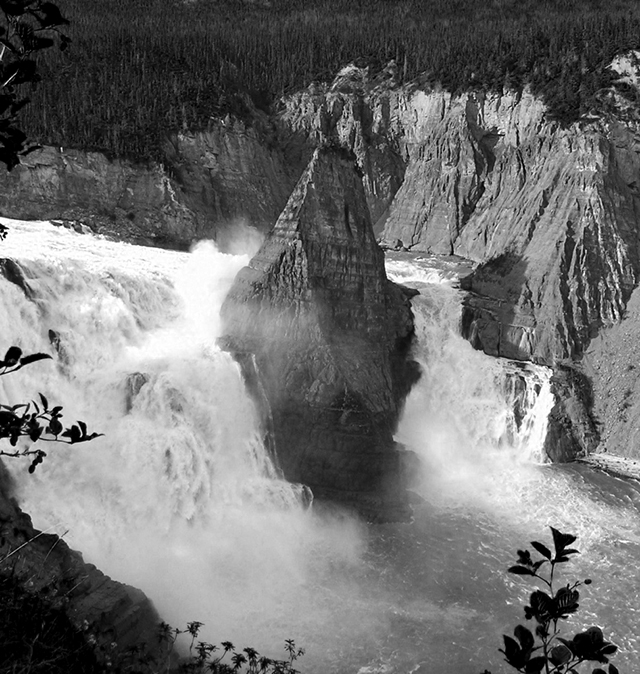 Thirty-two years later I stood on the banks of the South Nahanni with the cremated remains of my father. This was my third visit to what the Slavey called "Nahadeh"—powerful river. This was the third time I broke the law.
Kneeling by the cola-coloured water, fingers lingering in the beguiling current, I tried to make sense of what I was about to do. After seven years in a velvet-wrapped urn, the former W.K. (Keith) Thomas, a University of Waterloo English professor, was to have an otherworldly sabbatical in the same place where, so many years ago, his middle son stepped foot then vanished.
Huddled over my makeshift ashcraft I filled the wooden bowl with coarse, white-grey granular chunks and pieces. The forest—white and black spruce, lodgepole pine, and trembling aspen—was hushed. Surprising, the quiet, especially this close to a cascading cataract almost twice as high as Niagara Falls. The ashcraft, full to overflowing, floated when I pushed it into the current. It wobbled and slid into a back-eddy then, like a boomerang, returned to me.
My father had a penchant for Wordsworth and his "A mind for ever Voyaging through strange seas of Thought, alone." I then aimed more into the current, and after rocking from side to side, spilling a bit of its load, the ashcraft headed downstream, disappeared into the crashing waves, and plunged ninety-six metres.
---
No one knows the history of the University of Waterloo (UW ) better than Kenneth McLaughlin, distinguished professor emeritus, decorated historian, and acclaimed author. He says this about his first visit to UW in 1960, a wide-eyed high-school student encountering a scholarly apparition:
Waiting for us that first day was one of the most intimidating professors I have ever known. Keith Thomas, the Acting Dean of Arts, resplendent in a professorial tweed jacket and a flowing university professor's robe, bespeaking the medieval university traditions of Oxford and Cambridge, opened for us the wonders of civilization and the value of a university education.
McLaughlin's prologue of his 2007 book, Out of the Shadow of Orthodoxy—Waterloo@50, goes on to describe pater's manner as "… formal, his mien stern, and his vocabulary daunting. This day is as real to me now as it was then. Frightened, perhaps I was; excited, definitely; a sense of wonder and awe at the challenge of university life overcame me. Waterloo marked the opening of a whole new world."
Earlier in 1960, pater, with undergraduate and graduate degrees from the University of Toronto and four years' experience at Acadia University in Wolfville, Nova Scotia, had embarked on a job of a lifetime: found UW's English department, become first dean of arts, and gain tenure. At $9,000 a year, his salary would be nearly double what it was in Wolfville. He was thirty-one years old.
Clad in a black, knee-length rayon gown, and with sonorous voice and entertaining use of character voices, pater was a commanding presence in the classroom. "He was never afraid of being theatrical to drive home a point," said a former student.
"Teaching is," pater wrote, "creating, in a student, the ability to see clearly and to evaluate wisely." He recommended reading widely. He said you could experience all sorts of emotions—even the sublime.
"I never found Professor Thomas intimidating or stern—quite the opposite: friendly and approachable," said Thomas Henry Higginson. "I'll never forget the first lecture with him. He talked about Hardy's poem The Oxen, the first Hardy poem I'd read, and Thomas's close reading of it was eye-opening."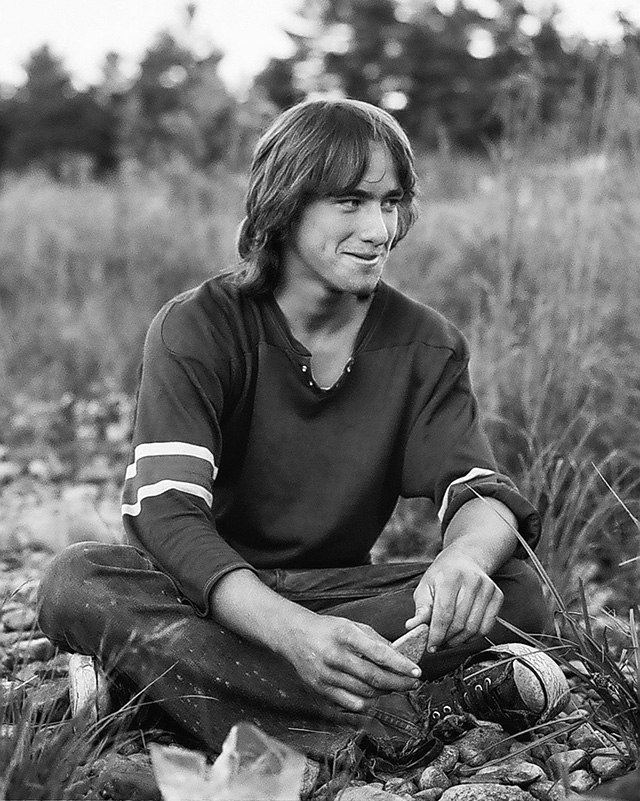 In 1968 he published a fifty-eight-page paraphrase of Beowulf so his students could better understand the "3182 alliterative lines" of the foundational Old English work. "Various parts of the poem, especially the episode in Grendel's cave, are startlingly Freudian and archetypal, and other parts are provocatively mythopoeic, such as the picturing of the hero as redeemer who has a troop of twelve followers," pater explained. Contemporary readers can decide for themselves if his analysis has stood the test of time; copies of Beowulf — A Paraphrase can be found online.
In addition to numerous scholarly articles, the specialist in eighteenth-century literature and satire authored eight books, including Bonding of Bone (poetry), The Fizz Inside (critical essays), Down-To- Earth Cherub (biography of a Presbyterian minister), and God Is Like (catalogue of metaphors). His best-sellers, Form and Substance and Correct Form in Essay Writing, served as the standards for arts students.
A Mind For Ever Voyaging, co-authored with friend and colleague Warren Ober, explored Wordsworth's prodigious memory skills and tireless artistry. This book, as well as a co-authored article on Keats, was well received by specialists.
Pater retired in 1992. A year later he was named distinguished professor emeritus.
For his pioneering efforts and three decades of professional excellence, Humanities Room 232 was renamed the W.K. Thomas English Department Faculty Lounge and Reading Room on January 24, 2003. Pater was "honoured and deeply appreciative." The inscription on the wall plaque: "A Mind For Ever Voyaging."
---
Last night's canoe cuisine was chicken curry, followed by yogurt and strawberries. At the end of the boardwalk beside Virginia Falls, the only portage in our 540-kilometre-long journey, we prepared for the first of four commanding canyons. Our paddling apparel, a mix of drysuits, wetsuits, and waterproof/breathable garments, was a far cry from the jeans, canvas, and cotton of Malcolm's era.
Long ago the Nahanni was a magnet for gold seekers, who numbered the canyons as they roamed upstream (Fourth Canyon comes first for today's adventure seekers). Most of the prospectors left empty-handed; a few disappeared without a trace. The canyons were a kaleidoscope of Karst topography— spiral sinkholes, hypnotic hoodoos, cavernous canyons.
As we bid adieu to rainbow-infused Virginia Falls, we spotted cheerless clouds. Buffeted by raucous currents, we swooped through Fourth Canyon, where Malcolm had gone for a long, cold swim on his first visit to Nahadeh. An electrical storm drove us off the water. We sat it out, waiting for the tepid tempest to pass.
We spent the night near the Gate, a limestone spire higher than the Great Pyramids. In the shadow of porous Pulpit Rock, we were diligent with our attempts at no-trace camping. We were also bear aware, with one faraway sighting. There were no scourges of mosquitoes and blackflies, perhaps a result of a warming North.
Forty-kilometre-long Third Canyon demanded the "showtime" position: legs splayed on the gunwales, leaning back with hands behind our heads. Currents enchanted as altar-like canyon walls crowded out the sky. Tumblehome, the inward incline of the canoes, provided stability.
Undisturbed by roads and bridges, the antecedent Nahanni spilled into Second Canyon's Deadmen Valley, where the steel-grey Headless Range provided a scrim. There were more ghosts here, including mysteriously decapitated sourdoughs.
We careened through the rollercoaster that was George's Riffle. For maximum results when cresting a mountain of water, it was best to kneel in the bow. For a moment, it felt like flying. Capped off with a celebratory yelp.
Good thing, I thought, that my father, whose ashes had gallivanted by here a few days before, no longer had a neck. He'd have a kink in it from so much marvelling.
---
My parents, Keith and Bettie, were teenage next-door neighbours in Toronto. We three sons—me (Primus), Malcolm (Secundus), and Kevin (Tertius)—were often referred to by our Latin names.
A long time ago, in a brief moment of temerity, I suggested to my father that I call him Keith. He countered immediately with Sir. We agreed on Dad.
He was bespectacled and slight, with sideburns that went up and down—from non-existent to muttonchops—bucking the trends of the day.
Once, in Wolfville, he entered a contest to describe his favourite Walt Disney character in twenty-five words or fewer. Five decades before Twitter he profiled Jiminy Cricket and won $2,500—more than half his yearly salary.
His first car, a 1957 Austin Cambridge, was called Jiminy.
All twelve cars he owned over his lifetime had intriguing names (Percy the Rambler, Bert the Ford Custom, Tonto the Audi).
The family dog, a wire-haired fox terrier, was called Dylan.
Our family usually ate dinner in the kitchen, and sitting across the table from the grammar maven was a daunting endeavour. Is it possible to dangle a modifier, interrupt an appositive, and split an infinitive… all in one sentence? After a highly arched eyebrow was beamed my way, the correction(s) was made. Gently and simply. After all, language matters.
He didn't dislike, or even hate, beer. He loathed it. (So much for the adage that the beer of the father is the beer of his sons.)
After Warren Ober published a series of articles about "The Three Bears," Dad introduced Warren as "our distinguished departmental triursinologist."
Dad's writing, especially his poetry, was often visceral and replete with sexual imagery, yet he was a moral conservative who savoured satire. One of his stories, "Talk Show," published in the Journal of Canadian Fiction, was about bestiality.
I was on the receiving end of "profoundly saddened" more than once.
Unathletic Dad was a camp counsellor one summer. When I was learning to paddle, and needed to fine-tune my J-stroke, we went to a local lagoon and rented a leaky canoe and half-bladed paddles. He helped me to perfect the steering stroke. That was the one and only time we paddled together.
Dad's favourite muppet was a toss-up between Gonzo, Animal, and Sam Eagle.
He was a fan of fellow poet, Muhammad Ali, incidentally the world's greatest heavyweight boxer. "I float like a butterfly, sting like a bee."
A memento mori was witnessing my parents, huddled together on the edge of their living room couch, absolute disconsolateness etched on their faces.
From Dad's poem, "Flowers of Sorrow," published in Four-Square Garden:
for him who, rejoicing in his strength,
misstepped and fell from cliff-top height,
tumbling through the years that might have been,
to drown in waters rushing dark
into eternity;
Dad pursued his lifelong hobby of gardening with vigour.
These flowers are apt remembrancers,
each stalk cut off before its time—
the further gladiolus buds,
their promise blazoned out below,
their colours here still tightly curled,
now doomed to wilt unfurled.
A non-believer until his mid-forties, when he had an epiphany in his office, he then pursued his faith, first in the United Church and then as a Presbyterian. He called himself a "primitive Christian."
For what in love we parents here,
with earthly wish and human powers,
would give our children in their need
'Will not our Father far exceed?'
A few hours before Malcolm's funeral service, which terminated any hope of finding him, my father wept profoundly in a local flower shop.
He made an appointment at a nearby fire hall to learn the quintessence of drowning.
Even though he had no natural talent for music, he learned to sing church solos—joyously. It was also a joy to sing in a choir with son Kevin.
In "hemi-demi-semi-retirement," Dad continued to research and write in his basement office, a large portrait of a pensive Alexander Pope peering over his right shoulder.
My parents celebrated their fiftieth wedding anniversary on May 31, 2002.
Fewer than three months later, Dad had major surgery. As he was recuperating, we wanted to know if the anaesthetic had worn off. Kevin asked this skill-testing question: "What's the word that means the same as it sounds?" With a parched mouth and faint voice, Dad said, "O-no-ma-to-poe-ia."
Dad died on January 31, 2003. He wrote his own obituary as well as his memorial service, including new words to old hymns. He was seventy-five years old.
Dad's legacy was kept alive when my mother helped to establish the W.K. Thomas Graduate Scholarships—$5,000 awarded annually to a fulltime UW English student.
From Dad's poem, "For Who Has Seen the Wind?", published in his book, Bonding of Bone:
Feel the wind in your face, son,
feel the wind draw forth the tears,
feel the wind through your bones, son:
the wind will quell your fears.
. . . . . . . . . . . . . . .
the wind blows through all lives, son:
the wind will guide you home.
---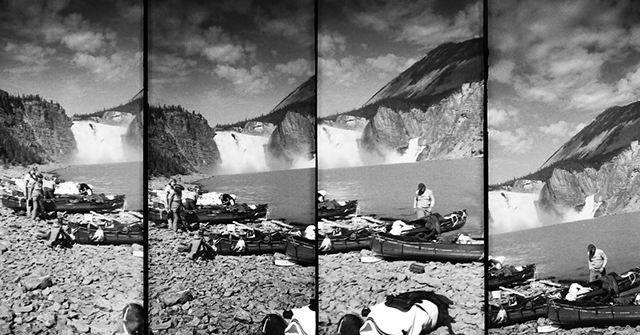 In 1998, on the twentieth anniversary of Malcolm's disappearance, nine of us, including three from that fateful journey, retraced his 1978 trip. "I vowed I would return. Twenty years later, I went back with friends and family," said Glenn Hodgins. "We had a physical and emotional journey to complete."
At Virginia Falls, I planted bulbs of hope and renewal from my father's garden. Digging into the shallow top layer of soil, my hands chilled from the permafrost lurking underneath. The daffodils did not find the climate hospitable. Wild orchids did.
A second trip to the same river is never the same. The paddler is not the same and neither is the river. "The visit to Virginia Falls was difficult emotionally," said Hodgins, now a seasoned tripper. "We found an out-of-the-way spot and held a ceremony, with sparklers, to remember Malcolm and the way we were."
A few years before my father fell ill, my parents received a phone call from the RCMP: "A prisoner in a California jail, who seems to know a lot about canoeing in Canada's North, says he is Malcolm; an officer will come by to show you a photo so you can tell us if it's really Malcolm." A fervent glance was all it took to confirm identity theft; the impostor lacked my brother's azure-blue eyes, a certain scar.
Incensed by this cruel intrusion, I called the RCMP to tell them to contact me with any future queries. I was told that, because there was no body, the missing person file would be kept open until that person would be 110 years old.
The last time my parents saw Malcolm was when he and I strapped a seventeen-foot-long sunset-orange cedar-strip canoe to the top of my pearl-white Volkswagen Beetle for a two-man canoe trip. It was the first and only time we paddled together. Malcolm had a certain sangfroid.
In 2012, thirty-three years after his disappearance, I received an email from a woman whose first crush had been Malcolm. She had not kept in touch with anyone from that era, and when her niece had her first infatuation, Liz wanted to find out what had become of her own. Shocked and saddened, she told me stories about Malcolm—anecdotes about giddy dancing, a surprise birthday party, and how and why she'd felt she should look forward to the future.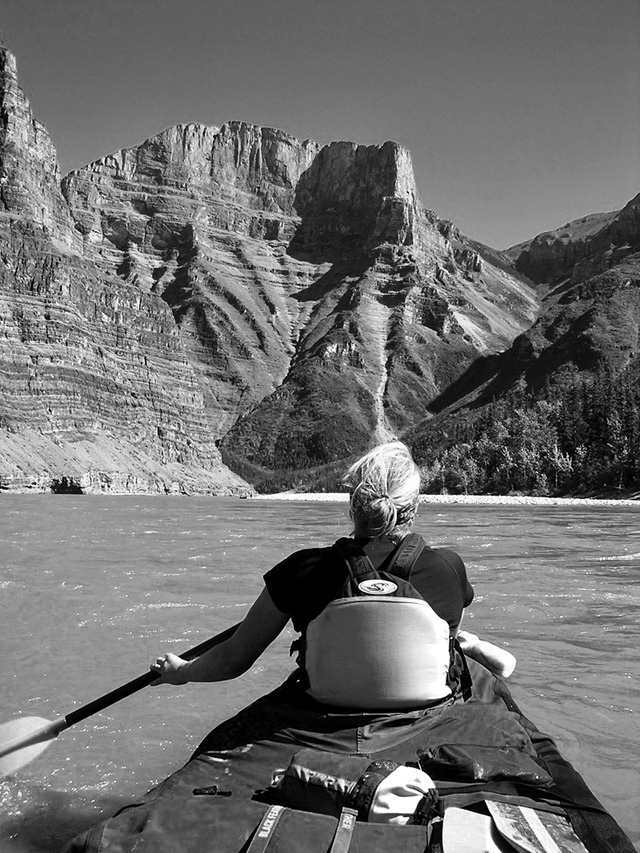 There were traces of a sultry world in First Canyon, more than twice the height of Toronto's CN Tower. Untouched by the last glacial age, towering tales tell of a past tropical paradise with palm trees and bananas, mastodons, and wolf-like cryptids. Perhaps this Eden was at sulphuric Kraus Hotsprings, a natural spa and elixir, where a hearty couple homesteaded for more than thirty years.
First Canyon slipped away from view. We looked back. Dad was fond of admonishing Malcolm and me for taking the easy way by paddling downstream. "Go upstream," he liked to say. "It builds character."
North of the 60th parallel, where provinces end and territories begin, sunsets blend into sunrises. Nahanni National Park Reserve became Canada's first UNESCO World Heritage Site the year of Malcolm's disappearance.
After the ashcraft disappeared into the waves above Virginia Falls, I walked to a lookout to join my friends. I had one last task: empty the cremation ash clinging to the plastic bag. Escorted to the edge, where I was secured by fingers in my belt loops, I leaned over and shook loose the last of Dad's remains.
A restive gust of wind rushed upstream. Caught on camera: a dusty outline the same height and width as me, suspended right beside me. Then it was gone.
---
Cover Photo by Flickr User Mike Beauregard