What is Jody Mason Reading?
I just finished reading Kaie Kellough's collection Dominoes at the Crossroads (Véhicule, 2020), published in 2021 by Boréal as Petits Marronages. I read Kellough's Griffin Prize-winning Magnetic Equator (McClelland & Stewart, 2019) earlier this year.
I was first drawn to Kellough's work because of its uniqueness: much of the black diasporic writing from Quebec (where I live) is first published in French. If Dany Laferrière is known to many unilingual anglophones in Canada, writers such as Stéphane Martelly and Rodney Saint-Éloi don't reach these same audiences. As a poet and a prose writer and a performer, Kellough draws indiscriminately from the anglophone and francophone Caribbean: there is as much Aimée Césaire as Dionne Brand in his work, as much Maryse Condé as Wilson Harris.
Much of Kellough's prose is set in Montreal, where he has lived since 1998, or in Georgetown, Guyana, where he locates part of his ancestry. Alive with the down-at-the-heels flavour of "contrary" post-1995-referendum Montreal (78) and the "heat and compressed cacophony" of Georgetown (65), the interlinked stories of Dominoes at the Crossroads  animate the connections between these two points but rupture the journey between them with detours that render the temporality of the collection magnificently non-linear. 
"Kellough's wry approach to temporality and genre is embedded in a more general cross-disciplinary practice that weaves printed texts into soundscapes."
A key aspect of this non-linear temporality is the collection's insistence that an occluded black past—in the form of figures such as Marie-Joseph Angélique or the fictional Hamidou Diop––will "emerge to shape the future" of Montreal (18). If, like me, you are interested in the complex but underexamined connections of global decolonization movements on the political cultures of late twentieth-century Montreal (explored in academic work by scholars such as David Austin and Sean Mills), you'll find much to think about in Dominoes. 
Paralleling Kellough's interest in disjunctive temporality is his experimentation with genre. Some of the texts in Dominoes, for instance, are not fiction but instead borrow from the genres of science fiction ("La question ordinaire et extraordinaire," the Afro-futurist address of an audience on the 475th anniversary of Milieu, a post-climate apocalypse Montreal in which the northern, largely immigrant, boroughs form a new centre); the personal essay ("Notes of a Hand," Kellough's concluding meditation on being the "amanuensis" of his enslaved ancestors); and memoir ("Smoke That Thundered," which takes readers on a recursive journey through Kellough's adolescent years, one that culminates in a kind of baptism in Guyana's Potaro River). 
Kellough's wry approach to temporality and genre is embedded in a more general cross-disciplinary practice that weaves printed texts into soundscapes. Kellough's mixed media performances, many of which include parts of the texts published in both Dominoes and Magnetic Equator, can be experienced on his website. Clearly influenced by the ideas of Paul Gilroy, the texts of Dominoes (especially "Witness," "We Free Kings," "Petit Marronage," and "Navette") forge an Afro-diasporic sensibility that draws on the syncopated texts of "reggae riddim," soca, Nigerian dub, and Congolese rhumba. 
Residents of (or lovers of) Montreal will be particularly delighted by Dominoes, but it's for all lovers of short fiction and the personal essay, especially those interested in the aural possibilities of short prose forms.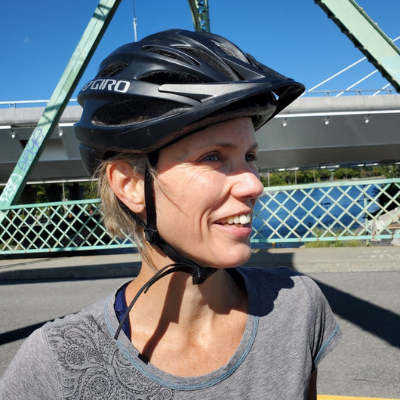 Jody Mason divides her time between Ottawa and Montreal. She teaches in the Department of English at Carleton University and has published short stories in Transverse and Grain.