Finding the Form with Jamaluddin Aram
I grab coffee with a writer friend whenever she is in town. The conversation is always about writing; that it is hard, that finding an agent is hard, that a book contract would be great. Then we envy authors whose agents brag about them and their six-figure deals, authors who attend galas and go on book tours to cities like Paris, Venice, New York. We sip our coffee that has gone cold and return to the bitter reality that our own writing lacks depth, madness, wisdom, ease.
I remember one time we jokingly decided to try to write a bad story. The worst we could do.
Thus this story.
I knew that the reader is a very light sleeper, and that the narrative is a dream. I also knew that experimentation with form disturbs the sleeper as much as sloppy application of words, clunky sentence structures, and the author's disinterest in the fate of his characters. But I didn't care. I sent the literary critic in me on a much needed break, and set out to do whatever my heart wanted.
My heart wants pleasure when it comes to literature, specially writing it. The joy is in solving problems. My native tongue is Farsi. So every day I come face to face with the English language. That is always a brilliant start. This time, however, I needed a bigger challenge. I tried to write a story, an exercise—attempting fiction within fiction—where I had to move between different
temporal and spatial spheres without breaking continuity. (After all I care about the sleeper and his dream.)
Years ago I had read "The Circular Ruin" by Borges. The story, at the risk of oversimplifying it, is about a man who dreams a young man to 'impose him on reality'. Once the young man is born, the man erases his memory and sends him on a similar journey that he himself had to take to arrive at the beginning of the story. After some time, he receives news that in a temple of the North there is a charmed man who can walk on fire. The man immediately recognizes him as the young man born out of his dream. Decades later when the man knows death is upon him and he walks through sheets of flame and the fire does not burn his flesh, he understands 'that he also was an illusion, that someone else was dreaming him.'
Borges first encountered infinity as a child looking at a Japanese scene printed on a large biscuit tin. At a corner of the image he saw the same biscuit tin reappear with the same picture, and in it the same picture again.
My story is not quite the Japanese scene on Borges's biscuit tin but it works with similar ideas. A novelist is writing a novel whose protagonist is a short story writer. Although we learn about the novelist (who is a character) in the short story writer's work, we know that the novelist created the short story writer. We also know that the novelist is not the ultimate creator, he himself was created by another person and that person by another. Who then is the ultimate writer of this story? The short story writer? The novelist? The person who created the novelist? The person who created the person who created the novelist? And that question can be repeated on and on until someone asks that inevitable question, "Well, didn't you write it?" To which I would respond, "Yes, I did." And I firmly believe in destiny.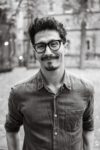 Jamaluddin Aram is a writer from Kabul, Afghanistan. His works have appeared in Numero Cinq, Cagibi, and The Globe and Mail among others. Aram's short story "This Hard Easy Life" was a finalist for RBC Bronwen Wallace Award for Emerging Writers in 2020. His debut novel, Nothing Good Happens in Wazirabad on Wednesday, is forthcoming from Scribner Canada in June 2023. Aram has a bachelor's degree in English and history from Union College in Schenectady, New York. He lives in Toronto.