Finding the Form with Tom Wayman
On Nov. 22, 2020 I was shocked to receive an email from the wife of a very good friend, the California author Dennis Saleh, stating that he had died suddenly of a massive brain bleed that day. Dennis and I had met when we enrolled in the same graduate writing seminar at the University of California at Irvine in 1966. When he proposed to his wife, Michele, in 1969, I had been at his side. And over the decades we visited frequently back and forth. I last stayed with them just before Hallowe'en 2019 at their house in a Monterey suburb, and the three of us had plans for a road trip together to southern California in the fall of 2020—plans postponed because of the border closure as a consequence of the pandemic.
Besides being a close friend, Dennis was in many ways a literary mentor. He was a much more attentive reader of poetry than I am, plus he stayed on top of developments in the US poetry scene that I often was unaware of. Our aesthetics differed in some ways: he once said he could never read a poem longer than a page, whereas my writing can be long-winded. In contrast to my foregrounding of the social implications of poetic approaches, he insisted that play with words and ideas is a proper function of the art. Some of the differences between us are visible in the last photo Michele took of us together, standing in front of their son Brandon's house in Salinas during my 2019 visit. I'm in my Kootenay attire on the left, and Dennis had just bought the yellow shades and sports jacket at a pop-up Hallowe'en costume store. (He was writing a series of poems featuring a character, Yellowmore, whose dimensions he was still discovering—including the reason for the color—as poem after poem occurred to him.) Yet despite our divergent approaches in matters of craft, theme and, indeed, the purpose of the art, I continually learned a lot about poetry's possibilities from him.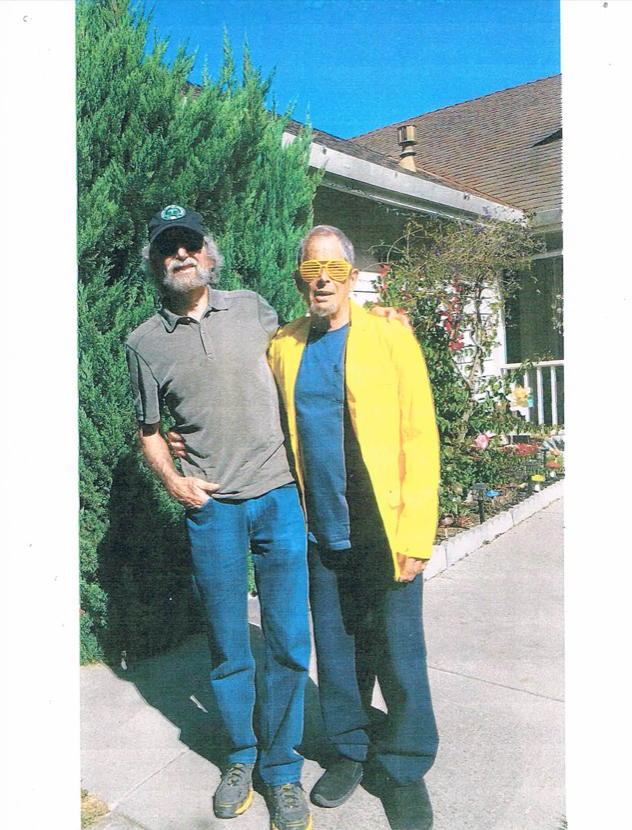 Dennis' interests were simultaneously wide and intense. So when I decided to write about the impact of his death, I knew no single poem could encompass what I wanted to say. He described himself in one poetry anthology contributors' note as being "something like an Anglo-Egyptian; my father's parents came to Fresno from Egypt . . . and my mother's maiden name was McKoy." Born in Chicago, Dennis was raised in Fresno from 1948 on, eventually becoming one of poet Philip Levine's students at Fresno State College, and later a friend of Phil's for many years. Dennis was an enormous Rolling Stones fan, never missing a concert when the band toured California, and most times wangling his and Michele's way backstage afterwards.
Following teaching stints at UC Riverside and UC Santa Cruz, Dennis became a full-time author. His nonfiction mass-market books include Rock Art (LP covers as art) and Science Fiction Gold (stills and essays on 14 classic 1950s sci-fi movies). His poems appeared widely in little magazines, and his collections include Palmway, 100 Chameleons, and This is Not Surrealism. His artwork—dense collages of words and images taken from headlines and ads—frequently appeared in Ventura's Artlife magazine. At his death he left, as yet unpublished, a book-length history of the B-49 Flying Wing, precursor to today's stealth aircraft, and two novels: one that imagines what happened during the unaccounted-for weeks of Oscar Wilde's first tour of America, and the other set during pharaonic Egypt's 22nd dynasty, when smuggling cats out of the kingdom was publishable by death due to the animal's importance in protecting granaries from rodents.
My poem "Papyrus" arises out of Dennis' fascination with 22nd dynasty Egypt. He marvelled at how stable Egyptian civilization had been, millennium after millennium, and collected and shared interesting facts about that society. Other poems I've written about me trying to process Dennis' death focus on other facets of his personality. "Papyrus" revolves around the swampland plant that seemed to tie together so much: ancestry, writing technology, the writer's role, and how the rich farmland of Monterey County's Salinas River valley echoes that of the Nile. Because the enduring and unchanging structure of life under the pharaohs was part of ancient Egypt's allure for Dennis, I knew my poem had to embrace at least one formal element. Hence the six-line stanzas.
Tom Wayman's latest collection is Watching a Man Break a Dog's Back: Poems for a Dark Time (Harbour, 2020). "Papyrus" honors a friendship and literary mentorship of more than 50 years.