Jamaluddin Aram's Writing Space
I once met Colm Tóibín and asked if living in Spain helped with writing Homage to Barcelona. No, he said, there are so many problems in the world that the last thing people need is a writer complain he can't write. Give me a pair of headphones, he said and pointed at a table in the corner of the auditorium, I'll sit there and work.
So I have sat and worked on the trains, in moving cars, at long communal tables in busy libraries, at picnic benches in the parks, on the patios, in cafes. This was before I realized that I fall in love easily and have been avoiding crowded places since.
For a while, I slept in a small bedless room at my parents' house. In the morning, I would fold and put away the thin mattress and the pillow, pull the low Japanese table, and wait for the words or my two-year-old niece, whichever arrived first. That room was good for writing. I was happy, had my books, very strong coffee, and a window that brought light.
Now I write at an island table in a spacious kitchen. This, by the way, has nothing to do with what Rabelais said about Homer, who supposedly never wrote on an empty stomach; I sit here because I like that ancient yeasty smell filling the ashpazkhana when the ravenous fungus feed on the sugar in the flour. Aside from the invention of fire and language, no two things, I believe, have played a bigger part in man's survival than bread and stories. So the sourdough rises and demands to be baked. And I stand by the pre-heated oven about to participate in the simple act of lurching our species fate forward into the great unknown.
The kitchen is also the best place to procrastinate.
I keep some plants close by as if hearing them grow will help the sentences take shape in my head. But the plants need watering. I water them. I reach for the knife while a character considers making a scene. But I allow him to take his time. I mince garlic, chop onion, sauté the beef until brown on all sides, add paprika, salt, cumin, sumac, some garam masala. I let it simmer. I refill the spice jars, wipe the counter, vacuum the coffee grounds, do the dishes. And when every surface sparkles like fresh snow on a sunny day, I know I haven't been writing but I can hear the music in the words whispering in my ears.
And that is as good as writing.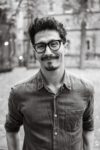 Jamaluddin Aram is a writer from Kabul, Afghanistan. His works have appeared in Numero Cinq, Cagibi, and The Globe and Mail among others. Aram's short story "This Hard Easy Life" was a finalist for RBC Bronwen Wallace Award for Emerging Writers in 2020. His debut novel, Nothing Good Happens in Wazirabad on Wednesday, is forthcoming from Scribner Canada in June 2023. Aram has a bachelor's degree in English and history from Union College in Schenectady, New York. He lives in Toronto. 
Photo provided by Jamaluddin Aram and Mithea