Kari Lund-Teigen's Writing Space
This room sits just off the kitchen in my house. It faces south so on sunny days is full of light. Judging by its temperature in the winter, I think it used to be a porch.
Tempting as it was, I did not tidy or alter the room before taking this picture. It captures so much about my life at this moment, writing and otherwise. Around the computer, there are scraps of paper, a ruler, a math book, a copy of The Mysterious Benedict Society. None of these belong to me. Since the schools are closed, my kids need this computer for online learning. Tucked underneath the monitor is a draft of a book I was working on. The picture might not show it but I may as well admit it's dusty.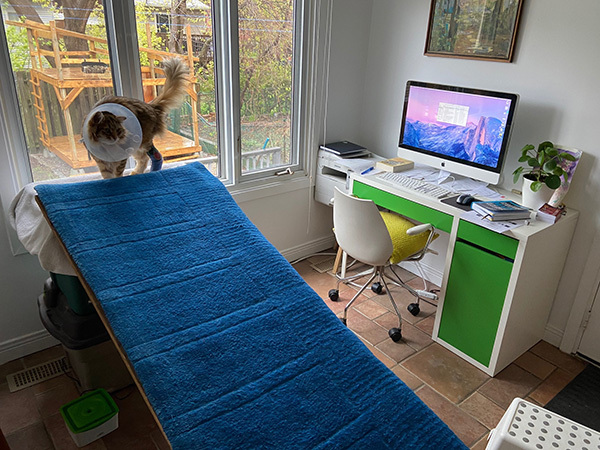 That bizarre, carpeted ramp up to the ugly stacked storage bins? That's for our cat who broke his paw last week and so now wears a splint and is not supposed to jump for 6-8 weeks. He wears a cone to stop him from chewing on his splint and so needs to be spoon-fed. He does not enjoy the cone, but seems more than happy for the spoon-feeding.
Though the details may be different, I'm sure the general outline is familiar to a lot of people right now: things are not as they were. Projects and deadlines and imagined progress shunted aside by the brute force of this new everyday life.
In addition to TNQ, Kari Lund-Teigen's writing has appeared in Glimmer Train, The Fiddlehead, Prairie Fire, and Grain. You can listen to her read at drumlitmag.com. 
Photos courtesy of Kari Lund-Teigen.