Marilyn Gear Pilling's Writing Space
Intense colour has been a primary pleasure of my life. When the children left home, I turned the dining room, which has doors, into a space for myself. One wall a pure darkish-blue, the opposite wall, tomato red. Above the plate rack, Mayan gold. A large vase of flowers that picks up those colours. An elderly maple desk from my cousin's used furniture store. My favourite books, taken from other shelves in the house, so that I have the feeling of significant old friends around me.
On the walls and plate racks—art, artifacts, photos of people who mean a lot to me. A photo of the writer Gordon Sheppard, who, over the last two years of his tragically truncated life did an enormous amount to encourage my writing and myself. A picture of Mr. Bones poring over a book; this reminds me to squeeze the juice from every day. A Wes Bates wood engraving of Dionysus, so that I don't forget, as Jeanette Winterson puts it, that "art is theft, art is armed robbery, art is not pleasing your mother…." The room looks out on my wild, blousy, colourful garden, another primary pleasure; I spend three months of the year tending it.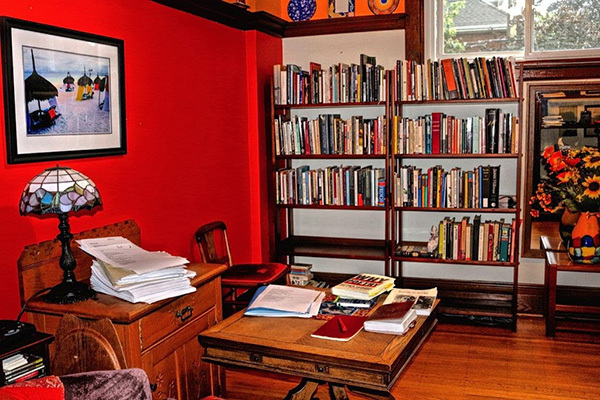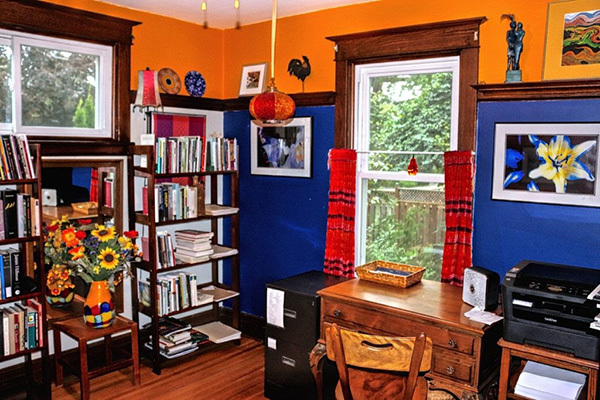 My friend swims her poems, others wear out their shoes walking their writing into being. My brain is in my fingers, and thank God for the computer; its speed catches what my fingers want to say.
Reading others' poems sets me off to write poetry. At the moment I'm reading Anne Carson's inimitable oeuvre and Matthew Zapruder's brilliant Why Poetry, as well as his poems. Reading others' CNF, including what is published by TNQ, is pure pleasure, but I'm sure that my busy unconscious is also absorbing the techniques. I did laugh out loud at how often TNQ writers described their writing spaces and then said they didn't write there. Laughed because—ça c'est moi aussi! Often I write in the mornings at a coffee shop five minutes from my home. I like to be among people but not relating to them. I can also be found writing in the garden, at the kitchen table, in the living room, in bed or in the attic. Sometimes even here, in my writing space.
The essentials are my laptop, my fingers, and coffee, which I may or may not drink. It's almost as if this writing room space is my writing persona, whereas the real person-as-writer is not so easily pinned down.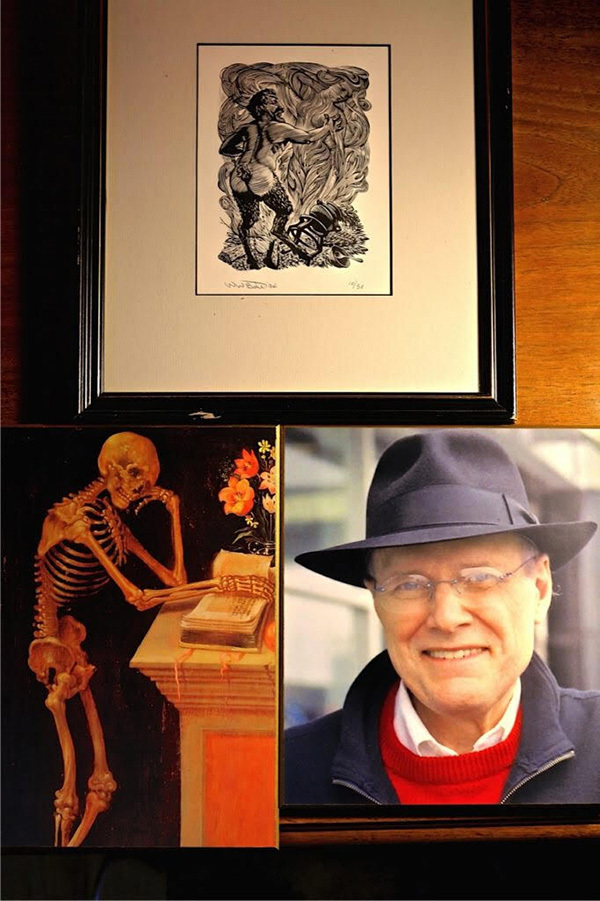 Marilyn Gear Pilling grew up in Waterloo. She is the author of ten books, three short fiction and seven poetry, the latest The Gods of East Wawanosh from Cormorant Books, 2019. She is thrilled to have her essay  "The Hen-house" published in her home town.