Nicholas Bradley's Writing Space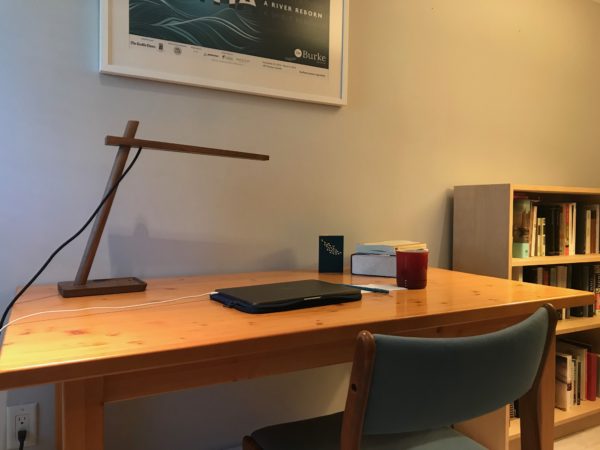 My desk is uncharacteristically tidy these days because my writing space has become my Zoom "studio." Normally the stacks of books would be taller, the pile of papers overgrown, but this corner of the basement is now, in the time of the pandemic, my virtual teaching space. I'm fortunate to have it, and grateful.
The attempt at neatness is not just vanity (or embarrassment)—I'm trying not to distract students—but I do enjoy working without clutter. That's the theory, anyway, if not always the practice. The dictionary stays on my desk, though, since I seem to need it every few minutes, along with whatever books I'm teaching at the moment. There's a card from a trusted friend with wise words about keeping spirits up. My laptop, on which I do almost all my work, first draft to last. A notebook, filled with to-do lists and the odd idea. A cup of coffee, of course, and the old envelopes on which I made notes for this little essay. The desk itself is pine, so soft that it's scratched by the sight of a pen. But I like the knots. The chair is a hand-me-down from my parents. It's older than I am, and still going strong. I wasn't allowed to sit in it when I was a kid, so I take satisfaction in using it now. I don't even ask permission.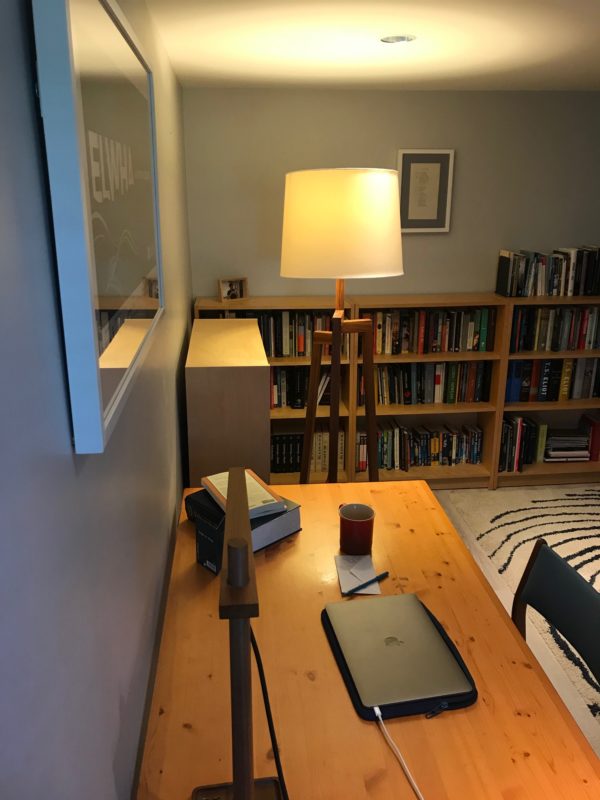 The photo doesn't show that the floor slopes downhill toward the garden, a quirk of the house that suggests metaphors for writing: fighting gravity, maybe, or, more happily, falling into the green space outside the door. When I get stuck, I look out the window at the incredible Garry oaks, those enormous stalks of broccoli, and remember a favourite line from Theodore Roethke: "Leaves, leaves, lean forth and tell me what I am." The trees are, more or less, why I write.