Rachel Panico's Writing Space
When the world stopped in March 2020, there was an awkward pause in my education involving constant mass emails from Wilfrid Laurier University about moving online that basically all said the same thing: "We're working on it!" All my professors gave open-ended extensions on upcoming assignments because none of them knew what was going on either. Even after everything had been adapted, there was an apathetic cloud hanging over all profs and students for the remainder of the winter term that said, "Hand it in whenever."
Back then I was living in a different building with a much smaller space, so I didn't have the luxury to redesign or move furniture around because my bedroom was about the size of a walk-in closet. I had just enough space for a single bed, a desk so small it was more of a table, one dresser, and one bookcase. I had a second bookcase in the living room that I shared with an old roommate and my "closet" was literally a niche cut into the wall with a bar across where I could hang a few key items of clothing.
Instead, I ended up basically playing musical chairs with myself. I would spend a few hours sitting at my usual desk in my room, then I would switch it up and sit at the kitchen table for a while, then eventually migrate over to the couch or one of our old comfy chairs in the living room. This was a helpful strategy as the change of scenery helped me keep my focus but not ideal because when working in the shared spaces, my roommate would come in and out to cook or clean (while trying to be as quiet as possible).
Luckily, it was both of our last years as Undergraduates, so after graduating (sans ceremony) we moved out and I got another place because I was "going back" for Graduate school to get my Master's degree in English literature. Moving into my new place, I had more space and time on my hands to rearrange and redecorate, especially considering when moving you have to do that anyway. I have a real desk now placed in front of the window for fresh air and sunlight, and on its smooth white surface, I keep some remote working essentials.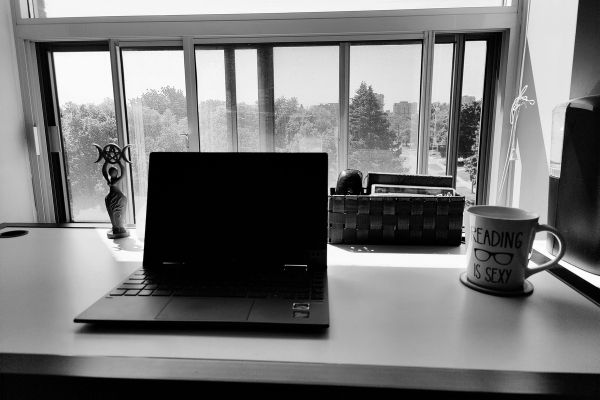 In the right corner, I have a small basket where I put my glasses, planner, and pencil case, and in the left corner, I have two of my favourite knick-knacks to add a personal touch  – my favourite goddess sculpture and a clear quartz crystal. On the wall beside the window hangs my calendar where important due dates and meetings are written, and a few souvenirs from Jamaica (bought back when travelling was allowed) that depict a few of my favourite pastimes – coffee, the sunset, and wine.
Now any student who experienced online learning the past year or so is way too familiar with Zoom fatigue. As a Grad student,
seminars + teaching + meetings = up to 7-10 hours of Zoom per day
When doomed with back-to-back seminars or meetings, the first zoom would receive 100% of my attention with the camera on and the second would receive 50% at most, with the camera off, much to some of my professors' and/or supervisors' annoyance.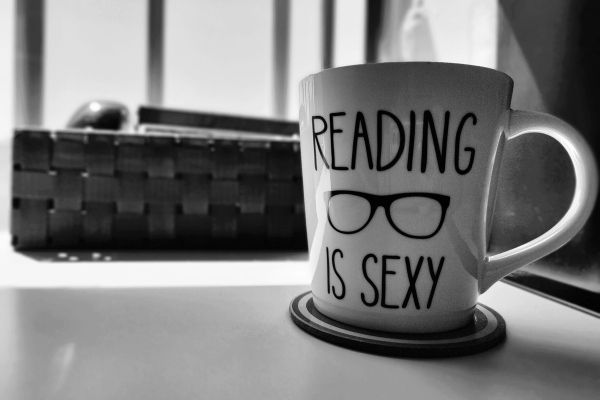 Now that the coursework portion is over and I have been given the opportunity of a co-op placement here at The New Quarterly, remote working has become its own routine with surrounding rituals.
8:00 a.m.: Wake up and prepare for the day in the bathroom with the same level of self-care I would as if I were physically going to an office. I also actually get dressed for the day and make myself a quick breakfast, even if I am feeling lazy and that just means tank top and shorts and a banana. That still works better for me than spending the entire day in the same t-shirt I slept in. I just cannot focus wearing PJs.
9:00 a.m.: Work-work-work-work-work-work (Rihanna reference)
12:00 p.m.: Lunch break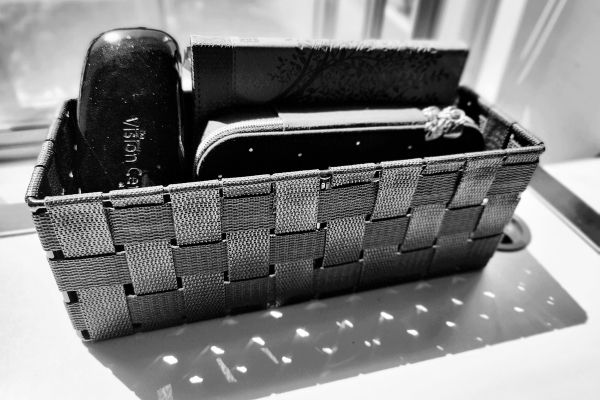 12:30 p.m.: Back to work
4:30 p.m.: Quitting time! I like to go for walks after work to relax. I know being outside is scary right now but if I keep my mask on and always remain six feet away from people, I feel safe and am following Covid-19 safety regulations. Also, I received my first vaccination around a month ago.
TIP: Make sure to take small breaks in between tasks, even if it is just listening to a single song. A quick five minutes away from the screen here and there helps give my brain a nice pause but I am not stopping for so long that I lose motivation.
TIP: Try scheduling zoom meetings with at least an hour in between, so you can give yourself breaks. Being hunched over a screen for too long gives me back pain, headaches, red and sore eyes.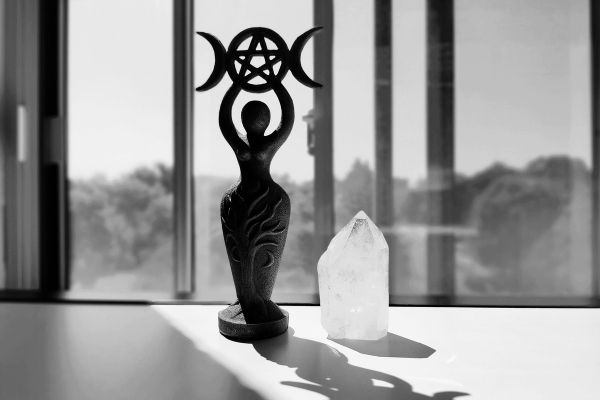 After all that, the rest is pretty much up to me. Do I want to cook something for dinner or order food (eat local!)? Do I feel like working out or just hopping in the shower? Would I rather read a good book or chill out in the adorable world of Animal Crossing?
Whatever your space looks like, your routines and your rituals should reflect you as a person and your needs. With mental health on the decline, remote working is all about what makes your body feel better.
Rachel Panico is a graduate student at Wilfrid Laurier University with a master's degree in English Literature. She completed her undergraduate degree at WLU as a double major in English Literature and Medievalism Studies. She previously worked with Blueprint and is the outgoing Circulation Assistant for TNQ. She is passionate about reading and writing and aspires to be an emerging young writer.
Photos courtesy of Rachel Panico.