Rachel Rose's Writing Space
You used to say that, having had three children, you could write anywhere. You wrote best in cars, while one child or another was off doing something or other, or in office waiting rooms, as long as the music wasn't too loud. If it was, you retreated to your car. You could take any confined space and make it belong to you.
Ordinary life moves at ordinary speed. Seasons and birthdays, holidays and gardens. Books go out of print, children grow up, manuscripts are stillborn and locked in the bottom drawer of a desk.
But the world can change in a day.
One afternoon a flock of bats chatter under a bridge. Perhaps a Pangolin sneezes. Nobody notices.
One day most people you know have jobs.
You plan a dinner party and wonder about lemon tarts.
The first light of morning separates night from day. The line in the bedroom where you and your wife are unlearning how to sleep through the night.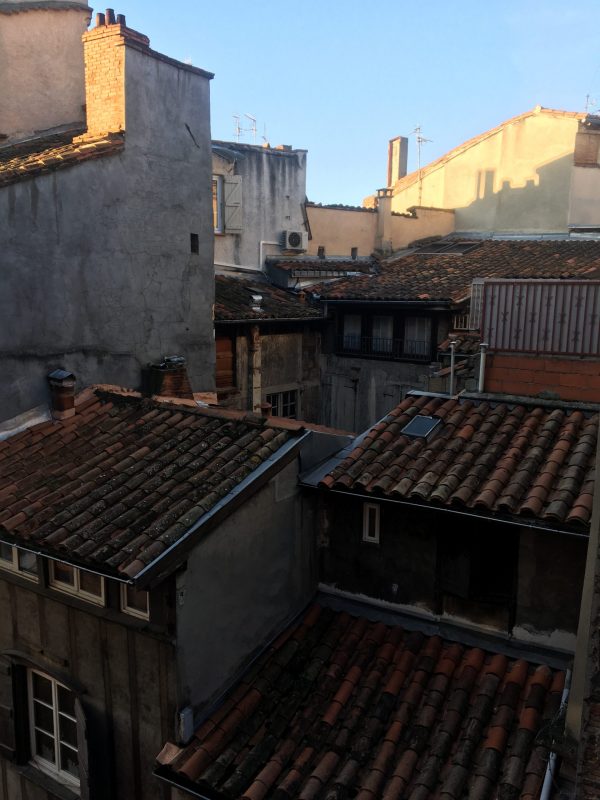 You can write anywhere. Tell yourself that as you sit up in the dark, thinking of your grown child in another city. Write him a love song and wing it by thought pigeon.
The world closes like a Himalayan poppy at night, one blue petal after another. The world shutters its brilliant eye. No, that's not right. You mean the human world. Birds occupy the city squares. Coyotes strut down the Drive. Dolphins venture into Venice wearing jeweled masks. They leap the Ponte degli Scalzi and sing O Sole Mio through their blowholes.
When you learn this was a hoax—no swans, no dolphins, no drunken dancing elephants—you  lean against the upstairs window and remember the Venetian crowds, how they carried you along. Throng. Bustle. Marketplace. Words can become archaic in an afternoon.
You can write from anywhere, you don't need a quiet study or a special desk. But what can you possibly say?
Because last year you wrote on a red couch in a rental in Venice, sitting by your dog as the family slept and the crowds jostled down the crooked streets. You wrote in those moments while they dreamed and later you'd go together to be carried along in the current of strangers. You shaped your mouth to the new language and readied yourself for stories that came to you, whispering in the full light, "Ecco, ecco!"
Because time last year has nothing in common with time now. Last year you wrote in Rome, and then you walked streets where your wife hadn't been since she'd lived there as a child and time held you all gently.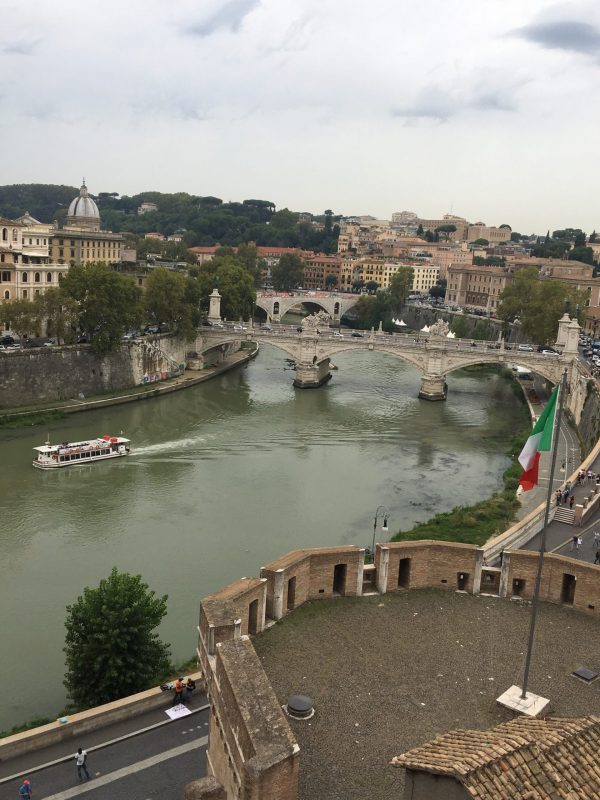 Last year you wrote on a glass table in Florence at a small, strange apartment once lived in by an artist. His frescoes on the ceiling, crumbling into your dinner, but his creative spirit with you as you wrote. Whenever it rained you had to set out pots to catch the downpour. The traffic, the motorcycles, shouts of Florentines came right through the windows which never quite closed. Like the windows, you were ajar, open to everything. Not like now.  Now you coach each other on how to buy food like football players before the big game.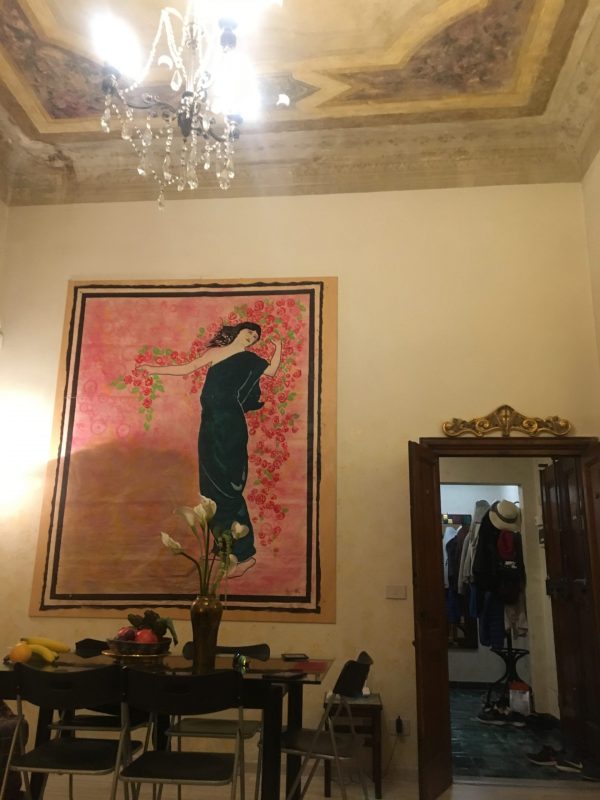 Last year you lived in Toulouse, a city now in lockdown, a place where elders now die alone and are buried by soldiers. You greeted the morning from your high apartment windows, looking over the tile rooftops at morning light announcing the day. You wrote at the kitchen table, at a stool by the window, on your bed. It didn't matter where. You could write anywhere.
The big game. Each day is terrible, but interesting also. Can you say that? One day you make a face mask out of a diaper and a panty liner that you are certain will save lives. Your wife, a doctor, laughs until she cries. With both thumbs you lift the tears of mirth from her cheeks and bring them to your mouth. Contagion.
Once upon a time you ate in restaurants with friends, leaning in to laugh at jokes. 
Your wife goes to work and nothing has ever seemed more reckless.
You are of the generation of queers whose friends died. We calculated risk versus desire and only some of us got the right answer. You don't know who. They wore high heels and lipstick better than you did, those beautiful boys, carried off in the night. If only it were so gentle. But abused first by a world that should have loved them. Attacked, as some now, in their diseased hearts, attack ordinary Asian people walking home from work.
Slowly you cut off the physical. Each day more curtailed than the one before it. You learn to love people only through the mediation of devices. Your nephew reaches for your face through the screen.
You will become the generation known for saying hello by waving while backing away slowly.
The pangolin's scales gleam like tortoiseshell dipped in blood. The punchline has gone viral.
You used to have a recurring nightmare. You were out on a beach in the sun. Sometimes you were walking, sometimes holding a child in your arms. Sometimes you were a child in this dream. Then a towering glistening wall of water came rushing up the shoreline. It hovered above everyone as you all ran screaming. The wave ate the light. Caught in the wave were men in office  chairs, children suspended holding jump ropes, dogs, trees uprooted—all held above you. You ran but you couldn't outrun it. You were trapped under this wall of water, waiting for it to crash down. And then you'd wake up.
Now you're living the dream, we all are. Days tick by. The dogs nails tick across the wood as the wave gathers force overhead. We wait for it to drown us. Or spare us. Strange calculus.
One spring you shop attempting to calculate which is worse—to buy local onions wrapped in plastic or bulk onions shipped from Morocco. The next spring—to risk exposure or do without fruit.
In Italy there was a kind of sweet your wife ate as a child called cornetti. When you lived in Florence you would buy them fresh and rip them apart with your hands, hand them out to your children. Licked sugar from your fingers like it was nothing. Now you are afraid to touch your face. Her parents are locked in an apartment in Paris, waiting for the trees to unfurl their leaves, living behind glass, suspended. You wait to see those you love. When you hold them again who will you be?
You used to think you could always return to a place, just because you wanted to.
You can't solve for X. The variables are unknown. But you have to take the test anyway. Never mind biting your nails. Never mind saying you didn't prepare. You will be tested.
Anywhere, you used to tell yourself. I can write anywhere. Now you live inside, walking from room to room, picking up all the books you meant to read, then putting them down again. From where you write, words fail you.
You go to the supermarket wearing a homemade mask and pink kitchen gloves, an elegant lunatic. You feel the heat of every breath reflected in your eyes. You know you aren't safe but at least it makes people keep back. Garlic in your pockets, an iron dagger under your pillow. Then you see a woman walking by in a gas mask, another couple in what looks like scuba gear. The wave shimmers over your heads.
You swim through the supermarket, holding your breath. Only two weeks ago you compared prices and always chose the bargain. Now the bargain is speed, how fast you can pile a cart full. Whole shelves barren. You take what you will need for a week, but you are wrong, they all eat too much, you don't bring home anything sweet, you don't write anything worth keeping, you don't know yet whom you will lose.
You grab two bags of mushrooms which you will later regret but force yourself to eat. The cashier, a young man, asks how your day is going as he coats his hands in sanitizer. You imagine putting your arms around him, a corona of hazard.
The mask obscures your cheeks. Should you mention you are smiling?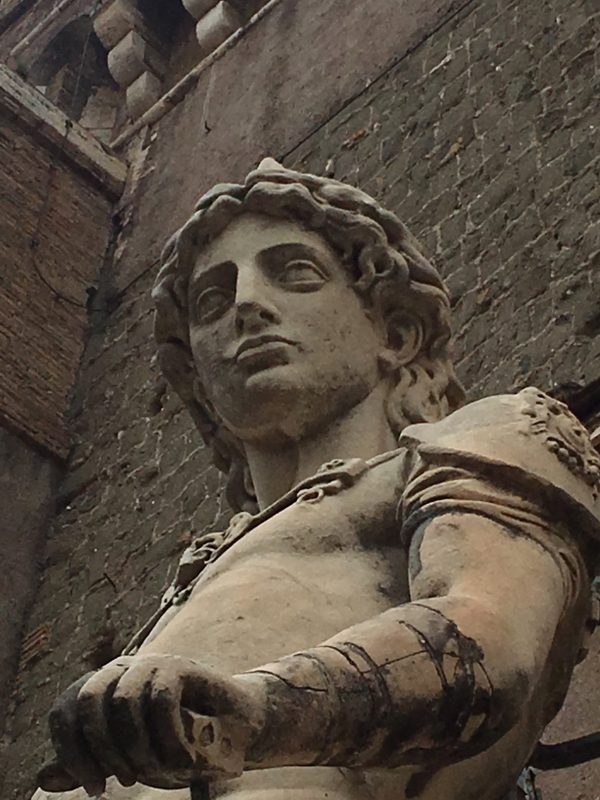 Rachel Rose is the author of four collections of poetry, including Marry & Burn, which received a 2016 Pushcart Prize, and was a finalist for a Governor General's Award. Her memoir The Dog Lover Unit: Lessons in Courage from the World's K9 Cops, was shortlisted for the 2018 Arthur Ellis Award for best non-fiction crime book. Recent fiction has appeared or is forthcoming in The Bellevue Literary Review, The Antioch Review, The Alaska Quarterly Review and Joyland.