Into the Zone: An Interview with Sonnet L'Abbé
This interview took place in and around Wilfrid Laurier University on February 4 and 5, 2015.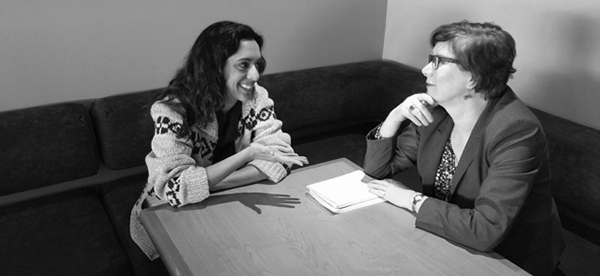 TM: Congratulations, Sonnet, on being appointed the 2015 Edna Staebler Writer-in-Residence at Wilfrid Laurier University. Can you talk a bit about the place a WIR position has in a writer's life, and how you see the position's role in university life?
SL: Thanks, Tanis. This is my first university WIR position. To me it signals a new phase in my writerly career. I have always had a day job to support my writing, whether that was as university administrative staff, or as a funded PhD researcher. I began to get paid to teach poetry when I taught in the Creative Writing program at UBC Okanagan, but for the term that I am at Laurier, my day job is writing.
I see the WIR's position as being an accessible role model of professional writer and offering writerly support to anyone in the Laurier community looking for it. I am a resource for talking about writing, whether that be at the ideas level, in public talks; at the technique level, in workshops; or at the personal level, when I meet one-on-one with students to talk in depth about their writing. Being at Laurier for the term means I have the opportunity to work with many different people at their own pace. If the term continues as it has begun, there will be some people I meet only once, some I meet two or three times, and some who I'll likely see every week of my stay.
TM: You've returned to the Waterloo region after spending several years away. What do you notice about being back in this region? What can you say about how small-city life in Canada influenced you as an artist?
SL: The snow—I've been in mild BC for seven years! Waterloo has changed a lot since I lived near Fischer-Hallman and University and went to high school downtown. RIM has been established, boomed and humbled while I have been gone; condos have sprung up; there are great Vietnamese and Korean restaurants now, and the area around University and King is a clutch of blocky residence towers. Waterloo has grown and has a stronger sense of itself as a cool place to live and work. I'm still learning what that city vibe means to Laurier students' identity.
I left KW to go to university in Toronto, our "big city." When I moved to Vancouver, I felt like I'd moved to a smaller town. But then I moved to Kelowna; Kelowna is a town the size of Waterloo (without Kitchener) that is five hours away from Vancouver, its nearest big city, with a mountain range and a treacherous, often impassable highway between them. I'm so freshly from Kelowna, I'm still processing its influence on me. I did learn what it meant to have a cultural leadership role in a community. In Toronto or Vancouver, if you decide not to run a reading series, there are many others who will run their own. In Kelowna, many of the art series and organizations were the one-and-only. The work I did at UBC-O hosting the Visiting Authors Series really felt like work for the whole community, not just for the university.
I did spend some of my childhood in Ile-des-Chênes, Manitoba. I was seven when I switched from the English to the French side of the only school in that town of under one thousand people. The social situations and language politics I lived through as the only non-white child in the school shaped some fundamental experiences of identity, which are no doubt the roots of the culturally critical, sometimes alienated, stance that has often informed my writing.
TM: Stories abound about the books that have been begun while at Laurier, most recently that Lawrence Hill wrote a significant portion of The Book of Negroes while staying at Lucinda House. What do you hope to achieve during your time as WIR? Have you seen any differences in how you've worked since arriving?
SL: I'm working on two projects, both poetry collections: Sentient Mental Flower Book is an experimental meditation on the biological and spiritual similarities of humans and plants. Sonnet's Shakespeare is a procedural book where I "write over" the texts of Shakespeare's Sonnets as an allegory of colonialism. Because I have been writing in snatches in between the demands of other work, the main difference I've experienced is how much time I'm able to spend in creation mode. I realize now that I haven't in years—or maybe ever—really had the pleasure of getting "into the zone" of writing and actually staying there, uninterrupted, for so many hours in one week.
TM: For much of your career, you've been outspoken about the politics of inclusion and exclusion in the Canadian publishing industry, and your recent publication on the site Delirious Hem emphatically addresses rape culture and gendered violence on university campuses. For you, what does it mean to bring your politics to this WIR position?
SL: I am hyper-aware right now of the new "anti-terror" legislation, Bill C-44, that Stephen Harper has just introduced. It proposes expanding the powers of CSIS, and basically lowering the threshold for evidence needed before detaining someone and giving the government "greater power to monitor, track or apprehend a suspect with less of an obligation to provide evidence the suspect was planning, or committed, a crime" (Globe and Mail). The Conservatives seek to criminalize the communication of statements that promote and advocate terrorism "in general," using a weak definition of what counts as promoting terrorism. I am sick thinking of the broad interpretative power the state wants to exercise. I have published poems in an anti-pipeline anthology, poems that empathize with violent emotions, post 9-11 poems in which I identified with my Muslim heritage. Until these past few months, I never thought that writing in Canada would put me at risk for detainment. Poet and professor Stephen Collis was recently charged with obstruction and faced a nearly $6-million-dollar civil suit for protesting the drilling activity of Kinder Morgan on Burnaby Mountain; his poetry was read out in court by the prosecution, as evidence of, perhaps, Collis's tendency "in general" to advocate for such obstructive activity. My work from a racialized and gendered perspective has always been about speaking up, being heard, pointing to ways that some people's experience is silenced, trying to listen. Right now, my politics involve talking about how to value the hard work and professionalism it takes to write deeply and fairly about any subject, about the assaults on public broadcasting, about the decline of journalistic infrastructure, and what all these mean for our ability to freely express our thoughts at home and in public. I put books like Bad Feminist, The Inconvenient Indian, and Claudia Rankine's Citizen on the reading list of the book club I'm hosting at Lucinda House with these political realities in mind.
TM: I want to hear more about your plant poetry, especially the "spiritual similarities" between plants and humans.
SL: The project has made me think about what counts as "spiritual." When you start to ask about the vitality, the life, in vegetation, it's almost like asking about the nature of souls.
TM: Are you thinking about the place of spirituality alongside the notion of the citizen scientist?
SL: I'm thinking more of the "affectual ecology" that someone like Natasha Myers writes about. Darwin having had to be attracted to, fascinated by, the plants…there is an emotional ecology from which post-Enlightenment scientific discourse, in pursuit of objectivity, tried to exclude itself. Now we might (again, as Rousseau, as Hervey) understand scientific inquiry itself as a passionate pursuit.
I wonder if the "ecocentric mindset" that ecocritics talk about is, in the end, the mindset many religious practices also try to engender. The emotional/affective dimension of the stories that describe the relationship of humans to environment seems a big part of what religion codifies, structures, contains…I think of the way the affective dimension of nature-knowing in Aboriginal cultures was read by Western cultures as "primitive" and "myth." I think of the way "God-fearing" has an element of simply respecting the power of the elements to flood our greedy butts.
TM: Ha! Speaking of passionate pursuits, many writers work in brief periods of time between day jobs, study, family demands, etc. And some are sensitive about being asked about how and if they are writing. The privilege of saying "Don't ask!" is denied to a WIR—or is it?
SL: I think I am pretty open about what I'm working on. Maybe I shouldn't be, because anyone paying attention will see how slowly I work. But having/not having time to focus is part of what affects my pace. The WIR space is really driving that home for me.
TM: You seem to be working at a breakneck pace.
SL: Are you kidding? My last book of poems was in 2007. I should not deceive you—I've done the PhD and a bunch of other stuff. But I won't feel like the PhD is a book until it's a book.
TM: I think there's too much emphasis on producing books of poetry quickly. And your PhD will be a book; being a poet-scholar is its own special acrobatic act.
SL: I would honestly not care at all about my pace if I weren't always trying to figure out paying bills. I think you are spectacularly productive. Reading 95 books, and publishing papers, and teaching, and writing poems…
TM: My last poetry book came out a while ago, too: 2008.
SL: Sister.
TM: There's either time but no money, or money but no time, which is why it's so spectacular that Edna Staebler became a millionaire and left her money to fund writers through this residency. So satisfying from a feminist perspective.
SL: I love that story. I love that even though her ex was rich, she told him to stuff his meagre post-divorce allowance with strings attached and went on to earn fat stacks from her own books.
TM: Sina Queyras and I were talking about what it takes for women to take up critical space in Canadian literature. How would you name the critical space that you take up?
SL: I'm still figuring that out. I think when you read my work you can see that I've spoken from a place that is searching for my sense of place and belonging. I don't think I've yet felt comfortable positioning myself within the critical categories the academy offers—off the top of my head I'll say I see myself as a "communications strategist." When I was working as a real communications strategist, I was like, wow, I'm making poetry for the Man. I mean poetry in its Platonic sense: writing with intention to act on the emotions. So instead I see myself as writing PR for the unvoiced, whether as critic or as poet. It's a space straddling the boundary of propaganda and ethics. I would like my work to demonstrate the range, mechanics, pulleys and levers of the voice as a political instrument and as the body's advocate.
---
Cover image by Kitagawa Utamaro via the Rijksmuseum