What is Laurie D. Graham Reading?
My job has always made the reading I do a little scrappy, a little piecemeal. Months of pandemic have exacerbated that: my time spent reading is modulating widely—for a while, all I do is read, then I can't read at all—and I've been starting into more books than usual these past weeks. Maybe a disconcerting amount. I tend to have a few books on the go at once, and now I find myself with seventeen. This I do not recommend.
But at the same time, to have that big a group speaking in my head—perhaps a response to these months of isolation, as well as guides in these weeks of protest—lends a polyphony I'm finding nourishing and useful, if not a little unsteadying. (Maybe I'm nourished because it's unsteadying?)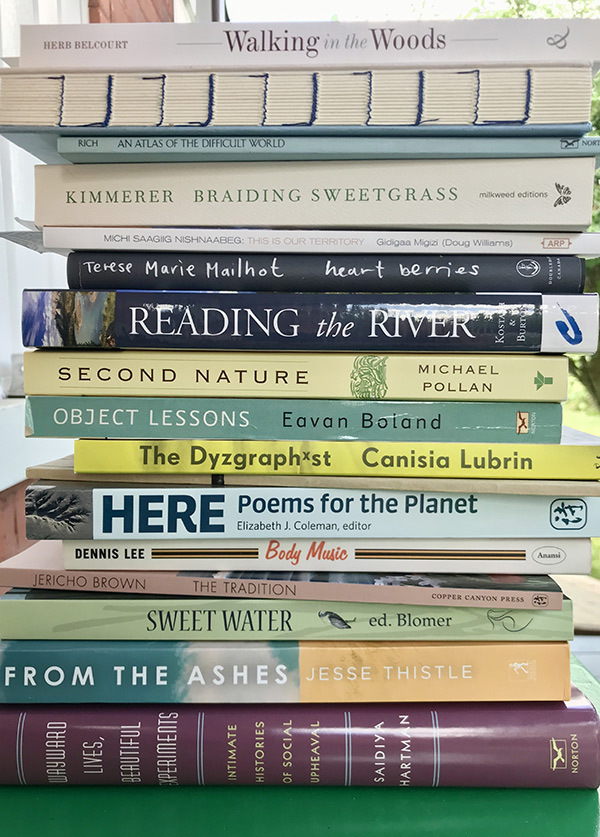 I'm reading poetry and non-fiction exclusively these days; these are the two genres occupying my writerly mind as well. And I'm doing more re-reading than usual: touchstone writers who've influenced the sort of writer I've become; books that I count among my favourites; ones that remind me where I am and where I come from.
Add to the list below some of the significant pieces I've found lately in magazines and online: Tadzio Richards's profile, in the May issue of Alberta Views, of Chief Allan Adam, who I'd argue is one of the most significant leaders of our time; a beautiful compendium of Black women's writing and art on liberation, put together by Nataleah Hunter-Young and Sarah Mason-Case for Canadian Art; this piece by Tim Lilburn about poets with lifelong subjects; Danez Smith's "Crying, Laughing, Crying at the George Floyd Protests in Minneapolis" in The New Yorker.
So here's the lot, in no particular order:
Herb Belcourt's Walking in the Woods: A Métis Memoir
Gidigaa Migizi (Doug Williams), Michi Saagig Nishnaabeg: This Is our Territory
Adrienne Rich's An Atlas of the Difficult World: Poems 1988–1991
Eavan Boland's Object Lessons: The Life of the Woman and the Poet in Our Time
Robin Wall Kimmerer's Braiding Sweetgrass: Indigenous Wisdom, Scientific Knowledge, and the Teachings of Plants
Sweet Water: Poems for the Watersheds (ed. Yvonne Blomer)
Jericho Brown's The Tradition
Dennis Lee's Body Music
Michael Pollan's Second Nature: A Gardener's Education
Saidiya Hartman's Wayward Lives, Beautiful Experiments: Intimate Histories of Social Upheaval
Terese Marie Mailhot's Heart Berries
Here: Poems for the Planet (ed. Elizabeth J. Coleman)
Dionne Brand's The Blue Clerk
Muse in Prison: Eleven Sketches of Ukrainian Poets Killed by Communists and Twenty-Two Translations of their Poems (ed./trans. Yar Slavutych)
Canisia Lubrin's The Dyzgraphxst
Jesse Thistle's From the Ashes: My Story of Being Métis, Homeless, and Finding my Way
Myrna Kostash's & Duane Burton's Reading the River: A Traveller's Companion to the North Saskatchewan River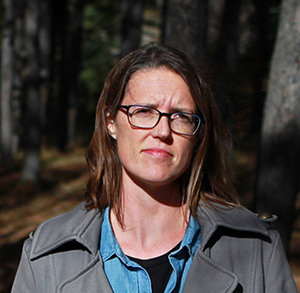 Laurie D. Graham is a poet, editor, and the publisher of Brick magazine. Her books are Rove, Settler Education, and The Larger Forgetting, a collaborative chapbook with the Waterloo painter Amanda Rhodenizer. A third full-length book is due out with M&S in 2022. Laurie grew up in Treaty 6 territory (Sherwood Park, Alberta), and she currently lives in Nogojiwanong, in the treaty and traditional territory of the Mississauga Anishinaabeg (Peterborough, Ontario).