What is Virginia Boudreau Reading?
You know that uncomfortable feeling of Deja vu that occasionally causes you to pause? It's one that revisited when the esteemed editorial team at TNQ wondered what book was currently gracing my nightstand.  Hmmmmm, I could tell the truth and ignore the nervous rash climbing like an unpruned rugosa up my neck or be unapologetically honest. The irony of it is laughable. Last week I was reading such and such about so and so which was a mind-expanding experience appropriate for one aspiring to be regarded as an actual writer. This week? Not so much.
Alas, the truth wins out but the predicament, eerily familiar, transports me to a time when my kids were young and I was recovering from flu. It was late afternoon and the kitchen was fragrant with a hearty home-made meal simmering and a whole grain bread baking in the oven. There was even a fresh fruit salad waiting in the fridge for afterward because was I a conscientious mom? Absolutely!  I was setting the table when a rather humourless young woman showed up at the door wearing a navy peacoat and earnest expression. The Department of Health was in the process of surveying random N.S. households to discern nutrition habits and meal choices. Would I be able to spare a few moments?
"Sure!" I beamed, "Happy to help." I tried not to sniffle too loudly and looked around my messy kitchen. She pushed her glasses further up on her nose. "I'll need to know what you served for dinner last night."
"Last night?" I squeaked. "ONLY last night, not today?"
 "We are only looking at meals served on the 13th of January." A smug gleam flashed when she nodded, aware of my dismay. 
The tell-tale blush had already started, and I silently cursed my Celtic colouring. "Well, last night," I hesitated. 
My son, then five, who was following with great interest chirped up. "You remember Mom, last night we had Pizza Pockets!" He was almost bouncing with pride.
Clearing my throat, I attempted to explain. "I really wasn't up to cooking yesterday, can't tonight's meal count instead?"
"Pizza Pockets," she repeated and recorded it on her clipboard, the satisfied smirk hovering. 
"They were good too," my son chimed in, "and best of all, we had Timbits for dessert, Daddy brought them home!!"
She blinked. I tried again, "But tonight would be much more typical. We're having…."
"Sorry. I have what I need.  The results of this survey will be published in two months time."
ARGHHHHH!! Why couldn't she have asked about last Tuesday night?? I couldn't remember what we'd had, but it definitely hadn't been Pizza Pockets, because we NEVER had Pizza Pockets at dinner time! She seemed intent on NOT getting that piece though.
I'd be lying if I didn't confess I felt similarly conflicted when asked what book I was reading right now. I COULD lie but that would bother me later, so I'll just have to tell the truth. It's not the latest issue of The Malahat Review, nor "The Forest Through the Trees, An Editor's Advice to Writers" by Betsy Lerner, nor is it " We Begin in Gladness, How Poets Progress," a series of compelling essays by Craig Morgan Teicher, all of which are presently stacked on my night table waiting to be read. Nope! 
The book I'm reading (and loving every moment of) is "Surprise Me" by Sophie Kinsella, an Irish writer. She makes me howl right out loud! I love her voice, her ear for dialogue, her inane cast of characters and the way she explores deeper issues in ways that appear completely effortless. I think she's a brilliant comedian and a gifted storyteller. It may not be the most intellectually stimulating book I've read in a while, but it certainly is the most enjoyable. It's the one that's made a hard week better and made me think about how we all probably need a bit more frivolity in a world that's become increasingly uptight. And, when I think about it, it would be a horrible insult to compare this great read to a measly old Pizza Pocket…or Timbit either, for that matter.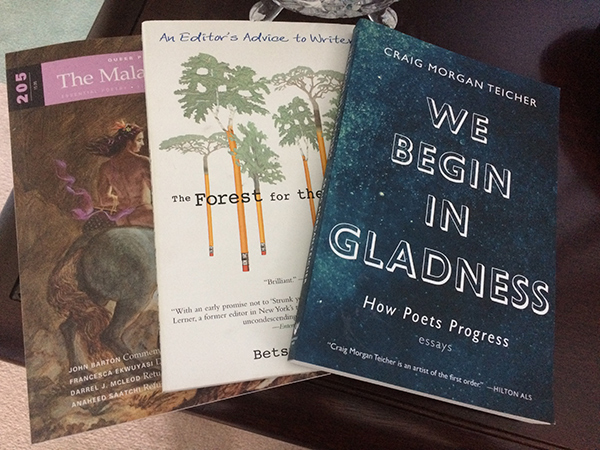 Virginia Boudreau is a retired teacher in Nova Scotia. Her poetry and prose have appeared in international literary publications.