Write on the French River: Why Writing Retreats Matter
I'm pounding down the highway—hour after hour—driving north and west away from my home in Kingston towards a pin dot on the map, a writing retreat in a northern lodge along the banks of the French River.
The further I travel and the deeper into the rugged rocky outcroppings and pine trees of the Canadian Shield, the more I find memories from my high school history class swirling around my brain. Words like Coureurs de Bois and Voyageurs come to mind. The French River or la Rivière des Français, was named by the Ojibwa, because of the early French explorers like Radisson and Samuel de Champlain who along with great packs of voyageur canoes travelled this waterway in a time before roads, a time before the nation was yet a nation. The French River was part of the fur trade super highway from Montreal to Lake Superior.
Since I moved to Kingston over a decade ago, I've breathed a little more deeply of the past of this country. Each day as I travel the old lift bridge on my way into town – I'm crossing the intersection of the historic Rideau Waterway, the St. Lawrence River, and Lake Ontario—bodies of water that once brought settlers west and provided natural geographic boundaries defining the nation. It's impossible to live in a place so connected to the history of Canada without feeling the impact more fully. Perhaps this is why the French River, which I canoed in my youth without any thought towards its past, suddenly feels so important.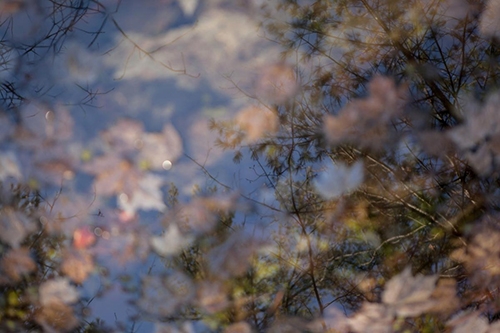 Somewhere north on Hwy #69, my GPS comes abruptly to life and directs me onto a back road vaguely heading in the right general direction. This wasn't what I planned but I follow the instructions and am soon on a winding back road in the bush—with no road signs and no real idea where I am. I pull my car over to look at the map, and am just contemplating turning back when my phone rings. It's my friend, Alec, from Kingston who wants to know if I want to grab a drink. I haven't heard from him for months. He is a writer who once canoed across the country, following the lakes, rivers and portage routes of the fur traders and voyageurs and wrote about it in his beautiful book, Coke Stop in Emo: Adventures of a Long-Distance Paddler. He's the only person I know of that would have any clue what I'm talking about when I tell him I'm somewhere off Hwy 69, south of Sudbury, heading east-north-east towards Noelville, on an unmarked back way, hoping I'll soon turn onto the numbered road leading me towards the French River. He figures I'll be fine. "Keep going and call me about that drink when you're back in town," he says. Within minutes of hanging up the phone, I lose connectivity. But now, with serendipity on my side, I abandon the map and just keep driving.
I arrive late afternoon at the end of the dead end road where the Lodge at Pine Cove is located. The French River looms large here with its clear waters, rocky shores, and old growth pine trees. Among other things, this is Group of Seven country where Tom Thomson once captured the windswept pines and flowing river with brush and paint and a remarkable eye for landscape.
But this week, it is a group of writers who will descend here, for the Annual "Write on the French River," creative writing retreat—a collaborative effort between the Lodge and the literary journal, The New Quarterly (TNQ).
One by one we arrive and are taken to our cabins. Any trepidation about where I'm about to spend the week subsides as I walk into Champlain, the beautiful cedar cottage I'm assigned to. The two women who are to be my cabin mates are already in situ. One is the resident poet for the week and the other is an artist and writer, working on a children's book. Our cottage has three large bedrooms, a fully-equipped kitchen, a lovely bathroom, and a large living room with a wood-burning box stove. The screened in porch has one of the best views on the entire property.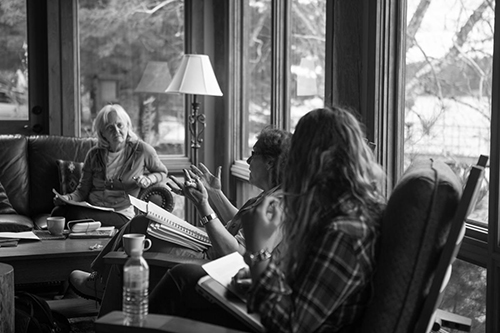 The five-day program is packed. Luckily we are well-fortified. Each morning a breakfast basket is delivered to the cabins. Ours makes us squeal every morning despite the predictability of contents—a winning formula of fruit, granola, juice, croissants, pain au chocolat, butter and jam. We sit together, a full pot of coffee, the fire going, the river just beyond our kitchen table. The granola is the best on the Planet. It's a secret recipe; one that I tried unsuccessfully to obtain but have almost managed to duplicate at home. Think almonds, cashews, unsweetened flaked coconut, dried sour cherries, dried apricots, and finally, large flake oats, probably steel-cut, maple syrup and possibly some sunflower seed oil. Make sure the nuts and dried fruit outnumber the oats by a stiff margin. Bake it to perfection—not too well done—it's best when it's just nicely browned and ever so slightly clumpy.
Our days pass in a blur of writing group sessions, writing craft talks, lectures, presentations, lunches, dinners, and evening events. We find time for some intense conversations. Most of us are scrambling to fit in some activity time to attempt to wear off the consequences of all the good food. Out of fear of bears, I walk the roadway leading into the lodge, rather than the hiking path on the property. I do this in early morning before breakfast. It only strikes me later that there's no reason why bears should choose to avoid the quiet dead-end road.
The instructors are an all-star cast including writers Don Gillmor and Oakland Ross and TNQ non-fiction editor Susan Scott. The lectures and writing craft classes are brilliant. The only dilemma comes when there are overlapping sessions—which to choose and which to forsake. Travel writing or poetry? I choose poetry. It is wonderful. Our poet in residence, Nanci White, leads the session. She recites poems by heart. We talk about Basho, T.S. Eliot, Ezra Pound, and Emily Dickinson. We write and share our own haiku poems. I usually dread this kind of thing but somehow this time—it works. We all seem to feel embraced by both the place and each other and there is a collective, almost pulsating sense of energy. The travel writing group says the same of their session.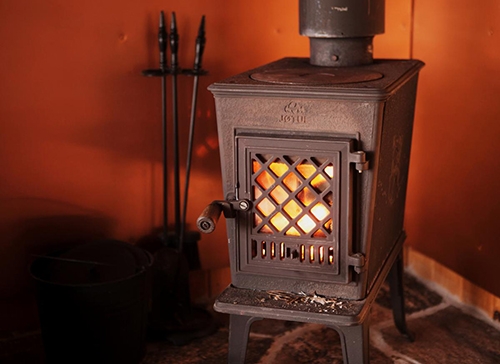 This is a truly inspired group of leaders—intelligent, insightful, and helpful. There's an atmosphere here that is surprisingly safe; nobody is intimidated no matter what stage of the game they are at. The leaders pay attention to us in a way I've rarely seen happen before. We are somehow united. It is a love—almost carnal—of stringing together words that has also brought us together.
On our last night, we have an evening session of participant readings. I am first up to read, and am slightly fortified by a single neat gin. Hendrick's. Afterwards, I sit in the lamplight, listening to the others, while behind us, over the river, the light is gone and the lodge is wrapped in the dark night.
Later yet, I head back to my cabin, flashlight in hand, crossing the wooden man bridge across Pine Cove, the little inlet that separates the main lodge from the cabins. In the dark and the quiet—the sky starless, the moon shrouded by cloud—I have a tiny, perfect revelation. An unexpected surge of happiness. The realization that what I have experienced here is that elusive sense of belonging.
I'm leaving a little less lonely, a little less full of self-doubt.
---
I'd like to offer my profuse gratitude to both The Lodge at Pine Cove and The New Quarterly for sponsoring my stay at the 2014 "Write on the French River" retreat.
---
Lindy Mechefske is a freelance writer, an employee of Queen's University, and author of A Taste of Wintergreen. You can find her blogging about her foodie adventures at Love in the Kitchen – lindymechefske.com.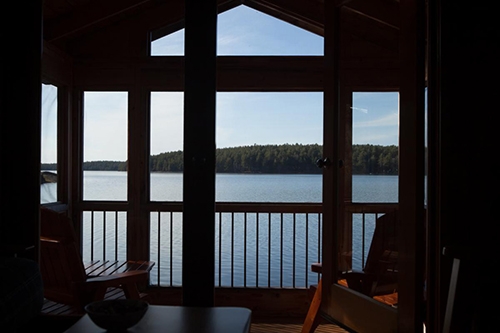 Photographs courtesy of James Walsh. For more information about James see www.sinamatella.com.