Writing Spaces: Rachel Laverdiere
This week in Writing Spaces, we take a look at the working space of Rachel Laverdiere, author of "Wishbone Snap" in Issue #146.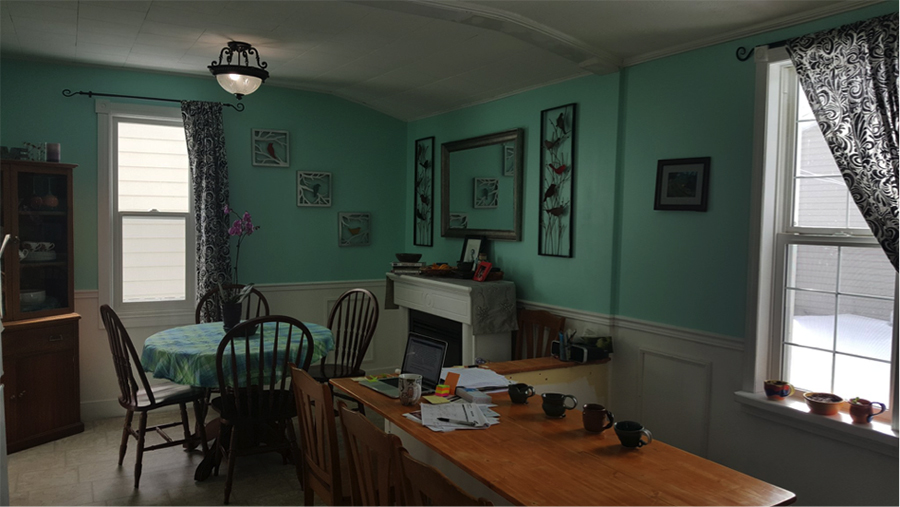 My writing space is a constant reminder that most things in life are a work in progress. See, when I bought this house, the kitchen was a tiny space next to my "writing room." I kept looking at the wall separating the two rooms, wondering how much more light and space there'd be if I just knocked it down. The first day of summer holidays rolled around—I was teaching Grade 7 French immersion and it had been a tough year—and before I realized what I was doing I had a sledgehammer in my hands. Less than an hour later, there was nothing but studs and electrical wires where the wall had been. I panicked. As usual, I'd gotten carried away—I'd let the spark of whimsy ignite in my brain.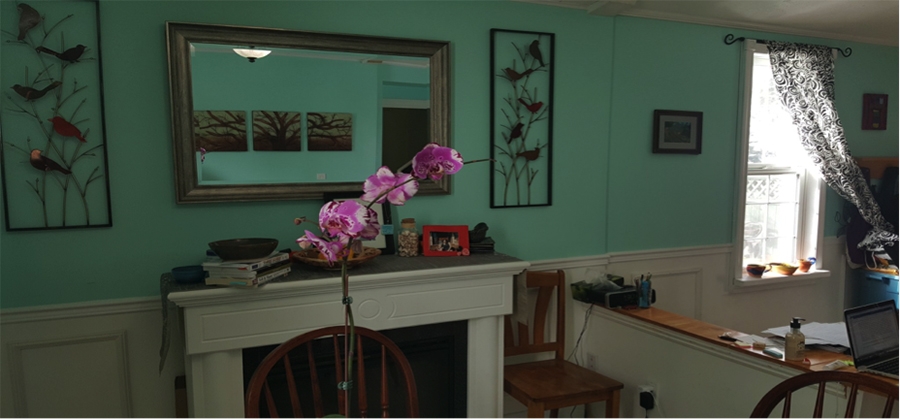 I think all of my life I've known I am a "pantser." I do things—move cities or countries, buy houses, get married, change jobs, write novels—in the spur of the moment. I'm pretty sure my mother would call me an "anti-planner." When I write, landscape or renovate—even when I am making pottery—I get into the moment and let the ideas take shape. This isn't always the best way to tackle projects, but it's my way. I've tried writing from an outline, or drawing up elaborate plans (for example the deck I built seven years ago), but sticking to the plan seems silly when you run into obstacles (concrete steps beneath the wooden ones, for example) or see a better, more adventurous way to arrive at the end. Sometimes things work out, sometimes they don't, but I'm definitely never bored. This room I write in is a reminder that things come together in amazing ways when I allow them space and time, especially if I am willing to adapt and experiment with form.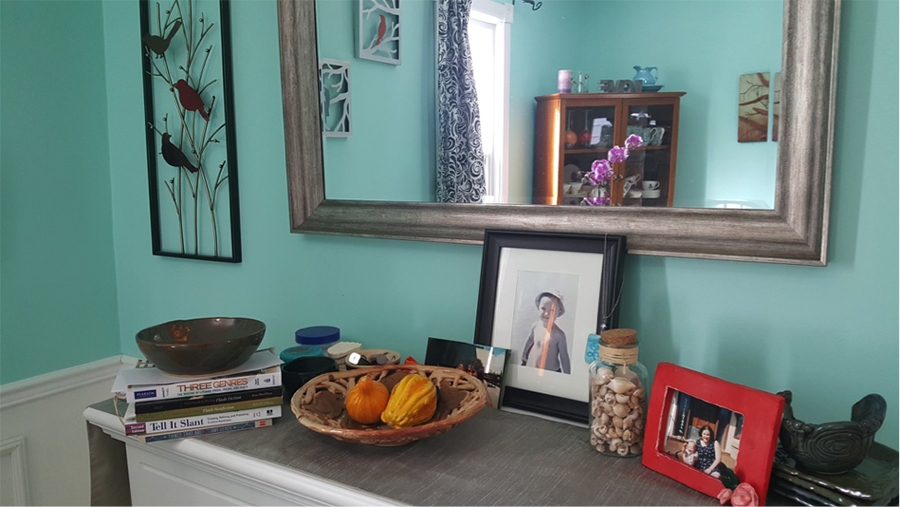 I tried moving my writing habits elsewhere, but this spot, sitting at the makeshift table-height island, is best for me. This space is bright, cheerful, quiet and filled with the echo of memories. A few years back, I had a garage built in the backyard. At the front, there is a loft with all of my writing things—my library, writing books, printer, etc. Sometimes, I write in that space, but I am drawn back to my kitchen. It's where I do my best writing. I can see the giant maple from my north window, my garden through the east window, my pottery experiments on the fireplace next to a stack of writing books and the photo I took of my son when he was almost four. The dogs snore in the living room behind me, and I have unlimited access to the espresso pot. I can make huge pots of soup while I think through a problem, or re-live a conversation my mother and I had while we played Scrabble and drank coffee when she was going through chemo, and life suffocated me everywhere but in this kitchen with her. I can watch a half-episode on Netflix with my dogs when I need a break or walk up the stairs for a quick nap.
I'm writing this in winter, so I've forgotten that my habits change when the weather is nice. On a hot summer's afternoon, I often sit in the shade of the deck I built at the front of my house. It's a quiet, sleepy neighbourhood full of the sounds of nature. The river trails are less than five minutes away, and if I need to eavesdrop to figure out a character's voice so they stop sounding like me, or get some ideas for characterization, coffee shops on Broadway are less than fifteen minutes away. My neighbourhood fills me with inspiration. I am a hop, skip and a jump away from everything I love.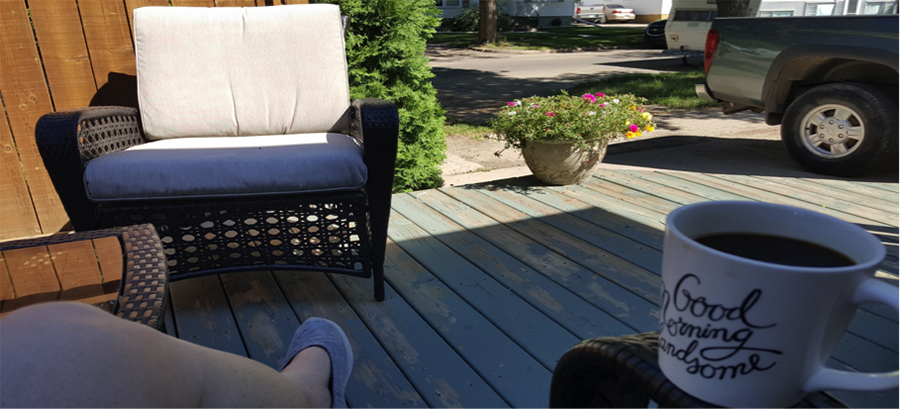 It's as though my whole universe sits with me here, in this house, in this neighbourhood, and this kitchen is the hub. My tip for writers is to find that place that is a good centre of gravity.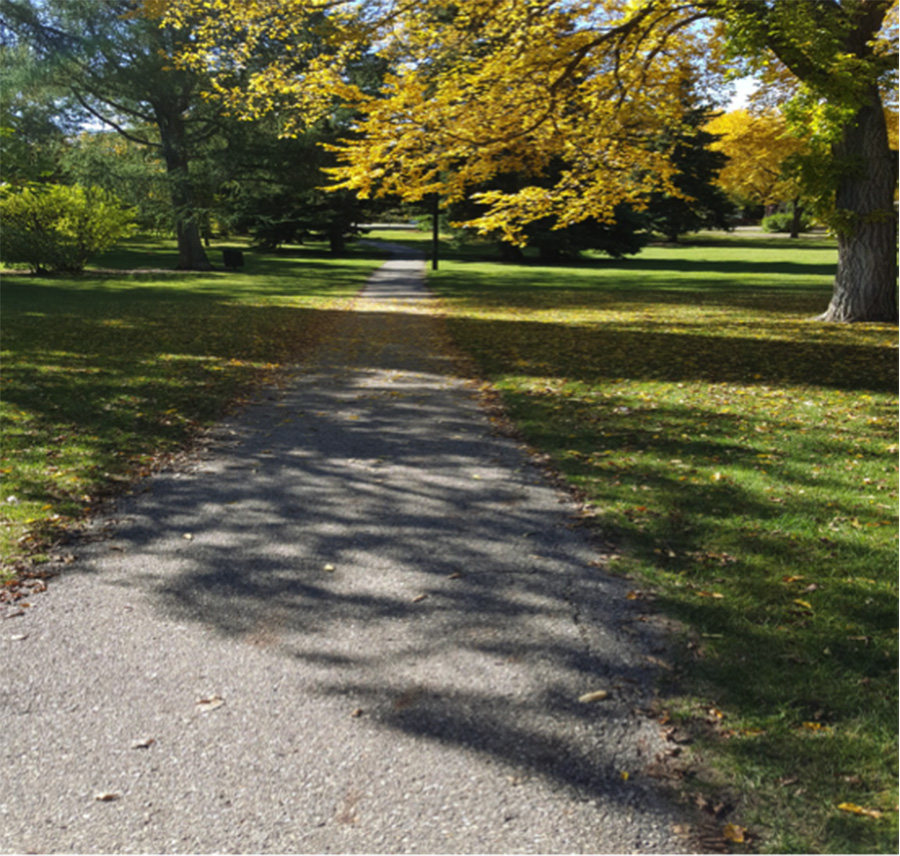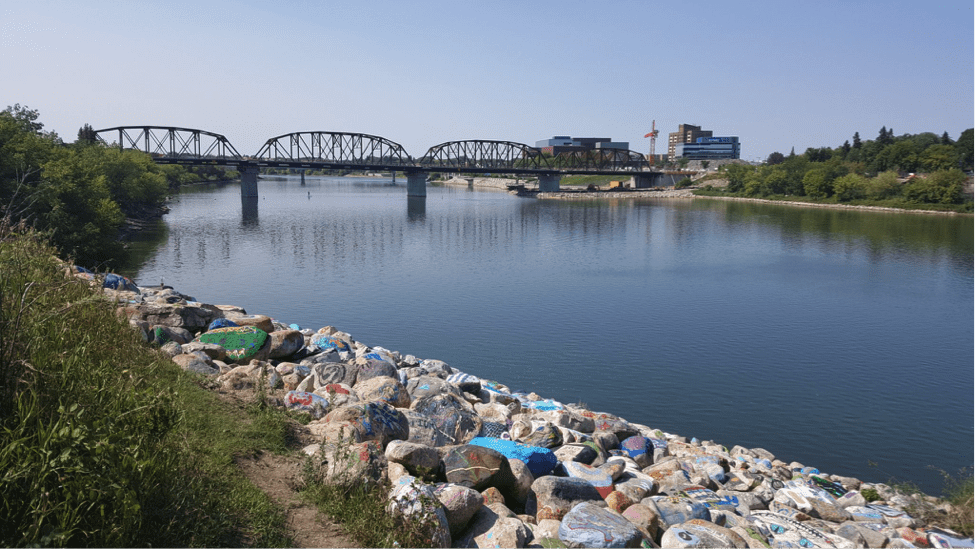 ---
We're giving you a behind-the-scenes look into the writing process – straight from the desks of our contributors! Check out the full series here.