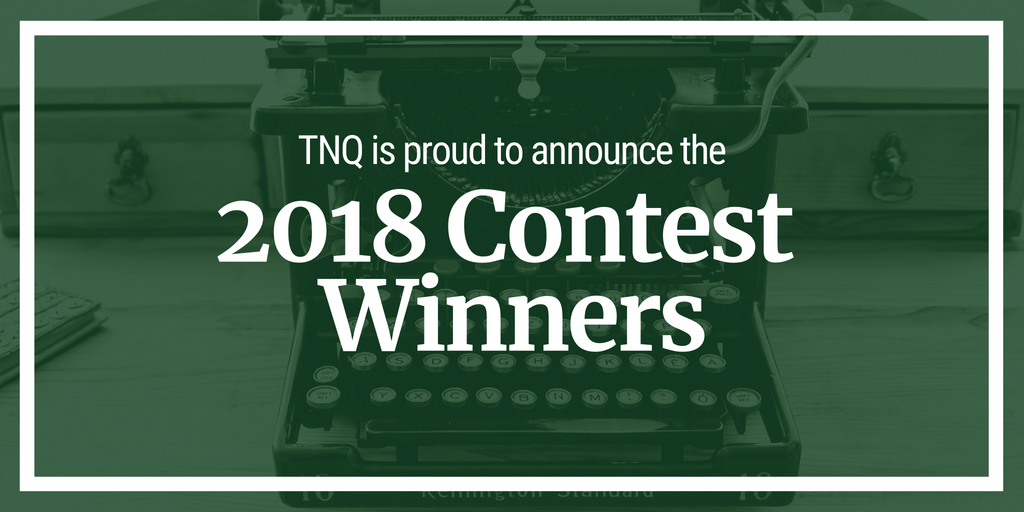 TNQ's 2018 Contest Winners — Fiction, Poetry, and Personal Essay
The New Quarterly editors and contest judges faced difficult decisions to determine the winners of this year's three writing contests.
TNQ congratulates and applauds the 2018 contest winners.
Peter Hinchcliffe Fiction Award
First prize ($1,000)
Katie Zdybel, "The Last Thunderstorm Swim of the Summer"
Runner-up
Daniel Tysdal, "Humanity's Wing"
Honourable Mentions
Alex MacKay, "An Accent Built in London"
Natalie Southworth, "The Realtor"
Marilo Nunez, "We All Want to Change the World"
Glenna Turnbull, "Things You Find on the Side of the Road"
Nick Blatchford Occasional Verse
First prize ($1,000)
Catherine Malvern, "December's Child"
Second prizes (tie) ($500)
Suzanne Nussey, "For My Husband on Our Anniversary"
Terence Young, "The Bear"
Honourable Mentions
Rob Taylor, "What Did You Dream About?"
Cynthia Woodman Kerkham, "Crossword"
Anne Marie Todkill, "Orion Sweeping"
Tanis MacDonald, "The Haunting"
Daniel Scott Tysdal, "Spring"
Frances Boyle, "Passage Tomb"
Daniel Scott Tysdal, "Don"
Edna Staebler Personal Essay
First prize ($1,000)
Meaghan Rondeau, "Half-Thing"
Runner-up
Maureen Scott Harris, "Come Caribou Come"
First prize winners Katie Zdybel, Catherine Malvern, and Meaghan Rondeau have each been awarded $1,000 and are invited to read excerpts from their winning submission on opening night of the Wild Writers Literary Festival, on Friday, November 2, 2018  in Waterloo, Ontario. In addition, their works will be published in the Fall 2018 issue of The New Quarterly.
To find out more about the annual festival, which includes writers discussing the writing craft, masterclasses, workshops, literary panels, and much more, please visit the Wild Writers Festival.
The Peter Hinchcliffe Fiction Award is for a work of short fiction by a writer in the early stages—someone who has not yet published a novel or story collection.
The Nick Blatchford Occasional Verse is for poems written in response to an occasion, personal or public—poems that make something of an occasion, or simply mark one.
The Edna Staebler Personal Essay is for essays of any length, on any topic, in which the writer's personal engagement with the topic provides the frame or through-line.
TNQ editors and contest judges thank everyone who submitted to our three writing contests. The opening date for 2019 submissions for all three contests is September 1, 2018.
Head over to our Contests page for more information about our contests.