Bobbie Jean Huff's Writing Space
I started my first novel when I lived in Canada, working on it in the Ottawa library. When I moved to the US I found myself with an extra room in the house, the perfect place for a study. Still, I wrote in the library, where I was one of a number of serious people sitting purposefully around long tables working away. At the library, I was a serious person.
When Covid hit, the library was no longer an option. I had to work at home, in that extra room which had, over time, become a catch-all for all the books I had ever owned. Without my noticing, that room had turned itself into a library. All it required was a desk, a chair, and a lamp.
I already had a desk, an antique my mother bought me when I was nine. Back then I used it to write in my diary. But that desk was too small for novel-writing purposes, and it remains against the wall opposite my bed. Every morning when I wake I think of my younger self, scribbling in my diary, but I also think of the girls who sat there long before I did. If I squint I can almost see them in their long skirts, dipping their pens into pots of ink as they write in their diaries.
The desk I finally decided on was the dining room table we used in Canada. On it is my laptop, which rests on an ingenious pine box with three small drawers, elevating the screen to eye level. And then there's a banker's lamp with a green shade, the type you might see, if you travel back to the 1940's, in the offices of the British House of Lords.
On one wall is a bulletin board, its contents ever changing. Its only permanent objects are a photo of Virginia Woolf, and a note to myself that reads: "We're sorry. There was a problem processing your request. Please try again later." The note is there for when I receive unwanted requests, although I admit I have used it when asked, on a busy day, if I will babysit a grandchild. When that happens, all I need to do is copy out the three sentences, sign it and hit Send.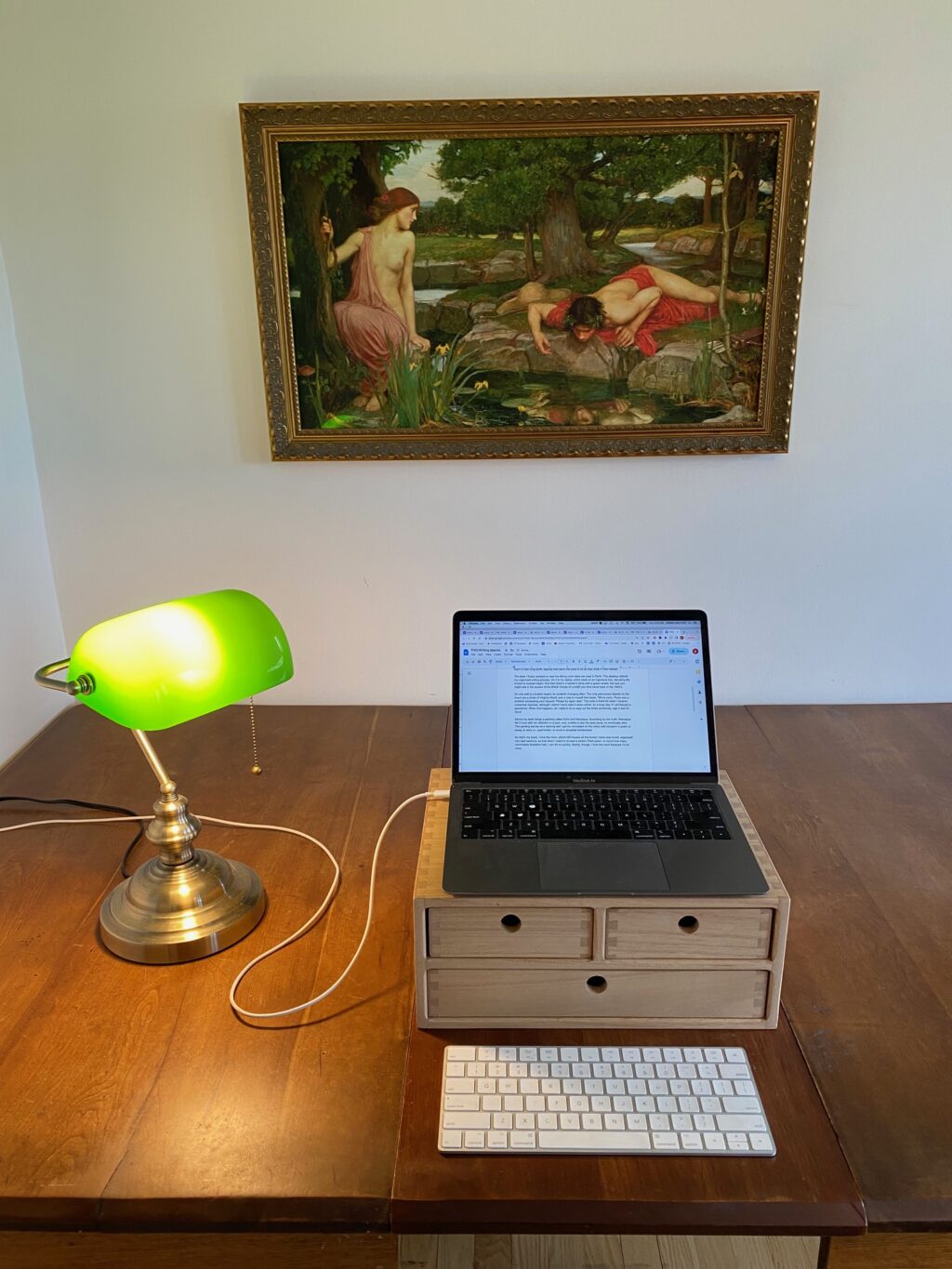 Above my desk hangs a painting called Echo and Narcissus. According to Ovid's myth, Narcissus fell in love with his reflection in a pool, and, unable to tear his eyes away, he died. The painting serves as a warning, lest I get too conceited on the (very) odd occasion a poem or essay or story or—god forbid—a novel is accepted somewhere.
So that's my study. I love the room, which still houses all the books I have ever loved, organized into neat sections, so that when I need to re-read a certain Plath poem, or count how many roommates Madeline had, I can do so quickly. Mostly, though, I love the room because it's  mine.
Bobby Jean Huff 's poems, essays and stories have appeared in Canadian and US publications. In 2022 her debut novel, The Ones We Keep, was published by Sourcebooks.