Finding the Form with Karen Lee
What does it mean to silence a child?
When we enact oppression on other people, it lives in us too. What did it cost Miss Hirabayashi?
What would the river say to you?
In a single, intense, exhilarating writing session with Aurora Masum-Javed, writing coach, poet, educator, I played Twenty Questions with Miss Hirabayashi. I asked Jean Binta Breeze questions I wish she were here to answer. We combed the epistolary, poems, flashback and prose in my draft and untangled the trauma around silencing the voice and creative expression of a child.
I employed non-linear Afrikan-Caribbean storytelling traditions so This is Not a Poem! could express the dissociation of my childhood and teen years in the associative, fragmented, spacious nature of the lyric essay.
The speaker offers Miss Hirabayashi receipts for the legendary accomplishments, artistic rigour, and prolific excellence of multi-genre Jamaican storytellers in the academy, performing and recording arts, broadcast media, library sciences, community and literary canon. There is tension between Member of the Most Excellent Order of the British Empire, and Musgrave Medal, prestigious degrees and awards in the name of the colonizer, and the very Jamaican/Patwah for which Doctors Breeze, Bennett-Coverley, Cox, and Mordecai, were variably honoured in the white spaces. Jean Binta Breeze, who is not alone in this regard, did not care for Empire but graciously accepted the MBE.
The river metaphor, as identity as ancestry as difficulty as possibility, braids the lyric: from Langston Hughes, The Negro Speaks of Rivers; through Miss Hirabayashi, one of many rivers I had to cross; through myself/ourselves as coastal people; through Whitney French, Hush Harbour Press; through Audre Lorde, Litany for Survival; through Dr. Alexis Pauline Gumbs, Undrowned: Black Feminist Lessons from Marine Mammals; through Jean Binta Breeze, church came, like a frightening orgasm; through Mami Wata (river goddess, River Mumma, Yemanja/Yemaya…); and through the quadrille: let what moves me carry you. The River speaks to me.
COMPLETE EACH SENTENCE WITH THE CORRECT PHRASE: SOME SENTENCES ARE COMPLETE, sinuously addresses rivers eroding poetry/performing arts/communities. This interactive matching game poem invites the reader to complete meaning.
quadrille: let what moves me carry you, my first, is a nod to Jean Binta Breeze. A quadrille poem consists of 44 words. The quadrille derived from the English and French colonial coupled dances brought to Jamaica in the 18th and 19th centuries, to which a fifth figure was added. Breeze's Fifth Figure, documents five generations of women in her family as memoir and novel in the form of a quadrille.
mango belly contains all of these received voices [that] exist inside the wound. (Masum-Javed). In this iteration, specific to this essay, Audre Lorde insists on breaking silence, against Miss Hirabayashi's Detention! for the same. The speaker asks her father questions that answer questions Miss Hirabayashi never asked her student.
And with Masum-Javed's, you know what you're doing…your gut will tell you when it's ready, I greased the scalp of Falling in Love with Poetry and braided This is Not a Poem!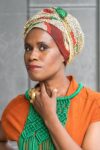 Karen Lee won the 2020 Pacific Spirit Poetry Prize, PRISM international. Her polyvocal refusals appear in publications including The New Quarterly, Room, The Fiddlehead, The Malahat Review, and the 2018 Small Axe Literary Prize shortlist. "Tekkin Back Tongue," her first poetry manuscript, is named after her self-directed writing residency in Ghana, Kenya (2018). lee also self-directed writing residencies in Kenya (2021), Germany and France (2022). lee is a Jamaican Patwah court interpreter, voiceover artist/actor, vocalist and poet. She is working on two poetry manuscripts in progress.