Finding the Form with j tate barlow
The poem "Time Looks Like This" began at the beach with my very active grandson, on a frigid day. I believe I came home and started to write (after a nap!), the scenario still icy clear in my mind.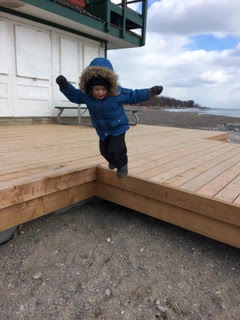 I love to write sonnets, so will frequently begin poems in a sonnet form, then deconstruct and reshape. To me the movement and sound in this poem asked for something different. Experimenting with line breaks and reading aloud (always) as I went, I came up with this "form".
It occurs to me now, as I look at it for the purpose of figuring out what I did, that the words or phrases set off in every third line appear to be mirroring the movement of a skipped stone. Or am I reading too much into this? Certainly wasn't a conscious intention.
j tate barlow moves to the music, lives uphill from a Great Lake, and loves the heft of a good pen.