Other Happinesses: Magazines Are Good; Magazines Are Very Good
Talk given at the MagNet Conference in Toronto, Ontario on April 28th, 2017.
1974. Darkness. Fonts. The sheen of glossy grey Xerox paper. I, clad in white samite and sports socks. The arcane allure of a long-armed stapler, the numinous and tactile attraction of cover stock. I was ten years old and my school was having a White Elephant sale.
I had recently moved to Canada from Northern Ireland and I didn't know what a White Elephant sale was. Our teacher, Ms. Foote—I had this intense schoolboy crush on her—encouraged us to have something to sell. So, of course, to please her, I was going to have something to sell. And though I'd never done it before, it seemed the most natural thing in the world to write a story and make a little book out of it. I don't remember all the details but I know Cosmic Herbert and the Pencil Forest was about Cosmic Herbert, an ancient and ironic wizard who had to save the pencil forest.
The forest was being clear-cut by writers whose need for self-expression—and thus pencils—was insatiable. Naturally, the consequences of this were ecologically disastrous for the pencil forest and for the continued survival of literature as we know it. I don't remember how the story worked out or, how my sales were, but I know I didn't move as much product as those kids who sold brownies, tank tops that they'd macraméed, or little plastic statues of bedraggled and forlorn golf-playing men that said, "World's Number 1 Best Dad." But I did catch the excitement of writing and publishing. The excitement of creating work and standing behind it, sometimes literarily, like at that White Elephant table, or at book fairs or signing books after a reading.
Since then, I've been doing basically the same thing in various forms for forty-three years. Writing and publishing. In this way, as my favourite Louis de Bernières' line says, I have demonstrated, "Exemplary flexibility in the face of unchanging circumstances." And how have I managed to continue this activity for all these years? To paraphrase Yeats, "I have an abiding sense of tragedy, which has sustained me through temporary periods of joy."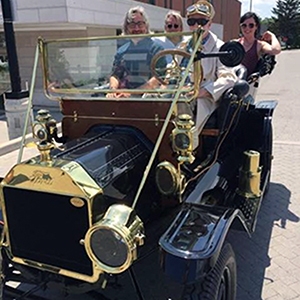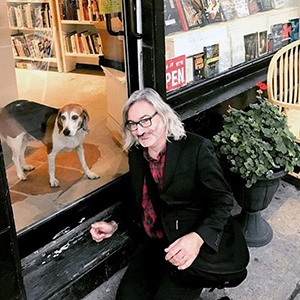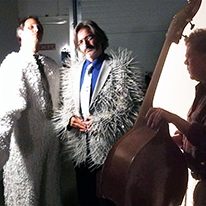 But really, today I want to talk about how vital and important writing and publishing is in all its forms, and especially how a diversity of voices, how a diversity of publications—from big mainstream publishers to the non-commercial margins—is vital if a society is to sustain the cultural biodiversity needed to have a strong and thoughtful culture of inquiry, engagement, and dialogue. If our society is to continue to develop and be resistant to threats—threats to meaningful dialogue, inquiry and engagement, threats to diversity and the diverse perspectives of a diverse population. Without this diversity of publishing we might become like the banana industry, reliant on a single variety, a top banana which can be wiped out by a single strain of disease, as has happened before. We'll miss out on all those different kinds. Goodbye, Gros Michel. Goodbye, Cavendish.
But me standing up here talking about magazines to people who know more about magazines than I do does feel a little like bringing coals to Newcastle. It reminds me of when I was to do a talk in Japan after I had a book of haiku published. Me. Telling the Japanese about haiku.
The talk was at the Canadian embassy and when I arrived, I was introduced to two members of the audience. Two old men who each were about one hundred and seventy-five years old. The president of the Japanese Haiku society and the president of the Tokyo Haiku society. I was petrified—really, I was going to have the gall to lecture to these men about haiku? But they were great, they were very enthusiastic and I was only corrected about one thing. I'd made a reference to a Disney movie and I got the name of the princess wrong. Princess Steinem? Princess Miss Chief Eagle Testickle?
But arts and culture magazines have been a central part of my life as a writer and as a reader,and so hopefully my enthusiasm and experience—if not my knowledge—will contribute something to the discussion.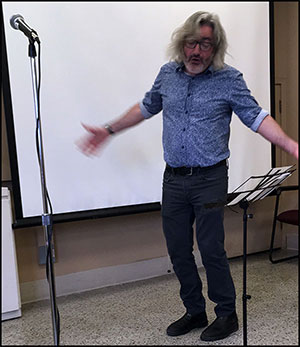 The main point I'd like to make here—and all you editors can decide whether I've managed to make it clearly—is that by creating and nourishing, by making things new, by being awake to possibility, by always examining things from different perspectives, by being the antenna of the society, arts and culture is implicitly culture jamming. Arts and culture is inoculating. By having flourishing and varied arts and culture, we are resistant to homogeneity, we are resistant to being reduced to being the passive consumers of what is merely in the interests of the powerful. What is merely in the minds of the powerful. We can be resistant to the gravitational pull of simplifying and reductive tropes and instead have agency in constructing our world. Magazines are good. Magazines are very good.
I think of that line from the Steve Martin movie, Father of the Bride, where they're talking about getting a videographer, and the daughter says, "Can't we just pay very close attention?"
Arts and culture enable us to pay close attention. To pay attention to how we pay attention. And to pay attention to who it is we are paying attention to.
We need to pay close attention. And our attention needs to be our own. That Steve Martin movie—well, except for the banjo—recalls the Nordic legend where Woden is attempting to beat back the circle of darkness around the world. He goes to the king of the trolls and asks what exactly is the trick for keeping troll-blackened night from eclipsing the daylights out of the non-troll world. The king of the trolls says, "I'll tell you, but first you have to give me one of your eyes."
Woden says, "Sure," and gives him his left eye. Then, "Ok, so tell me."
"The secret is," the Troll King says, "The secret is: Always watch with both eyes."
Great. Irony is one of the core operational principles of the world.
I should note that this very old missing eye story is, of course, a metaphor and it's likely an ableist metaphor. We can learn much from those voices which pay attention in another way and which often have been unnoticed or silenced. Voices of people of colour, Indigenous voices, dis/abled voices, queer voices.
But I think this story is a kind of metaphor for, well, for the human condition, and certainly also for the position of the arts. We have to watch with both eyes. So what do we do? Move quickly? Pay attention to the periphery? I think it has something to do with smoke, mirrors, and writing really good arts grants. And also, advocacy and building community. Thoughtful writing in books and magazines allows us to resist giving away our eye, or, if we're already missing an eye, to join together and have more eyes to watch with.
I'd like to illustrate this with some examples from my writing life. The poet Christian Bök says, "I … never tell my writing students to write what they know because, of course, they know nothing. If they actually knew something, they'd be in that discipline doing it." I don't know if that's true, but the discipline I know primarily is writing. I'd like to share some thoughts from my perspective as someone who works in micropress publishing and the avant garde but who also has experience with larger presses and publications.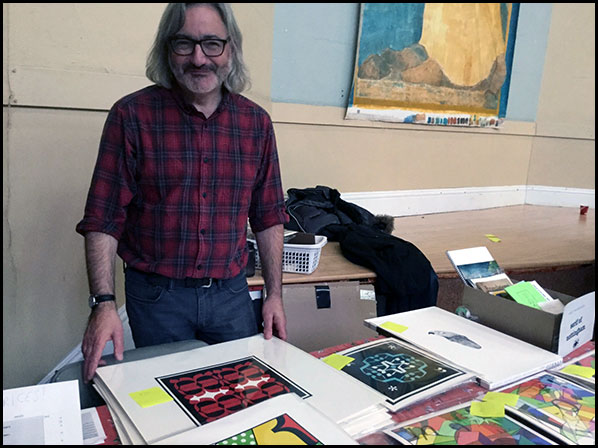 Gary Barwin at the "Meet the Press" Indie Lit Market.
In 2016, I was tremendously lucky to be shortlisted for the Scotiabank Giller Prize for my novel, Yiddish for Pirates. The whole experience was amazing and took me entirely outside of my usual literary world. There I was, in a shmancy room at the Ritz-Carleton, being driven to dinners with bankers in limos, stuffing myself in a tuxedo and, on live national TV, leaping onto stage before my cue. Because of that, I had to stand for several minutes with Gordon Pinsent's hand on my shoulder while he delivered the lines that were supposed to introduce me before I came up on stage. He was such a warm and avuncular pro that he made it all OK, despite my impetuousness. Then the week after, I was in a church hall at the Indie Literary Market, run by the Meet the Presses collective of which I'm a part, hawking chapbooks of experimental literature published by my micropress, serif of nottingham editions. I am so very happy to have both these aspects of being a writer in my life.
Some background. In 1985, when I was a second year student at York University, I took a creative writing class with the brilliantly laconic and insightful Frank Davey. He told us about an event downtown called Meet the Presses, a gathering of small presses devised by Stuart Ross and Nicholas Power. Davey encouraged us to create books and get a table. I did, and ended up attending both Meet the Presses and independent book fairs for the next thirty years, publishing a series of broadsheets, chapbooks, and various ephemera for each event. Stuart, Nick, plus some others of us, re-formed Meet the Presses a few years ago to create the Indie Literary Market so we could continue to have this home for independent publishers of literary books and periodicals.
These kinds of community-based writer/publisher events, along with readings, and publication in magazines and journals as well as the online world, have been a constant and important part of my writing and cultural life. They've been a significant part of my development as a writer and have been responsible for introducing me to many writers, publishers, friends, acquaintances, colleagues, and readers, and much of the writing that has been important to me. All of which made years of engagement in the literary scene inspiring, collegial, pleasant, welcoming, intellectually engaging, and fun.
As for the name of my press,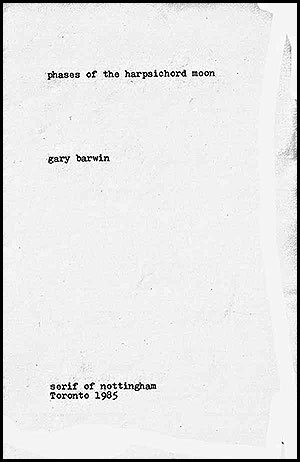 serif of nottingham editions: in the manner of hair salons, I thought I needed a moniker for the press with a bad pun in it. And I love the idea of serifs–little training wheels or antlers for letters. Sudden turns in the path of the lettershape. Also, I thought "serif of nottingham" contained some allusion to Robin Hood anti-establishmentarianism.
The press began simply, as a way for me to distribute my work and the work of those I published, but very quickly I realized that that simple act had more complex potential. I also realized that publishing is not a neutral act. It is implicitly political and aesthetic. Publishing is part of the aesthetic of the work, in terms of its look, its distribution, and how the audience interacts with the work, in terms of reading it, engaging with its writers and publishers, and in how it finds its audience.
My publishing made me part of creating and engaging a community of writers, readers, and publishers. Those with whom I was simpatico. Like much publishing, it was old school social media.
Publishing meant that my work entered the discourse, the literary conversation. Publishing put a frame around the work. It could come hot off my typewriter, my 520ST Atari computer, or the photocopier at my wife's office and out into the world. And it was distributed in a number of ways. Direct contact at readings, through mail networks and through libraries, bookstores, collectors, archives, and at book fairs.
Sometimes I played with the commodity aspect of publishing, the idea that I was creating a product that had a specific economic value. Once at a small press fair, I sold my books by weight as if they were fish or cheese.
I also published some books in a "One Cent" edition—each one selling for a single penny. I had also attached a penny to the back cover of each of the books. You had to give me a penny to buy the book, but in return, you got a penny back with your copy of the book. Surprisingly, I didn't sell very many. Another metaphor, perhaps. But it recalls what the poet/publisher James Sherry wrote, something to the effect that "a piece of blank paper has value—you can sell it, someone might buy it, but if you write a poem on it, you can't even give it away."
Publishing in small press, I was able to set the work in a form that best suited it. A small booklet containing just one text. A single page. Hand-coloured broadsides. The design could be determined by the work. Could enter into and contribute to the aesthetic of the text. Looking back, I love how I can see the evolution of DIY publishing: from photocopied typewriting, to pixelated dot matrix printing, to Photoshop and InDesign, laser printing and, of course, to online publishing.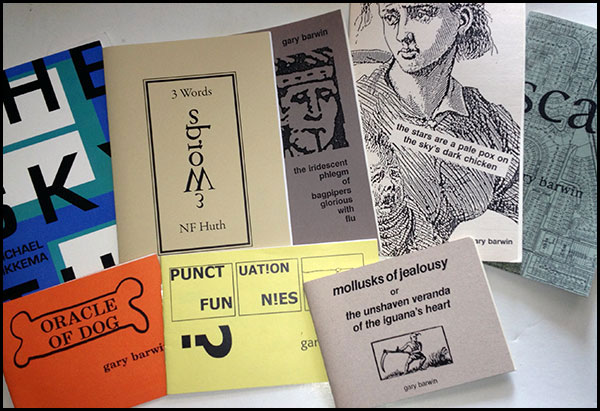 Assorted publications from serif of nottingham.
Over the serif of nottingyears, I have published a range of things. Mostly chapbooks, but also broadsides and various ephemera (collages on envelopes, prints, leaflets, etc.) In this, I was initially influenced by bpNichol and jwcurry and their diverse publishing projects. How does writing find its physical form in the world? How does it navigate through the world and into readers' brains? How can writing be a handshake, a glance, a punch in the face, or an embrace but with proper kerning?
I've also published in hundreds of magazine and journals. From tiny handmade magazines, like Jennifer Lovegrove's Dig Magazine, each featuring a unique collage created just for that copy, or jwcurry's Spudburn where each contributor creates by hand each copy of their page of the magazine and the publisher binds and distributes them. I've published in places in like Taddle Creek, This Magazine, Filling Station, and Grain. As well as in places with larger distribution such as The Walrus, Poetry Magazine, and Macleans, and online in the Paris Review and Scientific American. (They had a feature on writers and science and I did something with butterflies, the Fibonacci sequence and ampersands.) Recently, I was delighted to have a bio in Readers' Digest where I cited two past publications: Granta and Stuart Ross's tiny strange one-off periodical Dwarf Puppets on Parade.
The opportunity these magazines gave me to try out different kinds of work, to share it with different readers, was invaluable. To find the appropriate readers for particular kinds of work. Not everyone wants to read poems that consist only of all the punctuation from Shakespeare's sonnets with all those annoying and confusing words removed. Or the story about the married couple that share a single pair of legs.
But it's not only having my work published that has been important, the opportunity for my work to be reviewed and discussed has been a significant part of my writing life, something that helped sustain and develop my writing. Otherwise it might feel as if I dropped a huge boulder in a pond and there were no ripples at all. Like when I make a dad joke. Almost as if it wasn't real. Or funny.
But thoughtful discussion of my writing has taught me a lot about what I'm trying to do and what I might do next. Specific publications take an interest in specific aspects of my writing, considering the work from, say, a Jewish perspective, a historic perspective, relating it to the local or to the avant garde, or to sharing it with the readers of a particular region. Certainly, periodicals have been vital in introducing readers to my work. I can't imagine how else that might happen, short of more posts on Facebook by my mom and that big banner hanging over Yonge and Bloor.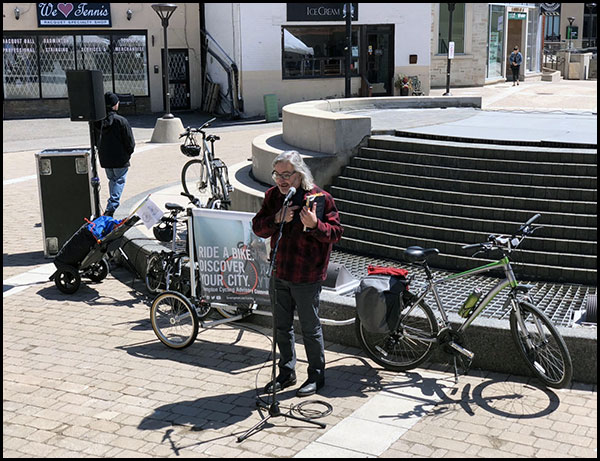 Gary Barwin at the FOLD Book Ride.
With all this talk of the small and non-commercial, I should acknowledge that it is of course true that it's perennially difficult to make a living as a writer. My wife is a criminal lawyer and one of my sons would take every opportunity to say to people, "Mommy makes the paper money and Daddy makes the change." Too true … but recently I've been taking his allowance and so I've doubled my income. Actually, when he was a teenager, that same son once came with me when I took a visiting writer on a tour of Coach House Books. As we looked in the window we could see the cover of one of my books actually rolling off the press. And when we went in, we saw all the insides of the book sitting on the floor ready to be bound. My son—thinking about the many boxes of unsold books in our basement—said, "Dad, why don't you just take all this stuff home right now and skip all that messing about in the middle with sales, because you know, all those books are going to end up in our basement anyway."
And, recently, a client of my wife's, someone who, for over twenty years has been in and out of jail for petty crimes, told my wife's assistant, "Your boss's husband is one of those writer artist types? Well, it's a good thing at least she's got a job that brings in some money." I'm grateful that this guy is sitting there in jail, thinking about our finances.
Obviously it's important for those in the arts to be able to make a living. But it is also vital that writers and readers have access to engaging forums that exist outside of the strictures of commercial publishing. Of course there is a lot of great writing that makes money, but there is also a lot of exciting and engaging writing that, by its nature and the nature of publishing, can't exist within the strictly profit-making framework. Smaller publications allow these writers to be published and allow readers to read their work.
I'd use an agriculture metaphor: commercial writing is writing that is like agribusiness, where efficiency and quantity are paramount. A lot of our food comes from here and of course it is important. However, I see the work published by smaller non-commercial publishers—and pretty much every arts and culture magazine is smaller and non-commercial, or at least exists for love over money rather than the other way round—I see their work as being more like family farms, more artisanal. Like organic food. Or heritage seeds. Or any one of the forty-five varieties of apples you can get at a farmer's market or artisanal beers at a brew pub.
That sounds like I'm saying it is some kind of luxury or affectation or hobby. I'm actually saying the opposite. When the numbers aren't so big, publishers are able to take risks. To take chances. To innovate, and to explore. And to allow their writers to do the same.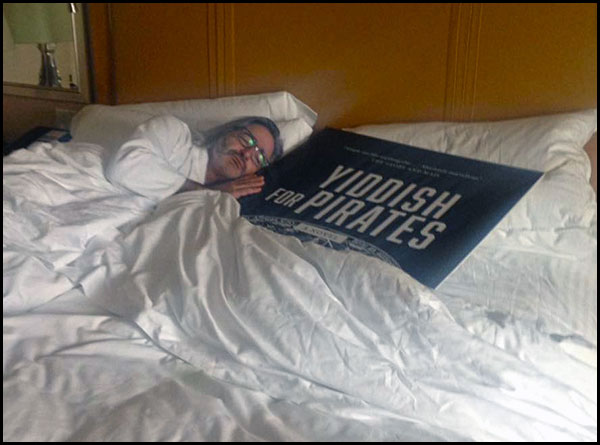 Gary, the day after not winning the Giller.
Maybe I shouldn't talk about this, but I've found it fascinating that, as yet, I haven't found a publisher in the U.S. for my novel Yiddish for Pirates, despite the fact that it has done well here in Canada. I've had many American editors tell me how much they like the book and would sincerely like to publish it, but they don't feel that they can take the commercial risk. Some of them have said that, while they as an editor might give it the green light, their marketing departments have given it the fateful black spot.
I should note that, in light of this, Penguin Random House Canada, the Canadian publisher of the novel, was willing to take the risk and so they are distributing the book in the States. So, big U.S. publishers, hear my prayer. I am a simple and honest man and only hope to please. Why don't you have as much chutzpah as us?
I only bring up U.S. publishers here so that I can be bitter and cynical and whine a bit. But really, the point is to illustrate how big money and convergence in big publishing results in less diversity, less risk, less paradigm breaking or paradigm expanding.
I believe in cultural biodiversity, and the development of a human culture beyond the instincts of market-driven selection. Not to say that this small-scale cultural farming can't be sustainable, in a financial way—we as a society believe in supporting them in a variety of ways, including government grants. The point is that their primary reason for existing is not in order to make a profit.
I should insert here a note about my experience with larger publishers. I don't want it to seem that I'm portraying these publishing companies as if they were run by comic-book villains. As if these companies in their sleek and shiny mirrored glass and chrome buildings were run by replicants with shiny hard glass souls and sleek chrome values. I mean, they publish gobsmackingly brilliant authors like me and gobsmackingly brilliant books like my novel. My experience is, of course, one of intelligent, thoughtful, supportive, and kind people. The people who work in these companies are lovers of literature who understand the complex negotiations they must make in order to navigate through a system that, ultimately, is determined by the needs of the corporation and its shareholders. And these people are often able to manage the balancing act of supporting books that are great, yet whose numbers keep the shareholders happy.
I see smaller publishing as more directly responding to community, and facilitating community around literature and publishing. Here, the technology of the book and, in general, of publishing is not one merely of information technology, but of interactive technology. Readers, writers, and publishers come together to share their joie de livre. We can turn on a dime because we don't need thousands of dollars to continue. Our "share-holders" are people who share in our work by holding our publications in their hands, and who share our mutual appreciation of independent literature and publishing.
I remember getting a royalty statement for one of my poetry books. The publisher had taped my royalty payment onto the page. One loony, two quarters, and a dime. At times like this, I remind myself that culture isn't based on quantity, but on quality. Each page isn't equally important to the culture. Take one page of Kafka vs. one page of John Grisham. It's not the same, though John Grisham's numbers dwarf Kafka's. Those pictures of poker-playing dogs (oh how I love them) compared to the work of, say, Annie Pootoogook, whose work is so vital yet much less known.
And, because it is about being sustainable rather than dominant, it's likely that some new development, some significant refinement, some worthwhile insight will come from the smaller, protected, and safe-to-explore world of the smaller magazine. "Safe-to-explore" doesn't mean coddled. Often, it's the opposite—the market coddles its economically dominant members. Not that big Canadian publishers don't have to be on their toes and resist even bigger publishers from outside the country or other market forces which threaten all publishers.
The culture at large often conflates cultural relevance, quality, and importance with numbers. It conflates meaning or even the penetration of a work. It confuses how many people are affected by it with how much each person is affected by it. And the culture often doesn't notice how many people are somehow moved by a publication's aura of influence and its aesthetic. These things are often not necessarily in the numbers. So though the number of copies measured on one axis may not be that big a number, the measure on the other axis of meaningfulness to each of its readers/those in its cultural orbit may be significant (and much more than a publication that has vastly huger sales numbers.) I read somewhere that T.S. Eliot's The Waste Land, one of the most significant poems of the 20th century, was published in an edition of 300 that took decades to sell out.
•
I'd like to speak more about readership and community. There are thousands of specialist magazines. Magazines for every kind of hobby and interest. From Recumbent Cyclist News to PRO, the trade magazine for the portable restroom operator. But something that arts and culture magazines do is create audience. Begin a dialogue. They form a readership which bands readers together over shared interests they didn't know they had. Readers band together over a shared aesthetic or perspective or set of concerns or curiosities. In this way, magazines are not only responsive to, but creative of, community. A complex intertwining of the existing with the new.
It is significant that, as a medium, the magazine recognizes multiple forms of value. Each publication frames and recognizes different things. Each magazine frames and recognizes particular stories and particular ways of telling and representing those stories. It frames and recognizes particular sensibilities. It values a particular readership which you can be part of just by engaging with the magazine. The magazine, by its nature, speaks directly to its readership. The magazine is tailored directly to its readership. This isn't as obvious as it may seem. You can ride just by buying a ticket to ride—which in this case doesn't necessarily mean "buying," but reading, though buying is good, too. But to have a reader engage with the publication in some way—by skimming through, by noticing what the magazine considers worth its attention, by noticing the shape, typography, design, and shape of the magazine.
The magazine enters the discourse, and frames it. But the magazine also shapes the discourse by noticing ideas and writers who are worthy of the magazine's consideration. What? This magazine has a poem in it? This magazine is talking about experimental Inuit dance? This magazine has work by young queer femmes? It's talking about a photographic project by homeless seniors? It's talking about Hamilton, Ontario? Really? And it didn't mention New York City, Toronto, or Hollywood even once?
(It does make me laugh when articles refer to Hamilton as "The New Brooklyn," or, like the recent Toronto Life cover, as "Toronto's new hot spot.")
Whenever I teach writing, I encourage my students to make their own books, to start their own magazines. To get their work and the work of those they like out into the world. I also encourage my students to find magazines and presses that publish work which interests them, and to find magazines and presses that will publish their work as well. To develop a community of writers and readers. Having writing jump out of the typing fingers and begin a dialogue. As I said, writing and publishing is more interactive technology than information technology.
•
There are many ways that magazines play a vital role in the creative life of our culture.
Here are two examples.
I was 16 and in first year university in Montreal and living in a little bachelor apartment in the student ghetto beside McGill. I remember the orange carpet having the consistency of some kind of hard toffee. A really amazing jazz pianist lived next door, as well as a woman who would always get me to check for intruders hiding under her bed. I wrote a poem—it had something to do with oranges, something sexual, and Boeing 747s, you know how poems are—and I sent it off to Event Magazine in B.C. They accepted it.
This was the first time I was published outside of school. I was thrilled to think that someone who didn't have to was willing to consider my work, to pay attention to it. I had the great privilege of having the editor invest both time and the valuable space of the magazine in my writing. For me in my little apartment, it was hugely inspiring to think of people across the country reading my work. To think that my work was now permanently housed in this magazine. It had a home there. I was now in dialogue with readers, with other writers, with "literature." I had entered the "discourse." This was a far more profound kind of commencement than my actual high school graduation, which I celebrated by jumping off a dock in full gown and mortarboard. Just like I entered that lake, magazines allow readers and writers to enter the discourse. They create dialogue. And my parents and I certainly had a vigorous dialogue after I got out of the lake.
Decades later, I began writing Yiddish for Pirates. It was the first novel for adults I'd ever written and I had no idea what I was doing. Or more exactly, I had no idea if what I was doing was working, if it could possibly amount to something.
Before I'd even begun, I remember doing a reading with the writer Emily Schulz at Lillian Necakov's Boneshaker Reading Series in Toronto. I knew Emily from the Toronto small press scene and, though I hadn't seen her for many years, we'd both published and been published in little magazines for decades. Her excellent novel, Heaven is Small, was just out and she'd recently moved to Brooklyn, you know, the American Hamilton. We had a nice chat after the reading. So it seemed natural when I had written about 100 pages of Yiddish for Pirates to send them to her and ask for some advice. I didn't really know any other real-life novelists—at least not any who didn't write crazy experimental novels, and Emily's novel was just based on the idea that the afterlife was an office building filled with cubicles. But I greatly valued her opinion, so I sent her the first half of my "monster in a box." She read a few chapters. Other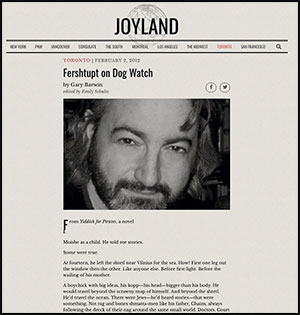 than saying she liked it, she didn't offer me any feedback, but, after sharing it with Brian Joseph Davis, her husband and co-editor at their online magazine, Joyland, she asked if they could publish an excerpt. That was thrilling and a great endorsement of what I was doing.
About six months later, I was sitting by the pool at my in-laws' condo in Florida drinking something with a tiny umbrella in it. I got a call from this woman called Shaun Bradley who said she worked for Transatlantic Literary Agency and she was Emily's agent. Emily had told Shaun to check out this story about Jewish pirates in her magazine because she thought Shaun would be interested. So Shaun and I had a talk and she said that when I'd finished the novel, she'd be interested in representing me. And so thanks to Emily and her Joyland magazine, Shaun has been representing me since then, helping me navigate through the meshugenah Seven Seas of literary publishing, explaining the whole megillah of its Bermuda Triangles and its hidden treasures. It was Shaun who sold my novel to Random House Canada, Audible, and the French translation to Editions Boréal. I offer this as one example of how a magazine is part of the creative process, quite apart from introducing readers and writers to new work.
•
I was recently speaking with a writer/professor friend of mine, Gregory Betts, and we were talking about the entire life cycle of a piece of writing. Much of his research concerns the history of 20th century Canadian literature and he spends lots of time poking about in archives. One thing he comes across is literary magazines, often forgotten or obscure magazines containing forgotten or obscure work. This led us to talking about how, long after the date on the cover of an arts and culture magazine, it's still relevant and, indeed, often still read. Frequently, I refer back to writing in an older magazine, something that perhaps didn't appear somewhere else, or else to see the writing in another context, in a particular moment in time, a certain cross-section of our culture. I run into these older magazines in my basement, in an obscure region of my bookshelves, in libraries, used bookstores, or even garage sales. Sometimes, when reading a book, I follow up on mention of which magazine the work first appeared in. There is a vast repository of scans of past periodicals online and I frequently refer to them—even when I have a copy of the journal in a box somewhere in my study.
I have a copy of every journal that my work has ever appeared in. And now, with the passage of time, and hopefully due to less self-absorption, I sometimes come across these publications and see who else was in them, what the issue said about that particular moment. Also, a bit of "where are those people, now?" Until we both attended several Giller shortlist events, I hadn't realized how many times Zoe Whittall and I had been published together. I see now how we were part of various intersecting communities of writers. These magazines were part of forming many of these communities—these intersecting circles that continue to bear fruit even today, years after the issue of the magazine.
The point is that magazines have a much larger influence in time than might be apparent. And I don't just mean in the way those old National Geographics or New Yorkers kicking about your doctor's office do. Besides, my lawyer wife's office has copies of This and Arc Poetry Magazine mixed in with back issues of the old People's and Miniature Horse Enthusiast magazine.
•
I've spoken about what magazines can do—shock, promote, encourage. They can build a community of ideas and readers. Magazines advocate not only by advocating but by just noticing, naming, and valuing.
I've argued that publishing isn't a food chain but a food web—a complex network of interdependent parts of a literary ecosystem, each necessary and important to sustain the vitality of the whole. Each necessary to ensure the adaptability of the whole, its ability to face challenges and to respond to change.
When I was a teacher in a middle school we had parents come to us filled with anxiety about what their kids should be learning, and about the future. Parents thought there were certain things their kids should know, certain ways they should be taught. Part of our job as teachers was to explain what we were doing. We needed to help parents understand that in fact what we were doing was preparing their kids. Because of the particular political climate, many parents thought some kind of quantifiable rigour, some kind of testable collection of facts, some kinds of repetitive drills and gruesome homework were what their kids needed. As a teacher, I explained how the creative, flexible, adaptable skills that kids were learning—many of those skills learned from the arts—were the best preparation.
We also need to do this in the arts: explain what it is we do. We need to explain why it is important, why our approach is valuable, and necessary, even though it may appear to be going against the prevailing ideological norms. We have to explain that our work is important even if it seems dwarfed by larger forces and the tremendous power of what I call "big culture." Sure, Game of Thrones, or Stranger Things, but also that magazine with a thoughtful discussion of an art show in Winnipeg, and that great journal with short stories from New Brunswick, and a review of a new anthology of writing from South Asian Canadians.
In the middle school, teachers worked to help the students and their parents not only understand why what we were doing—what they were doing—was valuable, but also to make students feel part of the process, help them see that the process was built around them and was responsive to them. That education was a two-way street that not only suggested new directions but that was built around listening.
I think this should be the case with publishing. Engaging readers by encouraging them to understand what they might not realize is of value and of interest, but also helping them understand that they are part of something, that the arts are thinking about and considering their perspective. That they are valued beyond their number, that they are a vital and integral part of the dialogue.
I remember making a little logo for serif of nottingham editions. It was a happy face with three eyes: serif of nottingham: the alternate happiness, it said below. I do believe that it is our role in the arts to suggest alternate happinesses. Other happinesses to those of big culture.
And by happiness I don't only mean happiness, I mean, of course, sadness, too. I mean the full range of other responses to our world and our culture. We are able to go beyond the essentializing and simplifying, we are able to explore, as Gerard Manley Hopkins says, "all things counter, original, spare, strange; Whatever is fickle, freckled," whatever is "swift, slow; sweet, sour; adazzle, dim," "all things couple-coloured and brindled."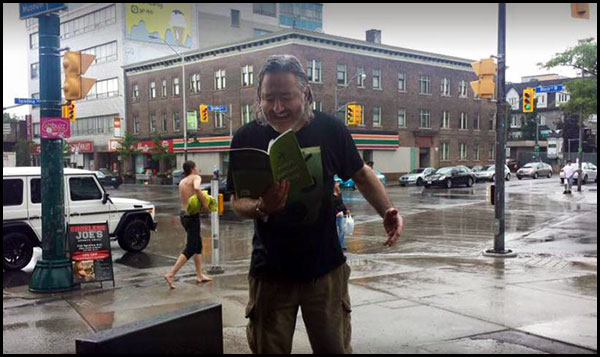 Gary still reading on Toronto streets--this time, for the Reading Line Festival.
I'd like to end with a final anecdote about small press publishing and distribution, and I acknowledge that, in another context, we'd have lots to say about what this story reveals about the lupine putrescence of rape culture.
In the late '80s, I used to busk on the streets of Toronto, and one evening, my wife and I went down to the corner of Bloor and Brunswick in the Annex neighbourhood of Toronto. I played saxophone, and a few people dropped change into my hat. But farther down the street, where my wife stood selling poetry chapbooks, several men stopped their cars, thinking that this whole poetry-selling thing was obviously a front for prostitution. It is astounding to think that anyone could mistake publishing for "Communicating for the Purpose." Publishing is so much more high risk.
"How much for such-and-such?" the men asked.
"Go away," my wife replied. "I believe in DIY."
•
Photos provided by Gary Barwin.
Gary Barwin is a writer and multimedia artist
from Hamilton, Ontario.
Currently writer-in-residence at McMaster University,
he is the publisher of serif of nottingham editions.