I am Afraid of Everything: Pine Cove 2019
Nicole Smith was one of two recipients of the retreat's Young Writers Bursary, founded specifically to support writers who would not otherwise have had the means to attend the 6-day intensive, Write on the French River Creative Writing Retreat at the glorious Lodge at Pine Cove, in northern Ontario. Nicole joined 20+ participants, instructors Helen Humphreys, Alison Pick, and Andrew Westoll, and resident editors Pamela Mulloy and yours truly for a week of—well, I'll let her tell the story. Nicole's mentor & instructor for the week was the incomparable Helen Humphreys.
–2019 retreat director, Susan Scott
I am afraid of everything. That is the truest truth about me. I am afraid of everything. Of night, plus also morning. New experiences plus old ones. Getting lost, being found, eating onions, bleeding. Being too much, being too little, getting married, contracting meningitis. I am afraid of heights, needles, planes, not putting myself out there, stretching myself too thin. Becoming morbidly obese. Holding my breath too long, halitosis, stepping on a nail, stepping on a snail, timbits. Someone once told me "timbits are the holes of donuts," and I'm sorry, but no, nope, never. Absolutely not.
I spend a lot of time in my bathtub, where it is safe.
I do take chances, but only on things I probably won't ever have to follow through on. Like winning the lottery. I will always buy a lottery ticket. I will never answer my telephone.
As a long-time fangirl of The New Quarterly, long before our glorious 6 days at The Lodge at Pine Cove, I knew all about Write on the French River Creative Writing Retreat. I knew all about it, because I'd looked at it longingly many-a-time, from afar. As a new, full-time writer-of-things, the week was outside my price range, but I'd dreamt every year of attending, while also imagining the type of human I might be if I was not so broke and afraid. Unfortunately, that type of human always has a dog, and I am afraid of dogs.
This year, sandwiched between the description of the beautiful cottages, workshops with prolific Canadian writers and editors, and daily hand-delivered breakfast basket, I read about a bursary for a writer under 35. A new opportunity, thanks to participants from the previous year, who had pitched in to raise funds for a bursary, to encourage young people to apply. (Two bursaries, as it turned out.) Heart racing, I immediately applied, confident in the knowledge that I would never actually have to go. Placing my grateful heart and instant coffee on the rim of my tub, I pressed submit and leaned back into the warm water, happy with all of the hard work and bravery I'd exhibited for the day.
"Nicole," Susan Scott wrote back a couple weeks later. "Congratulations! You are a recipient of our inaugural bursary!"
Hands shaking, I dropped my phone in the tub.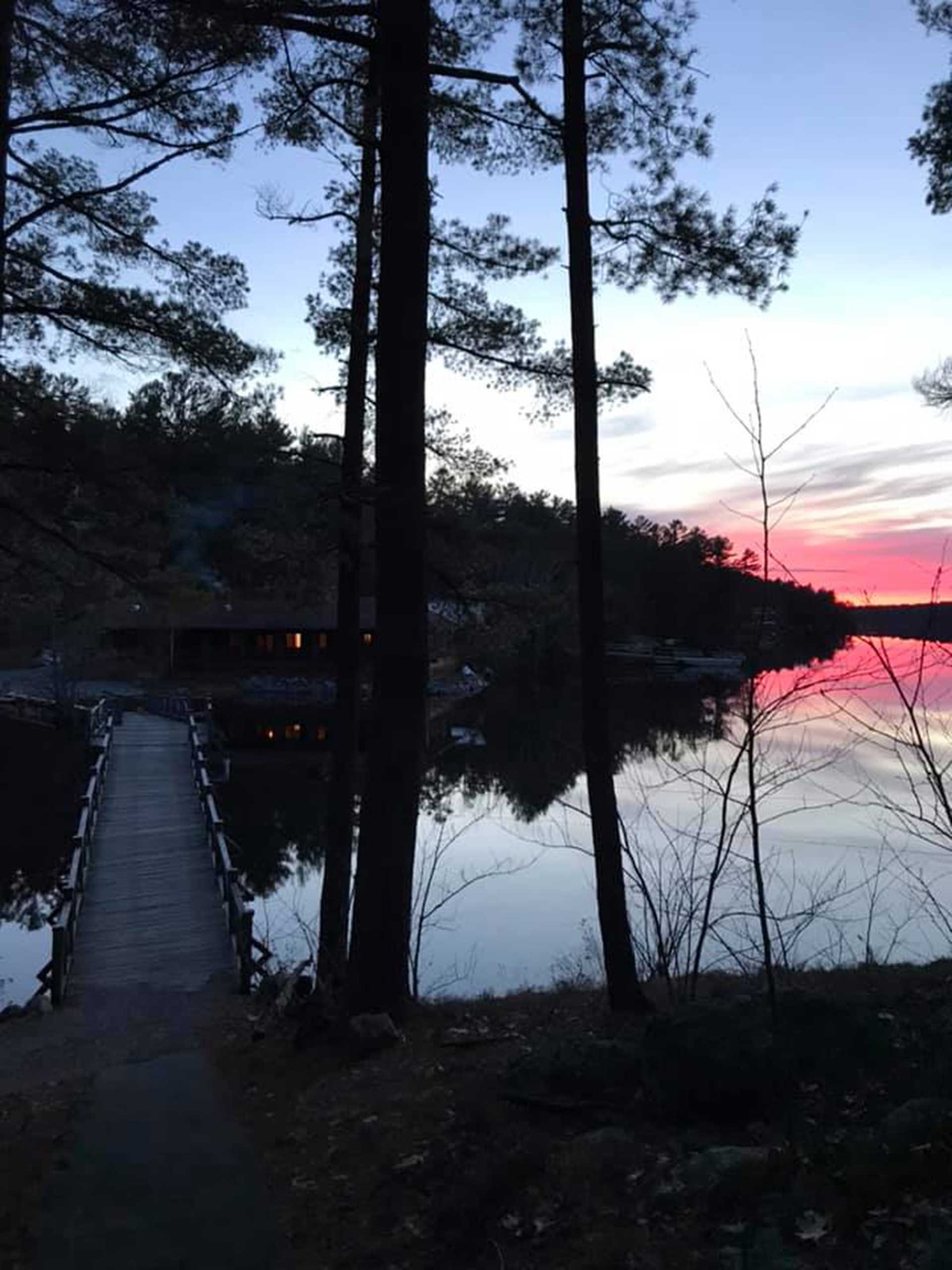 "No—" I gasped.
"…yes!" She replied. "Hurray!"
"Is it really true?"
I am afraid of lies.
"It's really true!" Susan assured me.
But I am afraid of truths, so I poured my coffee on my head and drank the lavender bubble bath. Lavender is good for anxiety.
I am afraid of isolation, plus also too many people. I am afraid of bears. I am afraid of being murdered, and Pine Cove would be the perfect spot for that, which I was sure to mention to everyone while introducing myself. I am afraid of being afraid, especially alone and afraid, so sometimes I try to make others afraid too. I know it's mean, but I am afraid of being too nice.
At Pine Cove, others were not afraid when I mentioned murder. They laughed, actually. Margaret, whom I loved immediately because her introduction was I'm here for the breakfast basket, said: "No worries, babe. I have LOTS of pent-up aggression. If there's a murderer, you just call my name. I'll take care of it." And then everyone laughed some more, and I relaxed, until I became afraid of Margaret.
When I pulled up to the Lodge, I was the first one there, because I am afraid of being late. I am afraid of being early, too, because when you're early, you have to choose your bedroom, and all of them were impossibly gorgeous and spacious and built around a king-sized bed.
I am afraid of packing too little, so I packed too much. But I am afraid of waste, so I worked very hard to use everything I packed, including all of the wine.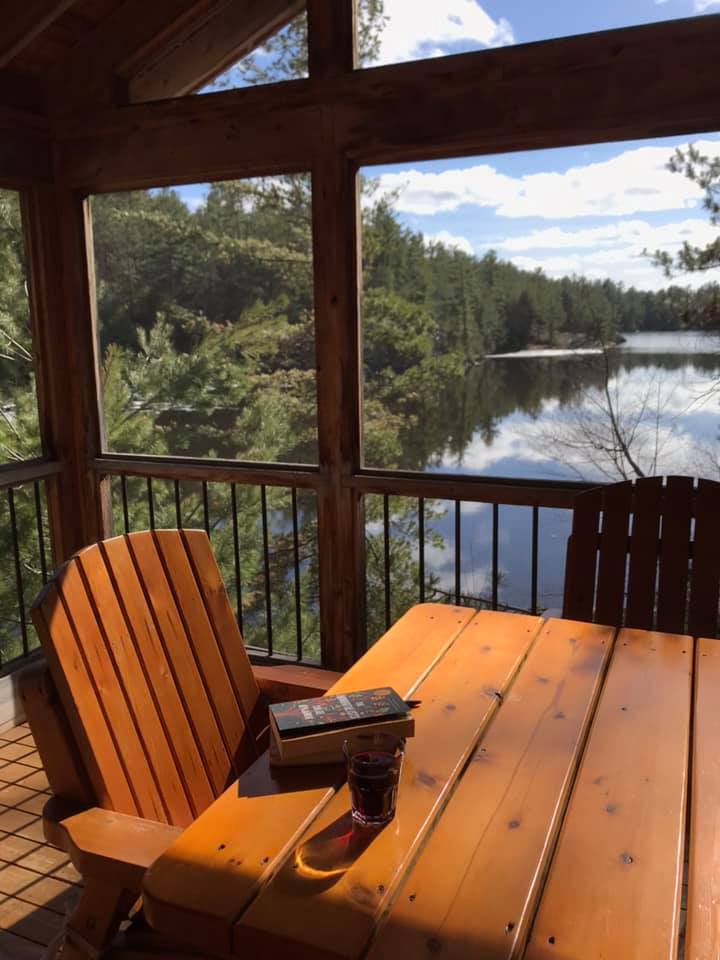 That first day, I waited atop my yoga mat (my portable bathtub, portable safe space), after deciding on the first bedroom in the hallway. The room closest to the exit. I waited in the living room for my roommates to arrive, which overlooked the beautiful cove, which was blurry to me. I couldn't quite see it at first – the beauty – even though I was staring straight at it as Maureen came through the door, holding her wine and yoga mat, beaming.
"Hello!" She said. "Hey, this'll work!"
We gabbed until our third roommate arrived, at which point we stopped talking and listened instead. Sandy had the most fascinating stories to Cher. I say Cher because Sandy knew Cher (as in Cher) once upon a time. Upon learning this, I asked if we could facetime Cher, which was not an option.
Instead, we opened more wine.
We chatted about trusting our intuition.
"Yes. You HAVE to believe," I said in a very Shiraz-specific way.
"It's more than just believing, though." Sandy said to me. "It's knowing. Trusting your gut is a Knowledge."
I took what she said about my gut to heart, even though I am afraid of all my body parts, and then asked: "But do you believe in life after love?" and she still spoke to me after that, which is a testament to her character.
I am afraid of Helen Humphreys, because I am afraid of all brilliant people, especially when they are funny and generous.
"Are you going to give me some of your writing to read?" Helen asked after our first group meeting. I had signed up to work with Helen, but here I was, looking the other way when she made her offer.
"YES I WANT THAT," I'd wanted to scream, "BUT I AM SO AFRAID."
Now we were outside, cell signals floating down the French River, the smell of burning woodstove and gourmet turkey sandwiches lingering in the air.
"I was just heading to my car—" I said. "Just for a little drive, I think. Not to escape. Not to run all the way home, screaming."
Helen smiled. "I liked your writing sample."
"Oh…" I said. "I like your dog."
Helen Humphreys is (of course) the type of human who has a dog.
"I'm here, is all," she offered, turning back towards her cottage. "Use me as a resource."
"Okay," I agreed. "But not today."
Helen chuckled. "I think I'll go for a drive later, too."
And then, as if under a spell, everything in front of me began to sharpen.
The grass became greener. The sun became brighter. Suddenly I wanted to try a timbit. I didn't, and I never will, but I wanted to.
What I realized in that very moment was 1. Helen Humphreys could be a witch, and 2. my surroundings weren't blurry at all. I was just standing too close to them. Even from hundreds of experiences away.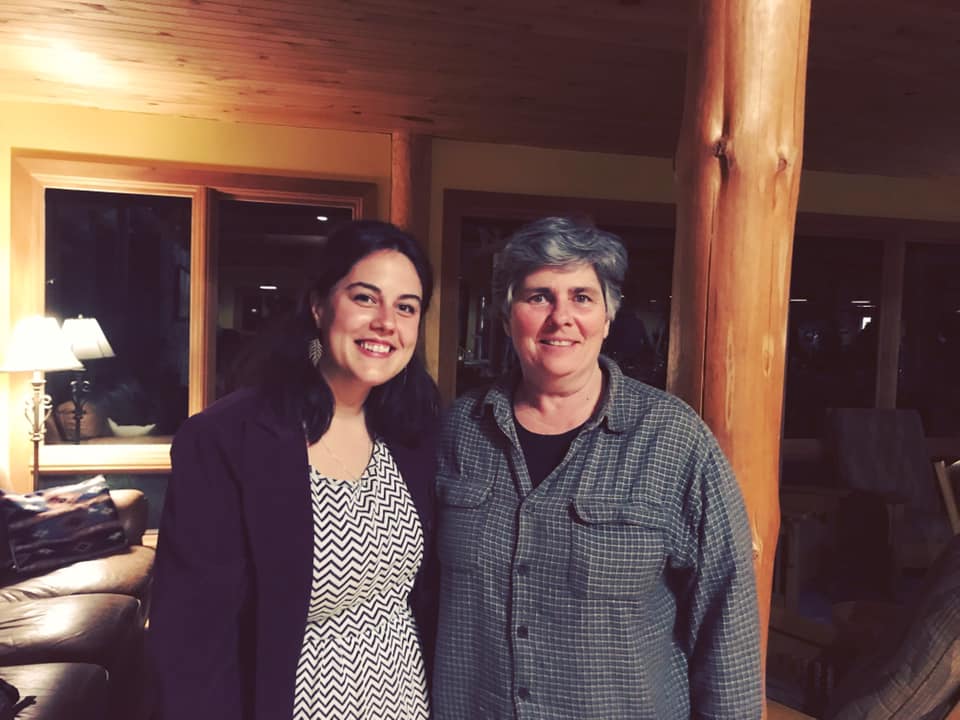 I am afraid of realizations, because I am afraid of being too hard on myself, plus also not hard enough. But when we need glasses, we don't hate the book. We don't even hate ourselves. We just put something clear between us and the rest of the world. Space. Distance. Style, even. Helen allowed me all of my uncertainty, and then all at once, I focused. In a way I haven't in maybe ever. Not in my adult life, anyway. As soon as I did, I could see that everyone was allowing everyone else the same. Curiosity. Inquisitiveness. Objectivity. Here, we just existed. As whoever we were and are. Because we had room to do it, time that was ours alone, and Crème Brulé served to us in little individual dishes every night.
I spent every next second writing. I had things to say almost immediately. I glanced back up at Helen. She was all the way across the bridge, and I could still see the pattern on her shirt. Seth Ratzlaff, who won the second bursary, stepped outside and stood beside me. We both rubbed our eyes.
"Is this really real?" I said.
"I know," he said. "I don't know."
I ran back to my cottage and took a bath just for fun, and when a spider fell from the ceiling and landed on my phone, I waited a whole second before whipping it across the room, cracking my screen.
Helen read all of my writing. We had a number of meetings over the course of the week, plus a world of rich and enlightening group discussions. Our group consisted of eight women, each of whom inspired me deeply.
Evidently, Breakfast Basket Margaret came for a lot more than the croissants, because she worked nonstop the whole retreat and churned out something dazzling. Other Margaret (we had two of them in our group) made me laugh every day. She made fun of exactly all of my Elizabeth Gilbert quotes, which was refreshing. Deb and Ali and I have decided to start a writer's group, and Charlotte was from Warsaw, Ontario, which I now know is a place. Helen read every piece of work we brought her. She gave an outrageous amount of time and energy to each of us. On our final day at Pine Cove, Laura and I sat together on the couch. She was working through a phobia of her own.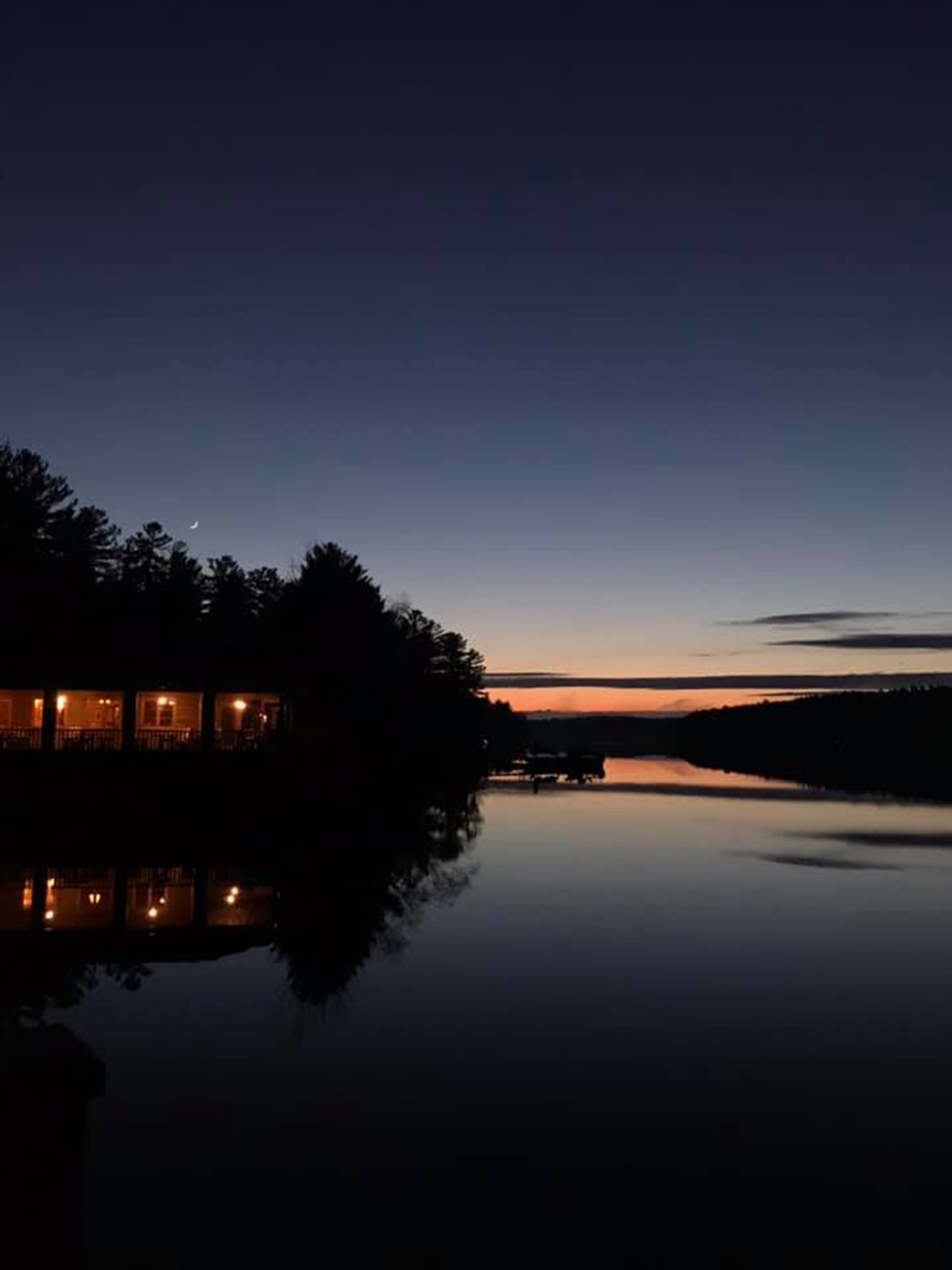 We shared eye contact with the Canadian Shield, finally growing used to the natural kind of safety it provided. She said to me, exhausted in a way I know all too well—
"Are you afraid of anything?"
And all I could do was laugh, because I was too afraid to cry, which we both did when we hugged goodbye a few hours later.
As I drove away from the Lodge, I think it was Laura but it could have been me who said: "thank you," and on my way home, I stopped for a timbit in Port Severn, and I promised to never forget all of the transformative things I learned in our 6 magical days on the French River. Days I will hold onto for a lifetime. Touchstone days. Days I would not have had if not for the generous souls who saw fit, or the magnificent instructors and organizers who lent what they already know to each of us, or everyone who stepped out of their own worlds and comfort zones to retreat. It is so scary to be vulnerable, I thought. This is the true beginning of my vocation, I thought.
And then I remembered the term "donut hole" and spit the timbit out in my hand, because no. Nope. Never. Absolutely not.
Photos courtesy of Nicole Leona Smith.
Header photo courtesy of James Walsh. For more information about James see www.sinamatella.com.