Write on the French River Creative Writing Retreat
at the Lodge at Pine Cove
May 4 to May 9, 2018
Applications due by April 6, 2018
"Substitute 'damn' every time you're inclined to write 'very;' your editor will delete it and the writing will be just as it should be."
Introduction
We invite writers of all skill levels to take part in the 7th annual Write on the French River Creative Writing Retreat, Friday, May 4 to Wednesday, May 9, 2018 at the magnificent Lodge at Pine Cove.
Limited to 25 participants and taught by some of Canada's leading writers, Write on the French River Creative Writing Retreat offers the gift of time on a storied waterway to travellers, innovators, wordsmiths, dreamers and creatives.
Whether you want to finish the proverbial bedside novel, draft a travel memoir, query editors, or make a living with your pen, you will find expert guidance and good-natured support at this 6-day blend of nature, culture, gourmet meals and superb accommodations.
Applications are due by April 6, 2018. Please read on to learn more.
If you haven't visited the French River, it's time.
---
Overview
Check out the Lodge at Pine Cove website for a tentative schedule.
The 2018 retreat is a partnership between the Lodge at Pine Cove and The New Quarterly – a creative combination that allows you to step away from the busyness of life to write, reflect, rejuvenate, and to access the mysterious world of publishing.
Success in writing is built on dedication to the work. Success in publishing is built on relationships. TNQ, one of this country's most celebrated publications, has been nurturing writers for over thirty-five years.
Susan Scott is TNQ's Nonfiction Editor. Susan has been with the Retreat since 2013 and is your go-to person for the 2018 Write on the French River program. If you have a question or concern, write to Susan at sscott@tnq.ca. (include nicola@frenchriver.com in background)
Together, the Lodge at Pine Cove and TNQ have built the 2018 experience around the best of the Retreat's lively traditions, balancing intimate workshops, small groups and talks with time to enjoy the beautiful, relaxed setting.
In addition to the Standard Retreat, we are introducing a new option in 2018: the Self-Guided Retreat. See below for details.
Writers Craft Workshops and talks or presentations by our Special Guests are optional (no sign-up is required), and open to all.
---
Option A, Standard Retreat – Small Groups with Instructors
Now is your chance to work closely with an award-winning writer and Instructor, in a small group (maximum of 7 participants) that meets on a daily basis for exercises, readings and discussions specific to your interests.
Groups in 2018 will focus on either fiction or creative nonfiction. If you want to zero in on fiction, you can choose to work with either Helen Humphreys or Alison Pick. Andrew Westoll's group will tackle creative nonfiction.
Will you have a chance to learn from all three instructors? Yes! Each instructor also offers a Writer's Craft Workshop that is open to all. These lively sessions examine the pragmatics of writing and the writing life, for example: exploring poetry, developing characters, writing historical fiction, working with editors, submitting your work for publication, leaping from lit mag to book deal, food writing, social media strategies and so on.
See the Retreat Schedule, below, for a general overview. 
---
Option B, Self-Guided Retreat – Consulting with Editors *NEW in 2018*
The Self-Guided Retreat option allows you to enjoy the Lodge at Pine Cove's warm, immersive environment while you drill down into your project and consult with one of the New Quarterly editors when you're ready for concrete guidance and perspective.
If you sign up for this option, you will be opting out of group work in favour of consulting with one of two editors: Pamela Mulloy, for fiction; or Susan Scott, for nonfiction.
Please plan to correspond with that editor in advance of the retreat to discuss a work plan. Your editor will need time to read your work before May approaches, so you can have productive conversations when you finally meet in person.
What if you are just starting out, or your project is in its early stages? That is fine, too. Just plan to correspond with the editor, so you can work out details together.
Please note: enrolment in this option is limited, and up to each editor's discretion.
We recommend this option for those who want their short fiction, essay or memoir excerpt evaluated, or for those who are new to the writing community who want to learn how to get the most out of working with an editor.
Retreatants who choose this option are also welcome at the all-inclusive Writer's Craft Workshops and at any talks, panels or workshops with our Special Guests.
See the Retreat Schedule, below, for a general overview.
---
Retreat Highlights
Certain traditions bear repeating because, well, they're just too good to miss. Here are two to keep in mind as you plan your packing list.
Student Readings
A highlight of the retreat experience is the closing banquet and student readings.
Your imagination has been firing for days on end. Now is the time to enjoy the spotlight and to share a short selection of your work.
We encourage all participants to bring a short piece (500 words) to share at the student readings, on the final night of the retreat. This could be something you bring along to read, or the piece you develop on retreat.
~
Field Trip
Another not-to-be-missed tradition is the guided trip down the French River with our host, Alex, who brings this historic route to life. You will learn about the region's extraordinary geology and river lore, including stories of the coureurs de bois – intrepid adventurers on route between the Great Lakes and the Ottawa River, who followed the voyageurs' route to the west, filling their Montreal canoes with fur pelts.
---
Meet our 2018 Instructors
Helen Humphreys – author of the novels The Reinvention of Love and An Evening Chorus
Helen Humphreys is the acclaimed author of over a dozen books, a sought-after mentor, teacher and consultant and the recipient of the Rogers Writers' Trust Fiction Prize, the Toronto Book Award and the Harbourfront Festival Prize. Helen's breadth of writing expertise includes fiction, poetry and nonfiction. She has written six novels, four books of poetry, and four works of creative nonfiction. The Evening Chorus was released to critical acclaim in 2015. Her latest work, The Ghost Orchard: The Hidden History of the Apple in North America, was published by HarperCollins in 2017.
Helen lives and writes in Kingston, Ontario, and is a member of Kingston Wired Writers.
For more information about Helen Humphreys, visit her website.
~
Alison Pick – author of the novels Strangers with the Same Dream, Far to Go and more
Alison Pick's best-selling novel Far To Go was nominated for the Man Booker Prize, and won the Canadian Jewish Book Award. Far To Go was a Top 10 Book of 2010 at NOW magazine and the Toronto Star, was published around the world to international acclaim, and has been translated into several languages. Alison won the 2002 Bronwen Wallace Award for most promising writer under 35 in Canada, back when The New Quarterly was publishing her early poetry. Critics are calling her latest novel, Strangers with the Same Dream, "brilliant," "astonishing," "riveting," "ambitious" and "haunting."
Return instructor Alison Pick lives and writes in Toronto. She joined the Write on the French River retreat in 2016.
For more information about Alison, visit her website.
~
Andrew Westoll – author of The Riverbones and The Chimps of Fauna Sanctuary
Andrew Westoll's first book, The Riverbones, a travel memoir set in the jungles of Suriname, draws on the year he studied wild troops of capuchin monkeys. The Chimps of Fauna Sanctuary, the biography of a family of chimpanzees rescued from a biomedical research lab, won the 2012 RBC-Taylor Prize for Literary Nonfiction, was shortlisted for several book awards, and selected as a Book of the Year by The Globe and Mail, Amazon.ca, Quill and Quire, and CTV's Canada AM. His debut novel, The Jungle South of the Mountain, is about a lonely primatologist who's spent too long in the rainforest.
Andrew teaches English and Creative Writing at the University of Toronto Scarborough, where he was selected a Professor of the Year by the Underground student newspaper.
To learn more about Andrew Westoll, visit his website.
---
Meet our 2018 Consulting Editors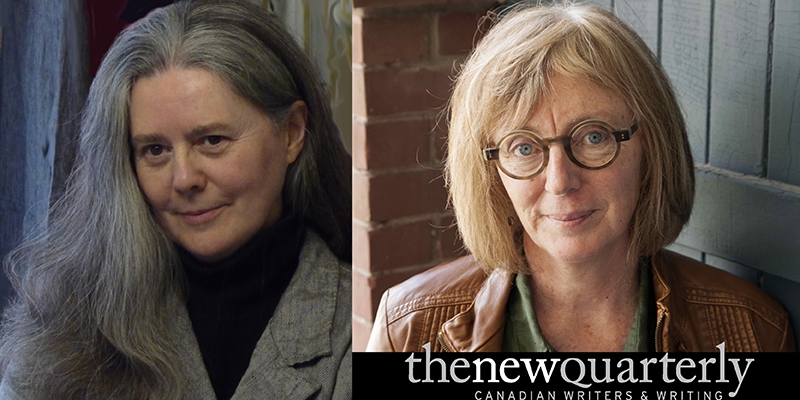 Pamela Mulloy – Editor, The New Quarterly
Pamela Mulloy is TNQ's award-winning editor and the creative director of the annual Wild Writers Literary Festival, in Waterloo, Ontario. Her short fiction has been published in the UK and Canada, most recently in Polish(ed), an anthology of Polish Canadian Writing (Guernica Editions, 2017). Her debut novel, The Deserters, will be published by Véhicule Press in 2018. She lives in Kitchener, Ontario with her husband and daughter.
~
Susan Scott – Lead Nonfiction Editor, The New Quarterly
 Teacher, writer, editor and guide, Susan specializes in memoir, the well-wrought essay, and in helping authors to release powerful, transgressive stories. She is the editor of Body & Soul: Creative Nonfiction for Skeptics and Seekers – an anthology (2019) of essays by diverse women writers – and a member of Native-Immigrant arts collective. Susan has been editing with TNQ since 2009, and teaching at the Retreat since 2013.
To learn more about Susan, visit susanlscott.twohornedbull.ca.
Susan is also your go-to person for the 2018 program. If you have a question, please write to her at the magazine at sscott@tnq.ca. (include Nicola@frenchriver.com in background.)
---
Meet our Special Guests
 Writers who want to combine their many interests need a lot of pluck! This year we've invited guest speakers who can help us broaden our reading and writing habits to include journalism, blogging, social media, food writing, travel writing and history.
Jake Edmiston – Journalist & story-hound
Jake Edmiston is a reporter and feature writer with the National Post in Toronto, focusing on crime, sometimes on food, but mostly on departures from normal in everyday life. His work has been published across Canada, in the Montreal Gazette, the Ottawa Citizen, the Calgary Herald and the Vancouver Sun.
To read Jake's stories, visit the National Post.
~
Lindy Mechefske – Book author, food columnist, blogger
Celebrated retreat & TNQ alumna Lindy Mechefske is the author of the award-winning Sir John's Table and A Taste of Wintergreen and a food columnist with Canada's oldest newspaper, the Kingston Whig-Standard. She also blogs about her adventures in the kitchen. Watch for her next book, Out of Old Ontario Kitchens, in 2018.
To learn more about Lindy, visit her website.
~
Nicola Ross – Retreat founder, adventurer, author
The award-winning author of several nonfiction books – her Loops & Lattes series alone is a self-publishing sensation – Nicola is the former editor-in-chief of Alternatives Journal, Canada's national environmental magazine. She set up the adventure programs at The Lodge at Pine Cove, founded the Write on the French River Retreat, and now pursues her love of writing, travel and sport full time.
To see where Nicola is headed next, visit www.nicolaross.ca.
---
The Lodge at Pine Cove
Why venture to the French River? Because Ontario's premiere lodge in the heart of the Canadian Shield offers something special. Kim T, a lodge guest, writes, "This is a piece of Canadian heaven. We had the most wonderful getaway, and plan to return every year. A beautiful location, great food, an awesome little cabin."
When asked what she liked best about the Lodge, a retreatant wrote, "We liked the screened porch, the cleanliness, the ambiance, the bed, the linens…everything!"
To understand how beautiful the Lodge is, please read some of the 100+ reviews on Trip Advisor. Our guests will tell you about their canoeing, kayaking and hiking experiences, the delicious cuisine (including hamper breakfasts), our immaculate cottages, friendly staff and attention to detail. The Lodge at Pine Cove is a haven.
Cottages have from one to three bedrooms. Prices are based on single or shared rooms. All cottages have full kitchens. All cottages have a river or cove view, a refrigerator, kettle, coffee-maker, fine coffee and tea, modern bathroom, natural soaps, creams, shampoo and conditioner, screened-in porch, living area and fabulous beds.
Meals
Your artisanal breakfast arrives at your cottage each morning in a wicker hamper filled with homemade granola, yogurt, fresh fruit salad, juice and freshly baked croissant.
Lunch and dinner are served in the Lodge. For dinner, you will be offered a soup or salad, entre, dessert and coffee. Wine, beer and spirits are available at an extra charge.
Please make us aware of any food restrictions you may have.
Other Activities
You will have access to canoes and kayaks to explore the French River and Wolseley Bay. Hiking trails that begin onsite lead to spectacular spots along the river. There is a pool table in the Lodge as well as a selection of games and historical books in the Lodge's Toni Harting Library. We also encourage you to explore the villages of Noelville and Monetville, about 20 minutes away by car, lie in the heart of Ontario's historic francophone region.
Communications
Internet service via satellite is available in the Lodge at no charge. Since our use of broadband is limited, you will not be able to download or view movies, download music or other large files. There is no cellphone reception and Skype is not available. You are, however, welcome to use our telephone.
Getting to the Lodge
The Lodge at Pine Cove is a 3½-hour drive from Toronto (Hwy 401 and Hwy 7) and one hour from Sudbury. If coming from farther afield, you can fly into Toronto and either rent a car or take the bus. Or, you can fly into Sudbury. Pick up from the bus stop or in Sudbury is available for a fee.
2018 Fees
Early Birds: Apply by February 15th for a $125 discount
Your retreat fee is based on your choice of accommodations. A limited number of private cottages is available. Why not venture out and consider sharing? Year after year we hear about roommates who go on to become lasting friends and writing partners.
Based on a Private Cottage (you will have your own deluxe cottage with a private bedroom and bathroom). Tuition + accommodations for five nights + all meals:
$1850 + gratuities (10%) + HST.
Based on Single-Occupancy (you will have your own deluxe bedroom in a cottage with a shared bathroom) Tuition + accommodations for five nights + all meals:
$1650 + gratuities (10%) + HST.
Bonus! Meet great writers and poets before they're famous – once your enrolment is complete, you will receive a complementary one-year subscription to TNQ, publishing partner for our 2018 retreat.
How to Apply
Enrolment is limited. The earlier you apply, the better your chances for securing the instructor you want, as well as your choice of accommodation.
There are two ways to apply:
Download our application form, complete and return it by email to The New Quarterly's Susan Scott, at: sscott@tnq.ca. (include nicola@frenchriver.com and laura@frenchriver.com in background.) Once we have received your application, we will contact you to arrange a 50% deposit that then guarantees your placement.
Full payment is due April 6, 2018.
When you are ready to pay the balance of your fees, please contact Laura Figari at laura@frenchriver.com and she will make arrangements for the payment. We accept Visa, Mastercard or a cheque.
Cancellation Policy
If any applicant is unable to attend the retreat due to illness or other health problems, he or she will receive a refund for the amount paid, minus a $100 application fee, ONLY if we can fill that person's spot at the retreat. If an applicant cancels on or before April 6, 2018 and we are unable to fill their spot, their deposit (minus the $100 application fee) can be used as a credit toward a future booking at The Lodge at Pine Cove throughout the 2018 season. Should an applicant cancel after April 5, 2017, and we are unable to fill that vacancy, their deposit will be NON-REFUNDABLE. We will endeavour to fill a spot left vacant due to illness or other health problems, but we are not able to guarantee it.