Laura Rock's fiction, essays, and book reviews have appeared in The New Quarterly, U of T magazine (online), The Antigonish Review, Southword, and other journals and anthologies. She is grateful to The New Quarterly for sponsoring her stay at the 2016 Write on the French River Retreat.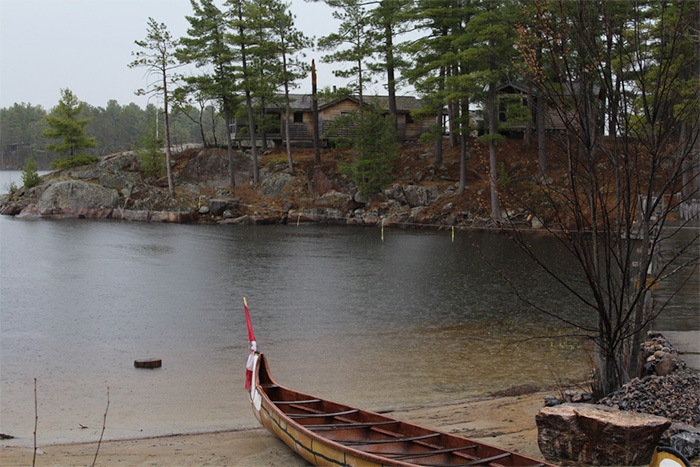 Alone in my cottage at the Lodge at Pine Cove, I have time to read. Someone has thoughtfully left a back copy of The New Quarterly (TNQ) on the nightstand. I flip through the pages without hurrying. What a luxury it is to read in an undirected way: free to encounter sensibility and style, lines of argument, offerings. For the five nights of the Write on the French River Creative Writing Retreat, after the social hour and dinner, I pour wine, sit in the comfy rocking chair, and sample words—an Ayelet Tsabari essay I had meant to read when it first appeared in TNQ; the freshly published story of a new friend a few cottages over; a clutch of books written by the retreat instructors; and my own unruly notes and manuscript pages piled on the kitchen table.
The messy table cheers me, because it looks like my work. There's no need to clean this table, no meals to cook and serve. The kitchen is stocked with supplies, but I don't use them beyond firing the kettle for tea. In the space between the table and sink, there's room to lay out a yoga mat. The floor, painted a vibrant spring green, is as inviting as the rocking chair, as conducive to thinking.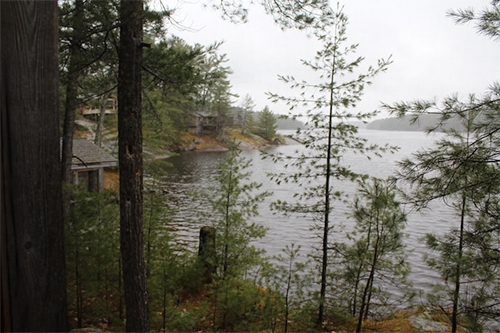 My cottage is a capsule of peace sheltered by trees. I stay up late, listening to the water murmur to the rocky shore just beyond the window. Lying in bed before falling asleep, I track the changeable sky through a frame of white pines, a view so Tom Thomson it made me laugh at first. Unreal, I thought. How can this be real?
Mornings, I wake before the alarm rings, which never happens in normal life. I have time to write first thing—longhand, on the computer, both—before heading to the lodge for the day's activities. When one is on retreat, the hours expand. The anxiety of continually rushing recedes.
Breakfast arrives in a picnic basket left on the doorstep. This meal—a feast that tastes especially sweet since I didn't have to prepare it—is best taken in the cabin's screened porch, staring at the blue expanse of Wolseley Bay. I savour the contents of the basket, which will vanish later, along with the dirty dishes. Magic like that never happens at home.
I'm alone in this cottage by request. Quiet alone-time is an epic gift. But so is the intriguing Write on the French River program, so every morning I ditch solitude for society, knowing I can return to the cottage at will. I join the other retreaters as we make our way along a winding path fragrant with pine needles and damp earth toward a long wooden bridge spanning Pine Cove and then on to the lodge. We cross the fairy-tale bridge often. If any trolls live beneath it, they don't show themselves.
In fact, the retreat experience is entirely troll-free—important information for anyone considering attending. In residence this week are artists and musicians, journalists, editors, scientists, business people, and full-time writers. Their works in progress are just as varied, including YA fantasy, mystery, memoir, and literary fiction. As one stunningly good Lodge at Pine Cove meal follows another, we group and regroup, discussing our projects, making connections. I sense a collective willingness to reserve judgment. A generous impulse to support and encourage one another.
Writers at all stages are welcome here. Some attendees have published stories, articles, and books, while others are hoping to complete their first manuscript. No matter. Everyone has much to give and gain. The fabulous, attentive instructors set the tone: open, respectful, alert to meaning and context.
We gather in the lodge, a building at once a soaring modern gallery and warm home base, with massive stone hearths and wooden beams, wrap-around verandah, intimate library, and loads of windows. Outside, kayaks and canoes await paddlers who might set off in any direction, as water surrounds the place. While hiking trails and a boat tour tempt us away, a good portion of our week is spent in the lodge, learning.
The fiction and memoir instructors—Don Gillmor, Oakland Ross, and Susan Scott–guide small groups through discussions and exercises; deliver entertaining and informative craft talks; and provide thoughtful critiques that take account of each writer's intentions. Poet Nanci White gives a spirited workshop, saying so many captivating things about poetry in quick succession that I come away with eight pages of notes, double-sided. Lindy Mechefske's workshop illuminates the world of food writing, which has seen exploding interest among readers. Food is sustenance, but it's also love, science, culture, and industry, with distinct angles of approach. We have a chance to practice, drawing on food memories to generate stories. A panel discussion on publishing yields wide-ranging, sometimes cautionary, anecdotes. Along with the other authors, Nicola Ross and Kristen Ciccarelli contribute fascinating tales about their book-publishing journeys. On the final evening, a student reading creates an opportunity to share, and to celebrate our work.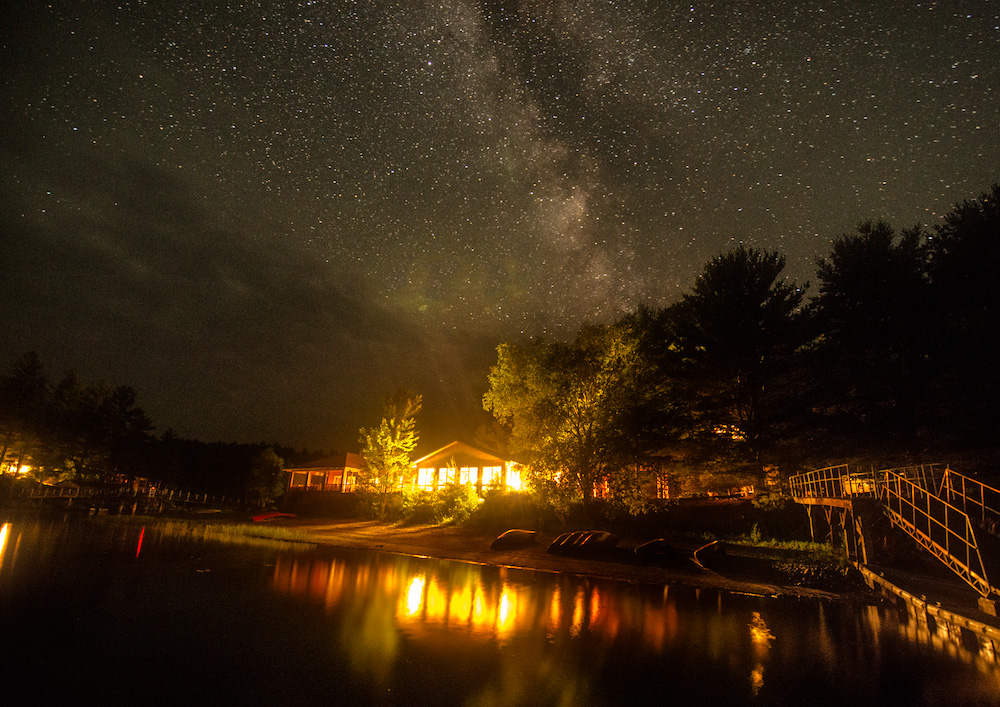 Walking back to my cottage that last night, stopping on the dark bridge, I feel disembodied, a speck in the vast star-scape that shines overhead and below, mirrored in the water. It's a bit dizzying, until I realize that this is precisely the aspect I try to cultivate on the page—invisibility. If only I can disappear into the text, erasing my tracks, the right words might shine through. And more: how lucky I am to stand here and connect the stars. My solitary cottage in the trees beckons, and I walk the path once more.
A moment lingers. Susan Scott's talk, Truth-Telling 2.0: Writing in an Age of Exposure, addressed the topic of writing spaces, among many others. "Where do you write?" Susan asked. Some said offices—their own or borrowed—while others worked in cafes, on trains and in airports. Then a woman piped up from the back. "I have a writing cabin in the woods," she said, and the whole room exhaled: Ahhh. We all want a writing cabin in the woods, it seems, and for the duration of the Write on the French River retreat, we have exactly that.