by Faryal Diwan | فریال دیوان
Seaview was calling to me.
I was in my nana's sapphire blue Suzuki Cultus, and was heading home from a visit with a friend at Dolmen Centre – one of many shopping malls in Karachi. As we drove past Clifton Beach, popularly known as Seaview, I rolled down the window. The cool sea breeze and the familiar salty seaweed smell engulfed me with memories.
Visiting the beach is a tradition of mine when I come back home to Karachi. It's the place I miss most when I'm away. I miss the November days when we'd go to Hawkes Bay. I remember the weather in November was pleasant and cool, and the clear night skies were stunning and rare in the city centre. We'd quietly watch green sea turtles swim up to the shore to lay their eggs during nesting season. It was so beautiful to watch motherhood unfold under the moonlight. When the eggs would hatch, the care-takers at the hatchery would place the hatchlings into a large bucket. I'd pick up one lucky hatchling on a dare and happily kiss it. Because of pollution and oil spills, you won't see green sea turtles on Karachi's shores anymore.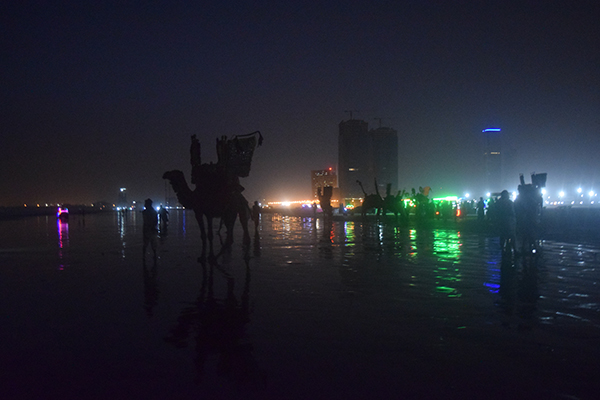 Seaview, however, has a special place in my heart; it's the busiest beach in Karachi, especially in the evenings since it's too hot during the day. I didn't need to press scotch bonnet seashells against my ears to hear the waves crashing or the winds roaring to remember. I was here.
I asked Bilawal to stop the car:
"بلاول یہاں گاڑی روک دیں۔"
"Bilawal yahaan gari rokh dein."
Bilawal was my nani's Pushto driver. He was wearing a light grey shalwar kurta. He had a wheatish complexion, a beauty spot on his left cheek and a long white beard.
I took off my gold and silver embroidered kolhapuris with double-stitched leather soles, and swapped them for my Old Navy sea-green flip flops I keep in the car just in case I make a visit to the beach. It's mostly so Ammi doesn't notice I have gone to the beach, and I don't want to ruin my kolhapuris, but my shimmering sandy feet are usually a giveaway.
Bilawal parked the car at the Clifton Beach parking lot, and told me not to go too far. I reassured him I wouldn't.
"باجی دور نہیں جانا اور پانی میں بھی نہ جائیں"
"Baji, dhur nahi jana aur pani mein bhi na jayein."
"نہیں ، میں نہیں جاؤں گی۔"
"Nahi, Mein nahi jaoon gi."
I took my camera with me to capture the stunning sunset slowly disappearing into the Arabian Sea. I miss these sunsets.
As I walked onto the sandy area of the beach, skipping over garbage, seashells, and horse and camel droppings, I spotted camels adorned in colourful decorations. I saw thelay walas selling bhutta roasted in hot sand, channa, coconuts, and chaat. They positioned their carts in one spot so it was easy to walk around to buy what you wanted. There was also a seating area nearby.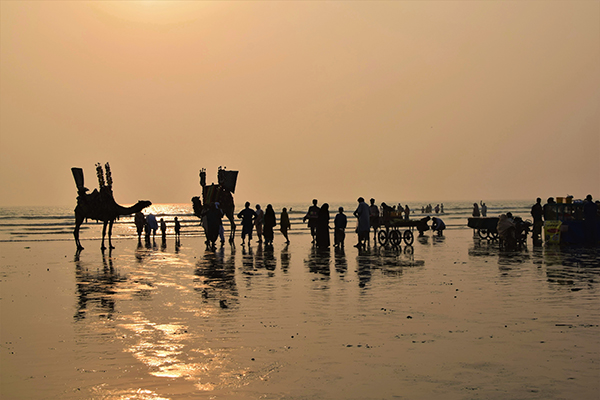 A crowd to my right surrounded the snake charmer playing the pungi (South Asian clarinet flute) to invite his cobra out from his woven basket. As always, I was amazed at how they did it. There were always snake charmers busking at Seaview. Sometimes they would bring their mongoose. Mongoose and cobra fights are rare, but a spectacle to see.
There were no mongoose today.
On my left, I saw a crowd watching a rhesus macaque monkey doing its tricks and dancing to the beat of its master's drums. The busker was holding onto it with a rope so it didn't run away. The monkey walked up closely to the crowd with a donation can to ask for money.
I didn't stay long to watch because I was eager to get to the water.
As I walked toward the water, I saw lots of children flying multi-coloured kites – it was a perfect windy day to fly them. People rode along the beach on horses and camels, and reckless teenagers drove brightly lit beach buggies with Bollywood music blasting from the speakers. The bright colours and lights from the vibrant scene reflected on the silver sands as the waves retreated.
My heart felt full.
I took off my chappals and held them in my hands so they wouldn't get washed away by the strong sea currents. I strolled by the water, letting the waves kiss my feet. I didn't go in any deeper because I have a fear of being lost at sea.
As I stood still to watch the sunset, water wrapped around my legs and my feet sank deeper and deeper into the silver sand, as the waves came and went. I felt grounded.
Time stopped for me in this moment, as it always does. Things always change, but the beach remains the same. The Indian Ocean waters hold memories of my life in Karachi.
I visit home every year and yet I feel out of place whether I'm here or there. But when I return to Seaview, I feel like I belong.
I feel like I'm home.
________________________________

Cover image created by Zehra Nawab. Illustrated portrait by Sam Trieu.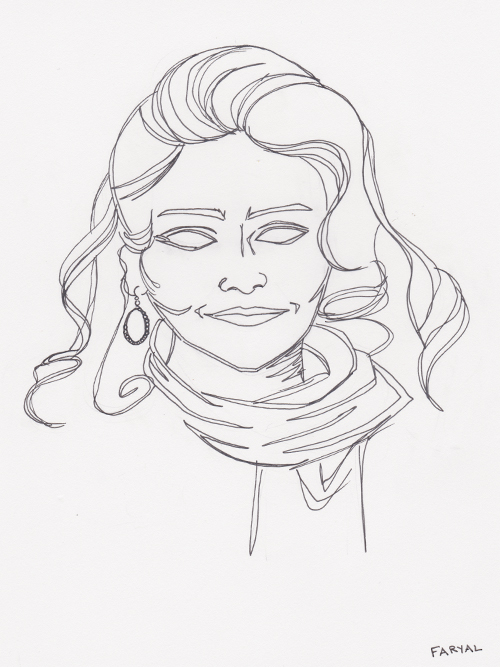 Faryal Diwan is from Karachi, Pakistan – born and raised. She moved to Kitchener-Waterloo in 2010 to pursue a Bachelor's degree in Environmental Studies at the University of Waterloo. Faryal is an avid member of the Kitchener-Waterloo community. She is passionate about the Arts, nature, dancing salsa, and of course loves visiting the beach.
This story was produced in
The X Page:
A Storytelling Workshop
with generous support from: