After five years away, I was back in Pakistan to attend my brother's wedding. It was an exciting and long trip. The house was beautifully decorated with golden lights; everyone was very happy to see me and my family. There were many guests gathered around to plan the three-day event. My kids were a little nervous because they had never been in this rush.
Every day was so busy with shopping, decorating, and other preparations for the wedding.
But one day stands out in my memory.
It was a cold, but beautiful, sunny day in mid- December. I was going shopping with my aunt and younger sister at Orega Mall. My sister and I left seven kids all together under our parents' supervision.
My brother dropped us off at the mall. 
We first went to the tailor shop to collect the dresses, especially the bridal gowns. The tailor had made a big error in the bridal dress. My aunt started arguing with him, but nothing worked out with this exchange. We picked up the dresses and we started walking towards the jewelers' shop. But the gold set was not ready yet either.
My aunt yelled at us, "Today is a very bad day!"
My younger sister, who was five months pregnant, was feeling hungry but she couldn't ask for food because my aunt was a little mad. I tried to convince my aunt that we should eat something before going home. I think my aunt was thirsty too, that was why she nodded her head yes.
She told me to look for a ride, while they got food.
I saw a rickshaw parked right at the corner of road, so I walked toward him and asked about the fare. He seemed a little suspicious but I ignored that. I was so tired and worried about my kids. As I looked towards the market, I saw my aunt and sister coming towards us with food. 
We all sat in the rickshaw, with my sister in the middle. 
As the man drove through a small and quiet street, my aunt whispered that something was wrong. After a while the rickshaw stopped to pick up another man, who sat beside the driver, who drove slow and steady.
As I took my first bite of shawarma and put the soft drink down, the other man turned to me. He put a gun to my head! He said, "Give me everything you have." 
I smiled because I thought that he was joking. But both my aunt and sister looked serious. 
As soon as my aunt heard another car coming, she screamed at us to throw all the shopping bags out of the rickshaw and jump. We made it safely, even my pregnant sister.
The men drove away as fast as possible. My aunt asked me if we'd gotten everything out. 
Me and my sister nodded, but then I shouted: "We left the soft drinks there!"


Cover image created by Zehra Nawab. Illustrated portrait by Sam Trieu.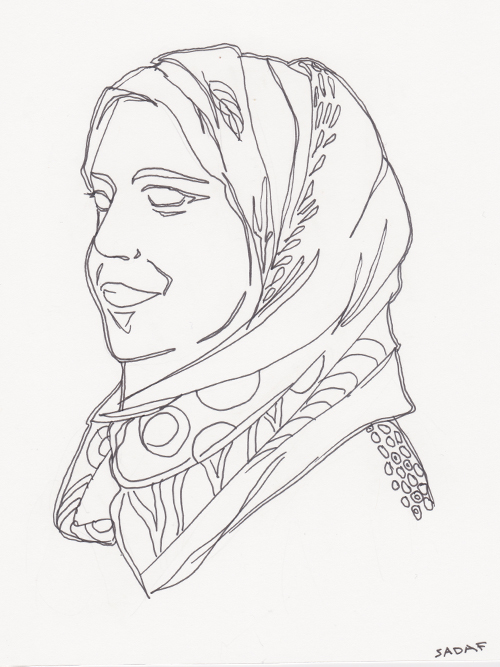 Sadaf Shafiq's story was produced in The X Page: A Storytelling Workshop. To learn more, visit thexpageworkshop.com.
This story was produced in
The X Page:
A Storytelling Workshop
with generous support from: