Stephen Maude's Writing Space
Saturday morning and here I am sitting alone at Mitzi's Café. That's the way my narrator, an anxious cinephile named Emily, begins her story in "Happy Enough", which appears in TNQ150. And that's the way the story began for me as well – sitting alone in a café. "Happy Enough" is the third of my stories to feature Emily and her friend Morah (see TNQ123 & 141). The first of these also opens in a café, a now-defunct coffee house in Toronto's west end. I was sitting in that same place in fact, in January 2011, gazing out the window with my notebook lying open on the table, when Emily and Morah walked in, picked up my purple gel pen, and wrote themselves onto the page.
Cafés and libraries are my go-to places to write. I have a lovely home and a wonderful family, but when I'm at home, there's always something other than writing that I could be doing – or should be doing, a voice in my head keeps telling me. So, when I want to write, I get out of the house and go somewhere else. Someplace where I can feel anonymous for an hour or two. Not only does that free me from distractions around the house, it also liberates my imagination.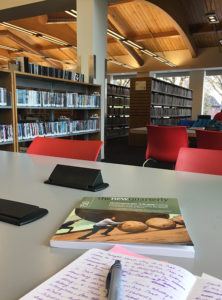 In her essay, "Woolf's Darkness", Rebecca Solnit draws on a 1930 essay by Virginia Woolf to make the point that venturing outside the familiarity of home and into the city can be a means of inducing reverie, subjectivity, and imagination, a sort of duet between the prompts and interrupts of the outer world and the flow of images and desires (and fears) within. When I'm walking or cycling city streets on my way to the café or library, I'm shedding thoughts about planning meals or paying bills, and making space for imagination.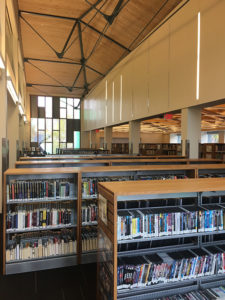 Today I'm at my local branch of the Toronto Public Library – one of my favourite places to be. The shelves beside me are lined with books, works by Solnit, Woolf, and hundreds of others. Surrounded by great writers, it's easy to feel intimidated, to fall prey to the negative chatter in your head. Who are you kidding, calling yourself a writer? Do you really think anyone cares what you have to say? But just as easily it can be inspiring. I have little doubt that, once upon a time, the authors of the books lining these shelves were likewise plagued by misgivings. They were staring at a blank page and wondering how to fill it, just as I'm doing now.
Photos courtesy of Stephen Maude.