Launched: A Mind Spread Out on the Ground by Alicia Elliott
Welcome to the latest instalment of Launched, the series with the scoop on new books by Canadian authors.
Alicia Elliott's first book, an essay collection called A Mind Spread Out on the Ground, was published by Penguin Random House Canada this spring. A Tuscarora writer from Six Nations of the Grand River living in Brantford, Ontario, with her husband and child, Elliott's writing has been published in numerous literary journals and magazines. She is currently Creative Nonfiction Editor at The Fiddlehead, Associate Nonfiction Editor at Little Fiction | Big Truths, and a consulting editor with The New Quarterly. Our interview took place by email over a couple weeks as she appeared at writers' festivals and the book hit the nonfiction bestseller list.
Q: A Mind Spread out on the Ground is your first book. What does it mean to you to have published these essays? How has your experience of launching the book been so far?
It's been both scary and humbling to publish them, as they're deeply personal and vulnerable. While being vulnerable takes a lot of strength and, I think, opens up the possibility for others to be vulnerable, it also could be weaponized against you. I decided to trust that readers wouldn't do that, and so far, it seems that's been true. Those who have read the book have been very positive. A lot of readers I've heard from have said the book has helped them think more critically about their own lives and histories, which is great, because that's what I wanted. I didn't want it to be a passive reading experience. I wanted my book to start dialogue, analysis, and introspection that would, hopefully, lead to people wanting to make real changes to the world we share.
Q: In this book, you examine a wide range of topics: personal histories, mental illness, generational trauma, Indigenous and white identities, gentrification, misogyny, racism, cultural appropriation, representation in literature and photography, and more. There's activism and cultural criticism. And through it all, art, the artful writing that compels the reader. How do you approach art and activism: are they flip sides of the same coin? Or do you separate them at all?
I feel that all art is inherently political, regardless of whether the artist acknowledges that. In fact, I find "apolitical" art to often be the most political, because it hides its politics under aesthetics or entertainment, as though its politics don't exist. This can encourage audiences to be less critical of the art's underlying politics because, the artist claims, there are no politics to be critical of. But if your art doesn't challenge the status quo, it is, by default, upholding the status quo. It's saying that there are more important or interesting things to worry about than the politics that affect others' day-to-day lives in meaningful, often difficult, ways. I don't buy into that argument at all. The fact is, if you take an experience of the world and determine it to be worth examining and/or elevating, which all art does, you're saying that this experience deserves our collective attention. What isn't political about that?
Q: The essays vary in form. "Dark Matters" braids the verdicts in the killings of Colten Boushie and Tina Fontaine with the phenomenon of dark matter in the universe with the phenomenon of racism in the country. Others are collages, one essay is a response to Susan Sontag, and another incorporates a questionnaire that forces the reader to question received wisdom about abusive relationships. What is the composition process like for you, designing the form for your content?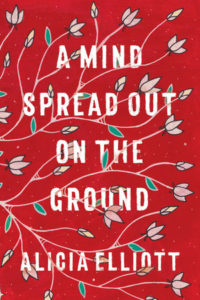 The decision-making process for how I'm going to structure each essay is very instinctual. I don't plan out the essays in advance, other than broadly knowing what topic I want to explore. Sometimes I don't even fully understand why my brain is telling me to connect two topics until I'm writing, which is what happened with "Dark Matters." For that, the hunch that there was something worth exploring came when I was watching the Tilda Swinton-narrated video on dark matter. I think because my mind was in that hopeless space of mourning, because I was seeing things through that lens, my mind was connecting everything back to Colten. In general, I just kind of follow my line of interest—both in terms of content and form—and then see if it works. It usually does, somehow.
Q: Your short story "Unearthed" was selected by Roxane Gay for Best American Stories 2018. Which do you write more of, fiction or nonfiction, and which do you like more? Do you write other genres, as well?
I definitely write more creative nonfiction. It's easier for me, because everything is already created for me to piece together and make into a narrative. With fiction, you have to create everything from scratch, so it takes me way longer. I also feel like the structure of creative nonfiction is much easier for me to understand and play with, whereas with fiction, you're expected to follow certain conventions, such as character, plot, narrative arc, etc. I get more intimidated by doing that in fiction. But I'm trying to push past that! I want to do more fiction writing, because to be honest, the real world has been pretty depressing lately and I'd like to escape a little bit.
As for other genres, I'm low-key working on a screenplay with my husband. I'm trying to keep it under wraps for now, but screenplays are an interesting form.
Q: Who are your most important nonfiction writing influences, and why?
Joan Didion's book The Year of Magical Thinking made me realize that creative nonfiction could be heartbreaking, exciting, structurally innovative, intellectually stimulating, blending personal anecdotes with research and philosophy to create something entirely original. I don't agree with everything she writes, or her approaches to certain subjects in other essays, but her craft is highly developed and it's fascinating to watch her work out ideas on the page.
I also love everything James Baldwin writes. His nonfiction is, to me, the perfect blend of intelligence and craft. His writing is perfect, even down to the sentence level, and the way that he grappled with the politics of his time (which unfortunately haven't changed much) inspired me to want to be the sort of fearless truth teller he is. I don't think I write with anywhere near as much grace or power as he does, but his work always gives me something to aim for.
Tanya Talaga is a writer with such compassion and fierce intelligence. Her books All Our Relations and Seven Fallen Feathers have shown me how to write about Indigenous issues with love, warmth, empathy, understanding, and strong ethics. Even her columns in the Toronto Star impress me, as she knows exactly what needs to be said and how it needs to be said, in the fewest words possible. That's something I'm still trying to figure out, as I tend to be long-winded. She's just an inspiration to me in all ways.
Q: How do your voice and presence on Twitter intersect with your writing? What does Twitter do for you, as a writer?
Twitter has led to me getting writing opportunities, which is great. I never thought I would have wanted to write op-eds, for example, after deciding at 18 that I didn't want to go to journalism school, but I actually really enjoy it, and I'm grateful for the opportunities I've been given. It's my not-so-secret plan to use that access to help others who have important things to say to get platforms, as well.
I gain so much from other writers, thinkers, activists, and just engaged people on Twitter. It's like having access to this incredible free master's program. There's so much I've learned from the generosity of others, who have shared their knowledge and experience in the hopes that someone would take it and apply it to their own lives. The work of Black and Indigenous women, two-spirit/queer and non-binary folks, in particular, has helped me develop in ways that I'll never really be able to adequately thank them for—intellectually, critically, etc. I am thankful every day for that, even if Twitter can be a bit of a toxic hellscape sometimes.
Q: You tweet about pro wrestling, among many other topics. Might there be a wrestling essay coming at us readers in the near future?
I've actually written about wrestling before, for the West End Phoenix. It was really fun, and I got to interview a wrestler who started his own wrestling promotion. And I'm going to be editing a book about wrestling, which I'm really excited about but I don't think I'm allowed to talk about too much yet.
Laura Rock Gaughan is the author of Motherish, a short story collection published in 2018. She lives in Lakefield, Ontario with her family.