Susan Glickman's Writing Space
My writing space was downsized a few years ago when my son moved back home and I gave him my airy treetop office to turn into his music studio. To compress a lifetime's worth of scribbling into a smaller room, I stuffed 25 garbage-bags full of paper into other folks' blue bins at 6 a.m. The purge was so invigorating! I felt I was not only relinquishing the past, I was marching into the future with clear eyes and no illusions.
Amongst the grad school essays and newspaper articles, postcards whose import I no longer recalled and rejected publicity photographs, were copies of every journal in which my work had appeared. I tossed them because they took up too much space, and because I was confident everything important was archived on my computer. Sadly, about a year later, whilst trying to assemble a collection of my essays and reviews, I discovered that many pieces had not, in fact, survived the migration from 3.5-inch floppy disks. (TNQ asked me if I had any tips to offer writers like myself.  Here's one. Keep copies of all your work. Or two: And record the date of each draft.)
Losing a few book reviews was no big deal. Losing early poems and stories was more consequential. Occasionally, however, I discover some of these lost poems online. Here's one that was published in Issue 4 of The New Quarterly back in the spring of 1982!
Sympathetic Magic
Always thought love would spill into my yard
like rain; thought it would have to.
Once thought things just happened that way,
nature righting the balance
if you waited long enough.
Once thought of absence as the shadow
of the real,
drawing a landscape as
not tree and mountain
but the edges where shapes intersect—
life as a conversation
with the important things left
unsaid.
Learning to talk now, learning
to ask the right questions.
A little rain dance, if you like,
giving nature
a nudge.
A year after this poem came out I met my future husband, father of the talented man whose music displaced my poetry – including the copy of TNQ in which this long-forgotten poem appeared. It pleases me to realize that, even then, I felt a connection between drawing and writing. Although I had given up the visual arts to make a life in literature, I have recently spent a lot of time in art school, going back to my first love. My office shelves still groan with books, but now they also display some of my artwork. This makes the space seem special.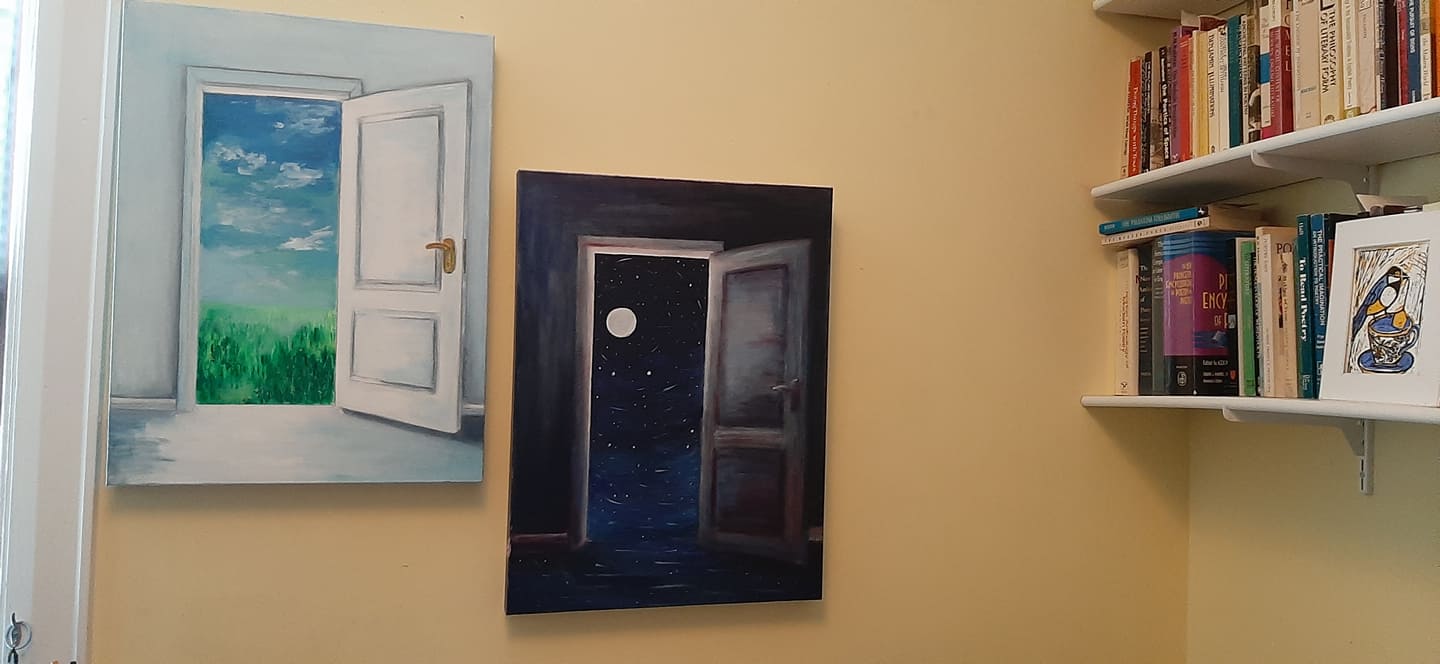 The thing I like best about my new office is that it has a comfy sofa in it. I often take afternoon naps there with my assistant, Toby (see photo taken by my daughter, who is also an artist), which keeps us both productive and happy. (Here's a third tip for writers: Take naps! And a fourth: Get a dog so you will also take walks).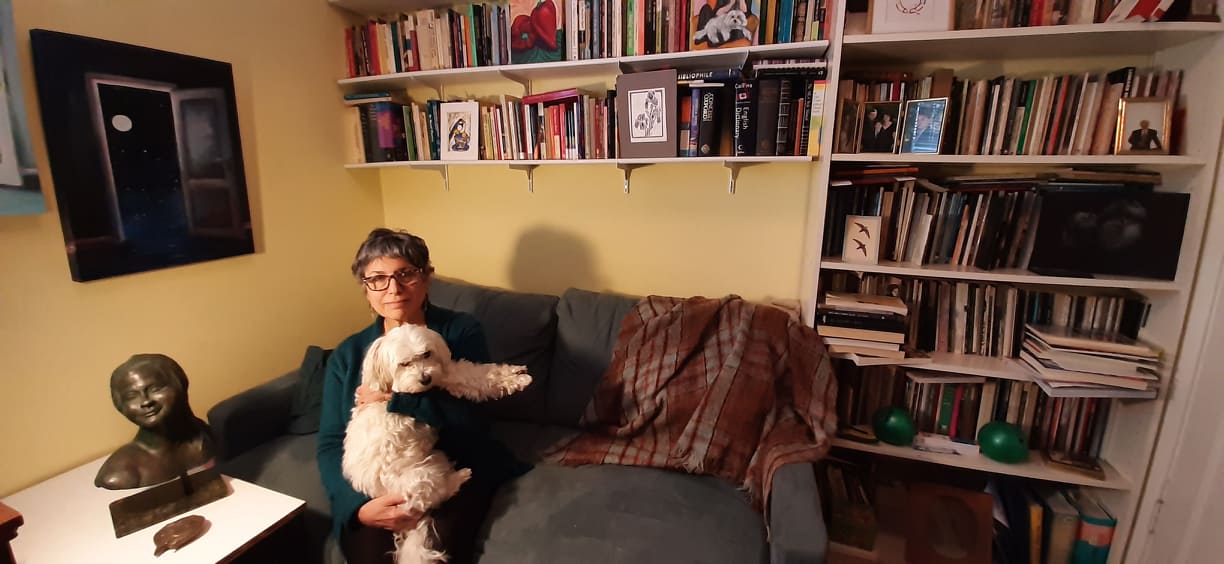 Susan Glickman is the author of seven books of poetry, most recently What We Carry, seven novels, and a work of literary criticism. She lives in Toronto, where she works as a freelance editor.
Photos courtesy of Susan Glickman.