I was at the first house that I remember. A farm house. I was around six years old. The warm fresh wind blew through the verandah and into our rooms smelling of the roses from our front yard.
I was standing beside my mom as I quietly watched her take out her red velvet-covered jewellery boxes. She was getting ready to attend my cousin's wedding. We were all going to go to the wedding soon.
I watched my mom put on her gold jewellery: the big earrings, necklaces, bangles, rings and finally the nose pin.
Suddenly, I heard a bead falling on the cement floor. Ting!
Mom anxiously looked at the nose pin and said: "Oh, no, one of the beads from my nose pin is missing."
We both tried to find it, looking and looking everywhere. Bending and stretching like cats, Mom and I searched for the bead. We looked under the dressing table, above and below the beds, side table, and every corner of the room. All our efforts were in vain.
In the meantime, both of my older sisters came running in and said: "We are getting late for the wedding!"
My mom quickly locked her jewellery boxes and rushed out of the room with my sisters.
As I followed, I saw something shining near the door. I leaned over in surprise and saw I had found the missing bead! I held the bead in my hand. Everyone else had left the room and I was alone. I ran to the dressing table.
I tried to put the bead near the side curve of my nose. I could feel that it made me look more beautiful and I wanted to stick it there.
Suddenly, the bead slipped inside one of my nostrils. I tried to take it out with my fingers, but my efforts only seemed to push it deeper inside. I could hear everyone calling me from the verandah.
Mom came into the room. She quickly saw that I was in trouble and that something was stuck in my nose.
Meanwhile, my sisters and brothers also came in to see what had happened. All of them tried to explore inside my nose to find out what it was, when one of my sisters shouted: "Oh no! It's a bead!" The bead was already choking me. I had given up on taking it out.
All I can remember is everyone leaning over my face and trying to take the bead out of my nostril until I passed out.
I was taken to the emergency room and the doctor gave me sneezing medicine. And with one big sneeze, out came the bead!
Everyone was happy that I was alive.
At that time, no one had even thought of the plan that my mom had already made in her mind: to pass on that nose-pin to me in my dowry when I would get married.
My sisters teased me for years to come for my silly efforts to look more beautiful by trying the bead on my nose. I had learned a lesson: that I had to live with the beauty I was born with. I still love jewellery as it reminds me of my childhood memories. However, I wear it with care!

Cover image created by Zehra Nawab. Illustrated portrait by Sam Trieu.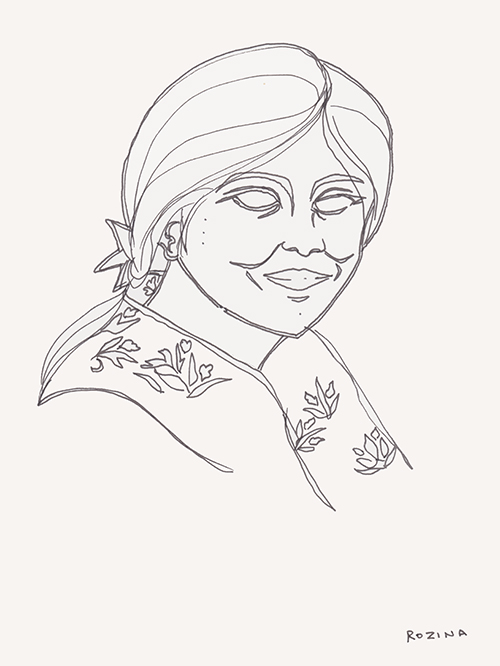 Rozina Shaheen Baloch was born in Dera Ismail Khan, Pakistan, and came to Canada in 2008 with her husband and three children. She has been involved in community development for over ten years in Canada and has degrees in Forestry, Mass Communication and Social Work. Aside from passionately giving back to her communities, she loves to read, sew, and paint.  
This story was produced in
The X Page:
A Storytelling Workshop
with generous support from: