TNQ's 2017 Nick Blatchford Occasional Verse Contest Longlist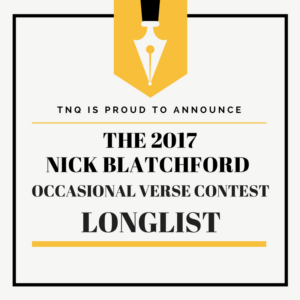 TNQ Announces the 2017 Nick Blatchford Occasional Verse Contest Longlist
The New Quarterly (TNQ) has unveiled its longlist for the 2017 Nick Blatchford Occasional Verse Contest. This year's judges received 175 entries which they narrowed to a longlist of 20. Of this year's entries, judge and previous TNQ Editor Kim Jernigan notes, "These are anxious times, something that was reflected in the poems submitted this year, yet the overall tone was one of consolation and uplift."
The contest is sponsored by Kim Jernigan and her family in memory of her father Nick Blatchford, the man who sparked the family's love of poetry. They invite poems written in response to an existing occasion, personal or public, or poems that make an occasion of something ordinary by virtue of the poet's attention. Speaking on the nature of occasional verse, Kim reflects that "Perhaps all verse is occasional, but this contest seems to elicit poems that come from someplace deep, and the best of them are as eloquent as they are heartfelt." Past winners have addressed occasions as diverse as a sailor in a lifeboat listening to the cries of drowning men, a couple making love in a bird blind, a mother's first outing without her newborn child.
This year's longlisted poems and poets:
Judy Barlow, "Pace" and "Pstealing the 23rd Psalm"
Melinda Burns, "Marriage of Convenience"
Rhonda Collis, "Elevation"
Joanne Epp, "Festival"
Susan Haldane, "The Longest Night" and "Van de Graaff Generator, Ontario Science Centre, 1998"
dee Hobsbawn-Smith, "Oranges & Pomegranates 2"
Cornelia Hoogland, "River Rhône"
Joseph Kidney, "Deer Lake on Christmas Afternoon" and "Shovelling Snow, New Year's Eve"
Brenda Leifso, "3 o'clock, October"
Colin Morton, "Event Horizon"
Kirsten Pendreigh, "Beer on the roof after radiation"
Emily Skov-Nielsen, "Birthday" and "What the birds know"
Royston Tester, "grief"
Fiona Tinwei Lam, "Ode to the Plate" and "Test"
Anne Marie Todkill, "November, Stormont County"
The winners will be announced by the end of August this year.
Nick Blatchford was a newspaperman who began his career as a copyboy for The Washington Daily News after serving with the American coastal artillery in Newfoundland during WWII. He worked his way up to Managing Editor, the person responsible for composing each day's paper. He also won the Ernie Pyle Award for human interest storytelling. In a personal letter sent to his family from a colleague, he is described as possessing "an extraordinary gift for seeing quickly to the heart of the situation and treating it with compassion." Nick was also a lover of poetry. On Kennedy's death, he devoted the entire front page of The Washington Daily News to Walt Whitman's "When Lilacs Last in the Dooryard Bloom'd," a poem written to commemorate the death of another president. He was himself a dab hand at ingeniously-rhymed light verse. In a letter sent to his daughter on the occasion of his 80th birthday, a cub reporter tells about his come-uppance on having written a story longer than the assigned length in column inches, and then complaining when it was cut: "The next day I found in my box the following note from Nick:
Lincoln, under great duress

Wrote his Gettysburg Address

In words succinct and solemn

And well under half a column."
Providing a home for poetry by both established and emerging poets has, from the start, been an important part of TNQ's mandate. Our poets (including Kerry Lee Powell and Michael Prior, past prize-winners in the Nick Blatchford Occasional Verse Contest) have done well at the National Magazine Awards. Selina Boan won the Gold Medal in Poetry this year for poems published in our pages. TNQ also publishes a regular feature, entitled "Falling In Love with Poetry," on a poet's first infatuation with verse. A collection of these essays is available through our website.
TNQ also has two other contests: the Peter Hinchcliffe Short Fiction Award and the Edna Staebler Personal Essay Contest.
For more information on TNQ's publications and contests please visit www.tnq.ca. For publicity inquiries, please contact Catherine Brunskill, Acting Publicity Director, at cbrunskill@newquarterly.net