What Is Kathy Friedman Reading?
My schedule is so busy that it's often only when I carve out time off, usually in the summer or winter months, that I read for pleasure. I also love to travel during these months, and to spend time outdoors, so many of the books I own end up waterlogged, their spines full of sand, small rocks, squashed insects. The far-flung places where I read thus not only become part of the book-as-object, but also part of how I experience (and later, remember) the story.
            In August, I drove from Toronto out to B.C. in a blue 2010 Corolla with my friend Aaron. (An investigative journalist, Aaron has long forbidden me to use his real name online.) One of my dearest friends was relocating to Victoria with her young family; I asked if I could deliver their car to the coast for them. She and her husband agreed almost immediately, and I recruited Aaron to help with the long drive. I'd been living alone and working myself ragged since the beginning of the pandemic, hardly leaving the city. I needed this.
            A short two-night canoe trip in Quetico Provincial Park was my first chance along the way to settle in with a book. I chose Ocean Vuong's 2019 novel, On Earth We're Briefly Gorgeous. Spending a day reading it on a rocky island in the middle of sunny Batchewaung Bay was the purest form of bliss. Vuong's sentences seemed to glow with anger, tenderness, intelligence, and fierce originality. I wanted to read nearly every one of them aloud to Aaron, who kept complaining about the clichéd prose in the self-published memoir he'd brought, something he was reading for work. In the early afternoon, when he asked if I'd brought any other books with me, I offered to share Vuong's. I'd drift off after reading a few chapters and wake to find the novel gone; I'd have a swim and wait till Aaron fell asleep before taking it back. In this way, the whole day passed. I was in the tent and asleep before it was fully dark while beside me, Aaron kept reading, the pages lit with his headlamp.
            There's a peculiar intimacy to travelling in a small car, sleeping in a tiny tent, paddling a canoe, peeing and shitting in the woods, and then reading the same book with an old friend. This closeness felt welcome, after sixteen lonely months of the pandemic, and entirely appropriate to Vuong's autobiographical novel, which takes the form of a letter the queer Vietnamese American protagonist, Little Dog, writes to his illiterate mother. Little Dog tells her stories about violence, drugs, first love, growing up, and their family's history in Vietnam and the U.S. At the time of our trip, there were terrible forest fires in Quetico, and although the smoke had somewhat lifted when Aaron and I were devouring On Earth We're Briefly Gorgeous, the eerily red sunset and apocalyptic skies of the day before reminded us of destruction and loss in a way that felt tied both to the novel and to our present moment.
I finished reading the novel before Aaron, and left my copy with him. We haven't seen each other since returning to the city, so I don't know if, like our other things, it still smells of wildfire smoke.
Toronto to Vancouver Island: A Reading List
On Earth We're Briefly Gorgeous by Ocean Vuong
Little Blue Encyclopedia (for Vivian) by Hazel Jane Plante
Never Make a Sound by Fanen Chiahemen
Amateur: A Reckoning with Gender, Identity, and Masculinity by Thomas Page McBee


---

---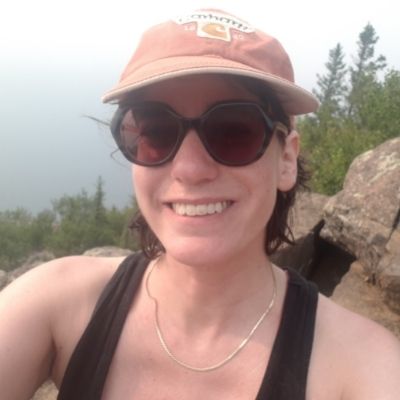 Kathy Friedman studied creative writing at the University of British Columbia and the University of Guelph, and she was a finalist for the Writers' Trust Bronwen Wallace Award for Emerging Writers. Her writing has appeared in publications such as Grain, Geist, PRISM International, The New Quarterly, and Canadian Notes & Queries. Her first collection of short stories, All the Shining People, will be published in 2022 with House of Anansi. Kathy teaches creative writing in the University of Guelph's Open Learning Program and is the co-founder and artistic director of InkWell Workshops. She lives in Toronto.
Photo by Kathy Friedman