What is Theressa Slind Reading?
Concentrating during global pandemics is tricky, I'm learning, as is feeling a sense of control over one's life. Who knew? The results: wall washing and fridge cleaning, reorganized book shelves, daughter's bedroom painted a cheery Jamaican Aqua to replace the subfusc brown that came with the house over ten years ago (my brother tells me I'm lucky my daughter hasn't sued for emancipation), and an even more scattered reading life than usual. Here's the scattering.  
First, there's the assorted delights offered by the internet and magazine subscriptions: a New Yorker vocabulary-builder about avalanches (sinter, albedo); a heart-breaking essay about an off-the-grid, double suicide; another personal essay from Outside, Murder on the Appalachian Trail (I'm into the human element in outdoor adventure); anxiety reading such as Record of a Pandemic from The Walrus. It goes on. And then there are the books.
Let's start by giving thanks for Hilary Mantel. I'm half-way through the newest in her Thomas Cromwell trilogy, The Mirror & the Light, and, like Wolf Hall and Bring up the Bodies, it's genius, the perfect book for now (or any time). The first paragraph contains this sentence: "The morning's circumstances are new and there are no rules to guide us." It felt right from the start. Maybe because the first book I read of Mantel's was Beyond Black, a novel about a medium, I find her ability to inhabit characters spooky. Like she's a medium through which Thomas Cromwell speaks. And this Cromwell is the best: tough, funny, loyal, ruthless, kind, vulnerable, haunted, fatherly, shrewd, surprised to learn he looks like a murderer. He's the smartest guy in the room, but it can't end well and I read on filled with dread. Bonus: The Mirror & the Light has taught me a new word to describe the former colour of my daughter's bedroom and, coincidentally, my pandemic mood and style: subfusc.
On my walks—now we thank public libraries and the outdoors—I'm listening to the audiobook, Hidden Valley Road: Inside the Mind of an American Family by Robert Kolker. I like that subtitle with its singular mind, as if this family with its twelve (!!) children, six (!!!) of whom were diagnosed with schizophrenia, became trapped inside one unwell mind. Kolker has an elegant writing style and the story he's telling is fascinating and tragic. I still can't get over the fact that the first ten of Mimi Galvin's twelve children were—with apologies to boys—boys! Ten! Okay, enough exclamation points. Just read it (or find an audio version; I could listen to the narrator, Sean Pratt, all day).  
"Bonus: The Mirror & the Light has taught me a new word to describe the former colour of my daughter's bedroom, and, coincidentally, my pandemic mood and style: subfusc"
Over the last few weeks, I've dipped into New American Stories edited by Ben Marcus, and, based on the introductory essay and the first story, "Paranoia," by Saïd Sayrafiezadeh, it's going to be great. In his essay, Marcus describes reading good stories as inviting "cyclones of feeling into our bodies", the story as a "sequence of language that creates a chemical reaction." Agreed! I bought the book after reading this Granta interview between Ben Marcus and George Saunders. You're welcome. If that's not your style or you need a palate-cleanser, enjoy this tart (tart like a Granny Smith) pep talk from Elif Batuman I recently stumbled upon. I must read more of her work, but Leaving the Sea: Stories by Ben Marcus is up first. Yes, I've started reading this one as well.
Another book I have on the go is 97,196 Words: Essays by Emmanuel Carrère. He reminds me of a very male, very French Janet Malcolm. I borrowed this one from the library (never to be returned?) after reading the best true crime story ever by Carrère: The Adversary: A True Story of Monstrous Deception. Sounds sensational, and it is, but Carrère's writing has range and depth and feeling. If you want the short version there's an essay in 97,196 Words (maybe 6,127 words?) about the same story of Jean-Claude Romand. You'll want to have it at the ready if we ever have dinner parties again—and then can ever stop talking about disease, self-isolation, and socioeconomic fallout. On the other hand, what's more sick, isolating, and economically and socially precarious than lying to friends and family for eighteen years that you've graduated from medical school and work as a researcher at the WHO, driving to "work" every day in Switzerland, only to read all day in your car or go for walks in forest. And then you kill everyone and the dog. Yes, post-COVID-19 dinner party guests will still want to hear this one. Take heart, we'll be able to share stories in person again one day. Mine will be scattershot.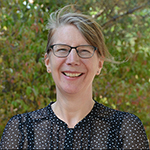 Theressa Slind is a librarian and writer. Her fiction has appeared in subTerrain, Grain, and The New Quarterly. She lives in Saskatoon.