What's Maureen Scott Harris Reading?
Barbara Taylor. The Last Asylum. University of Chicago Press, 2014.
A book I read earlier in the year that has lingered in my mind. In the 1980s, historian Barbara Taylor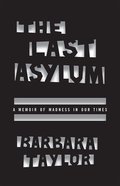 (born in Saskatchewan, now resident in the UK) published Eve and the New Jerusalem, a well-received study of 19th-century feminism and socialism. Taylor seemed on the brink of a fine career. But overtaken by anxiety, she became addicted to alcohol and tranquillizers. As part of her treatment, she entered into a lengthy Freudian analysis, and at one stage was admitted to Friern Hospital, just at the time asylums were being closed in Britain and North America. This extraordinary memoir is Taylor's account of her analysis, nestled within her consideration of the treatment of mental illness and a history of asylums. Taylor doesn't spare her analyst, herself, or the reader in her harrowing narrative, but the writing is beautiful and her candour creates a story both moving and fully realized. (Spoiler alert: all's well that … )
The Last Asylum was a finalist for the RBC Taylor Prize in 2015.
---
Adam Nicolson. The Seabird's Cry. Wm Collins, 2018.
Birds have been an important part of my life since I was about twelve, and so I often read about them.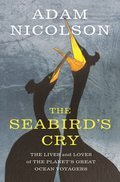 I am currently rereading Adam Nicolson's The Seabird's Cry—rereading, actually, because on my first go-through I simply gulped it down for the double pleasures of his knowledge and his language. Now I'm making notes. In the author's own words:
This book … is an exploration of the ways in which seabirds exert their hold on the human imagination … Until recently not much has been known about the lives of seabirds. Nicolson writes the lives of ten different species, among them puffins and the albatross.
These are birds he knows intimately (he's been watching many of them since he was eight-years-old), and he is equally intimate with both the science and the poetry that have scrutinized, questioned, described, and recorded them over the centuries. His infectious wonder fills and fuels the book, as it fuels the search for knowledge about these birds. To quote him again: the astonishing findings of modern seabird scientists means that a sense of wonder now emerges not from ignorance of the birds but from understanding them. There's also the beauty of his writing. Here's a taste of it as he spells out the attraction of the albatross:
… the heart of their beauty: the mutual enveloping of what they are and where they are, with no boundary between organism and environment. Each enfolds the other so that they become the acrobats of ocean and wind, their liquid, floating, commanding presence one aspect of the natural world which requires nothing but a pair of eyes and a readiness to look.
I could go on, but better you should read the book.
Photo provided by Flickr user David Meurin