What's Maya Keshav Reading?
Who's Reading What?
Bonheur d'occasion, Gabrielle Roy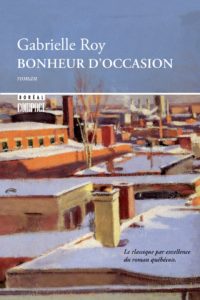 I didn't pick up this Montreal classic until I'd already left the city. As soon as I opened it, though, I was instantly transported back to the neighbourhood of Saint-Henri, and back in time to WWII. The novel follows a working-class Québécois family as they fall in love, go to work, hang out in diners, sign up for the army, and try everything to make ends meet. It's very sensitively written: the author takes us right into the minds of all the characters, especially Florentine, the adolescent daughter, as she nurtures a massive crush on someone who barely cares. Most of us have been there… 
I lived in Saint-Henri for some time in 2015-2017, and already I could tell the neighbourhood was rapidly changing. Stores selling machine equipment and uniforms were getting replaced by minimalist falafel places, and microbreweries filled with well-dressed young professionals. I went back this summer, and barely recognized the crowd at the metro station. More now than ever before, Bonheur d'occasion is a time capsule.
Photo provided by Maya Keshav