Isabel Huggan's Writing Space
This is part of my study at Mas Blanc.
Wherever I've lived, I've always had "a room of my own" (including a corner of the laundry room at one low point). I can't concentrate at the kitchen table or in a café (other than writing in a journal). I need to be in my own nest, feathered with various proofs of my identity – photos and bits of memorabilia, books and notes to turn to and, on the board currently, song lyrics and poetry and quotations that remind me who I am or who I wish to emulate.
This room I've had since 1998: these bookshelves contain mostly Canadian books except for the top shelf devoted to African, and those at arm-level jammed with writing-related texts, dictionaries and files.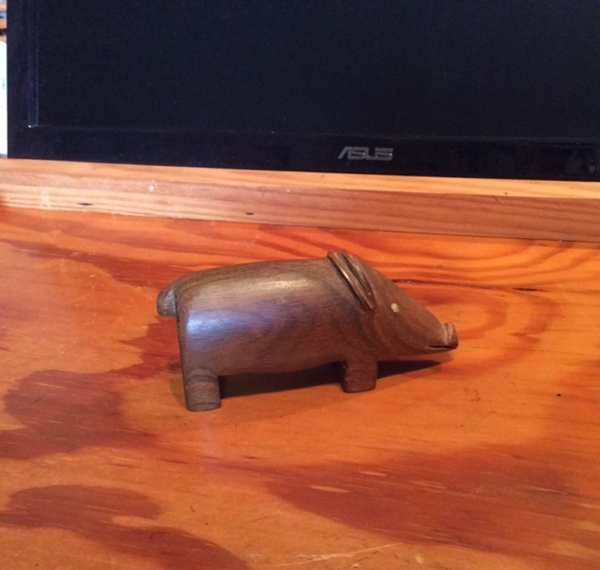 A few years ago, the novelist Richard Wright came for lunch, and when our conversation turned to the embarrassing truth that I am not a prolific writer, he asked to see where I work.  At the doorway he declared, "I can see why you don't get a lot done!" Perhaps this clutter is evidence of my growing preference for reality over fiction – even in my private space I am immersed in my life.
Now I cannot write without having to hand the little wooden peccary that was a gift from Alberto Manguel, whose belief in my work has sustained me, even through long droughts. I often hold it as I am thinking… the wooden equivalent of a smooth shell or stone, of which I have many that served the same purpose until this little fellow came along.