Leona Theis's Writing Space
This week we asked Leona Theis, author of "Pathologies of the Heart" in Issue 134, to share her writing space… What a beautiful view!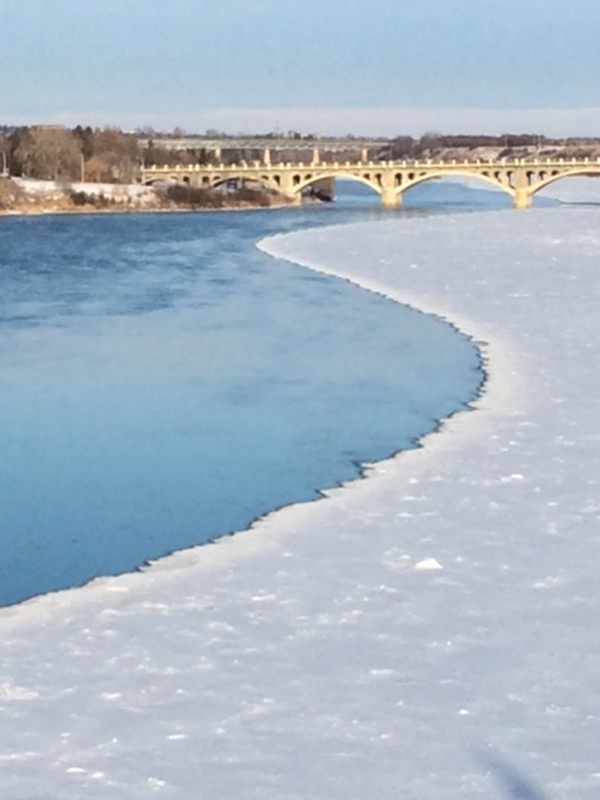 I can work almost anywhere if I have a laptop or a pen and paper, but I do have favourite routines. I often write at The Roastery, a coffee shop about ten minutes' walk from my home in Saskatoon. When I'm not doing other work, I'll often write in the morning, at The Roastery and/or my office at home, and then walk for an hour just after lunch, north along the riverbank, across University Bridge, south along the riverbank, and across Broadway Bridge. This "walk around the bridges," as we say in my neighborhood, is important. Writing puzzles will solve themselves in the course of it. The photo shows a view from Broadway Bridge in Saskatoon, one of my important "writing spaces".
The things I can't write without change from day to day. Coffee's important, hence the coffee shop. Sometimes I need noise around me—again, the coffee shop. When I write longhand, as I sometimes do for early drafts, I have a favourite pen, a gift from my son's girlfriend. When I'm having trouble getting down to it I'll often read the work of someone I admire, and within minutes this will trigger something that sends me to my own work.