Writing Spaces: Rhonda Collis
Today in Writing Spaces, we take a peek into the working space of Rhonda Collis, author of "Elevation" in Issue 144!
They say your workspace is reflective of your mind. If that's the case, I've got too much going on in there… which is essentially true. My problem, generally, isn't with writer's block, but with idea-overload and inability to focus. But there's always promise in my workspace and that's what I love about it. When I travel — which we do obsessively — then return, I am reminded how my basement-hovel office is the only room that solely belongs to me. It can make me crazy with all its loose sheathes of paper, but it also brings peace with its scent of hardwood and coffee, shelves lined with books I love, and file folders full of stories and poems going through their revisions toward what I hope will be publication in journals, and into books of their own one day.
I've always had a desk to work at in various parts of various houses. The size of the desks grew over time until my husband bought me the gargantuan L-shaped console I have now. He also built me the little space that is my own in a corner of our basement. I will be forever grateful for that. My office is a work in progress, just like everything in life, just like every writing project. I hope to clean it up, organize it into a system that not only works better for me, but looks less cluttered. Part of the problem is that daily life happens here as well as writing, paying of bills, organizing of trips, etc. There's even a rocking chair across from my desk that I told myself would be good for reading books, but has turned out instead to be where family members come to talk with me, after my absence of some hours. No matter the future of my little study, it will never be without a place for my coffee mug and a comfy chair and access to at least a small window through which to daydream (part of a writer's work, right?).
This is one of my favourite corners of my office. I look at it sometimes when I work.
I like it because it's uncluttered and has a painting of one of my favourite flowers done by a librarian acquaintance of mine. It reminds me that art lives in ALL of us, no matter our day jobs.
I can only recommend to other writers, that you find your own place, no matter your lifestyle, whether it be half the kitchen table at certain hours, a chair in a coffee shop, a room in the attic, or basement. So long as the space reminds you of you in some way and contains whatever inspires you to write, and you always look forward to returning to it.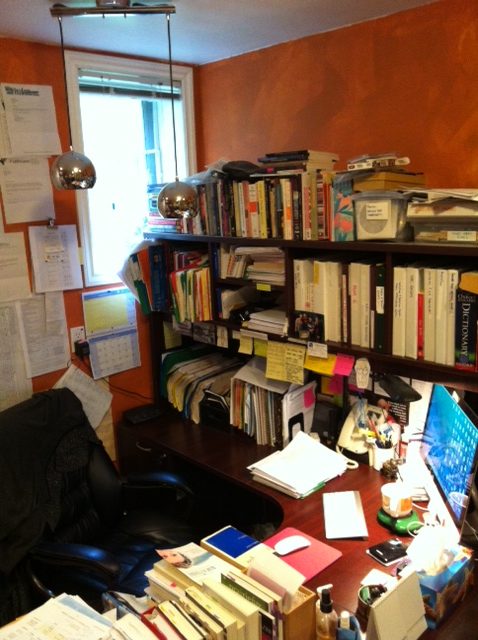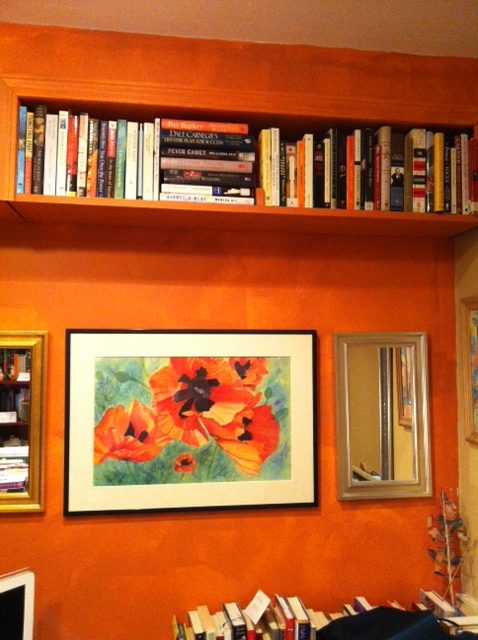 We're giving you a behind-the-scenes look into the writing process – straight from the desks of our contributors! Check out the full series here.