Writing Spaces: dee Hobsbawn-Smith
Continuing the #TNQ144 edition of Writing Spaces, we're taking a peek into the working space of dee Hobsbawn-Smith, author of "Oranges and Pomegranates 2"!
My partner Dave's office is in the sunroom, on the main floor, glass on three sides. Mine is upstairs in our 100-year-old SK farmhouse. The farm's been in the family since 1946 – that's 71 years worth of memories and creative vibes. South windows = Light. Yellow walls = More light. My dog Jake, a golden retriever puppy, likes to sleep underfoot while I work.
Outside is the 'lake' that arrived in the great SK flood of 2011 – we have an amazing number and variety of shorebirds and waterfowl right next door that make their way into my poems, fiction and essays. A telescope beside the south-facing wall – all windows and sliding doors – helps spot birds and coyotes.
On my desk, I keep stones I've gathered from travels, dictionaries, pencils, notepads, the normal clutter of ideas in genesis, and an image of the aurora borealis, a gift from my youngest son, as a reminder of the world's immense beauty and family love. An embroidered and framed image of a cannon [a gift from a dear friend who knows me well!] –  announcing "Please give me patience, NOW!" reminds me of the need for time, and waiting, and patience in writing. And in life. A whiteboard sits close by, so I can keep track of where things are at in my writing life. Photos of places I love in France and Spain are on the east wall. The stair rail is covered with scarves – I am an artisan, not just a writer – a retired chef and a sewist, and I love colours, textures, fabric.
My studio occupies the second storey of this house. I've divided it in half with book shelves. On the south side, where the light is best, my old oak desk takes up most of the real estate, but the Edwardian desk I had in my bedroom as a teenager is in this space too, as my sewing desk. My ironing board does double duty as a standing-height paper manager when a project is thick with research. In the north half of the room, I have a library, a cutting table and a big chair for reading, and four alder chairs that serve as the base for my grandmother's quilting frame when I am quilting. At present, the cutting table holds 12 different fabrics, in varying stages of attachment, for a quilt I have just begun, intended for my eldest son – of the aurora borealis. The fabric, quilting project and my grandmother's old frame all help me feel connected, which matters when I spend a lot of time alone at the desk!
It's invariably bright here – the prairies are blessed with sunlight, and this studio glows.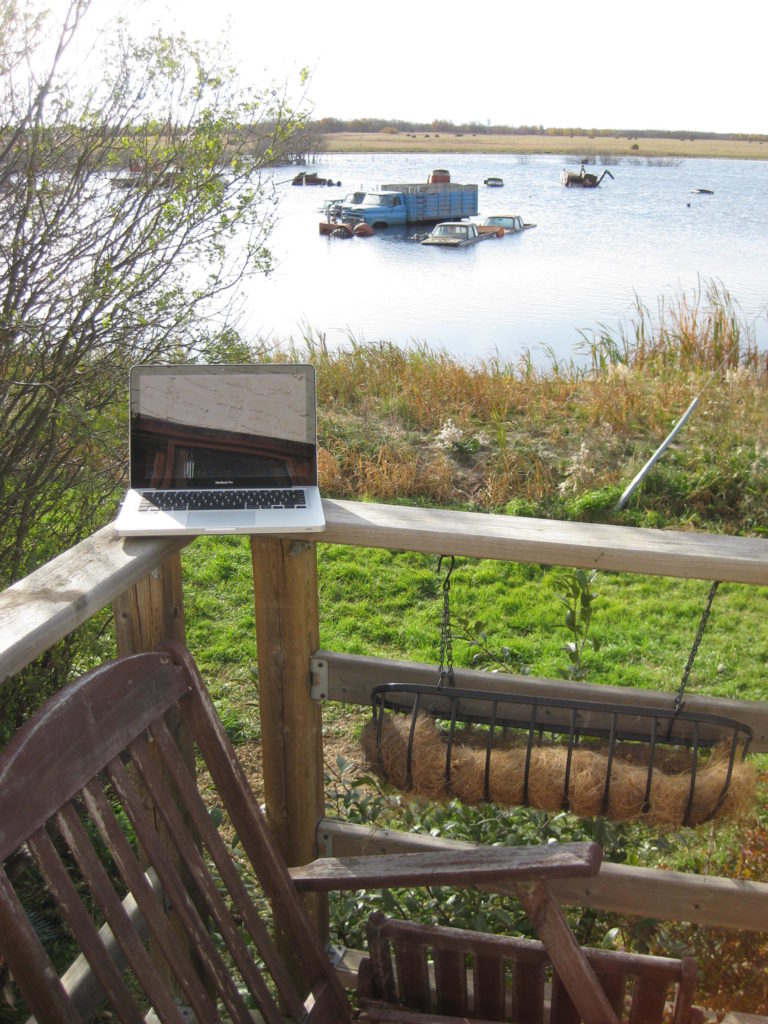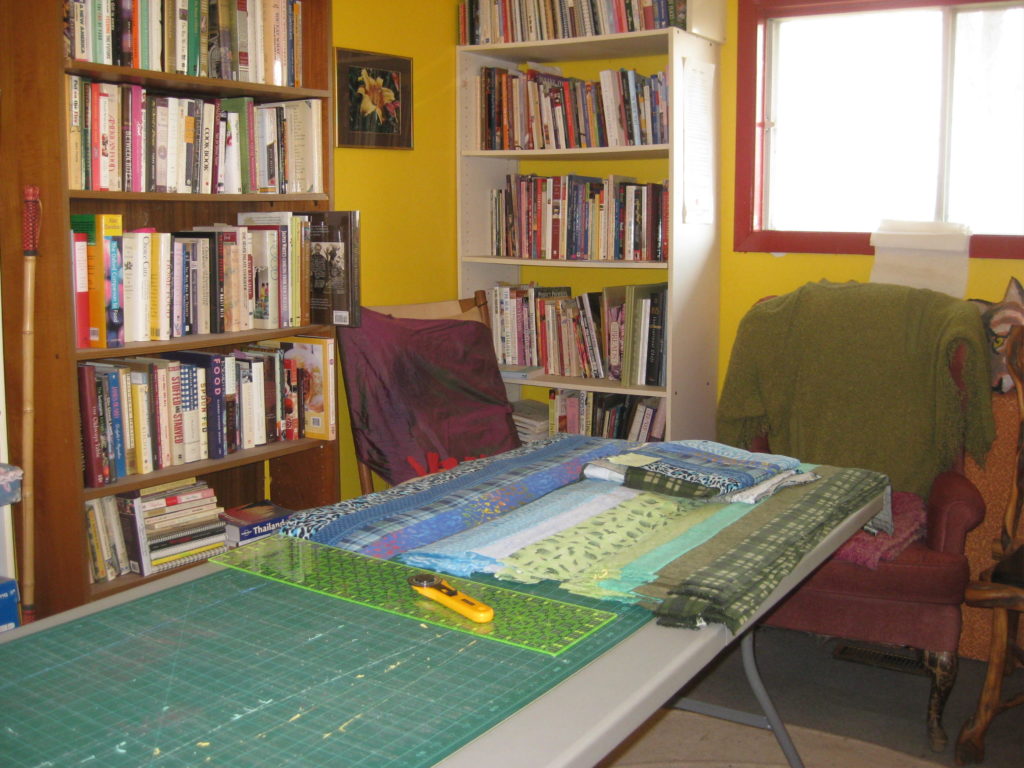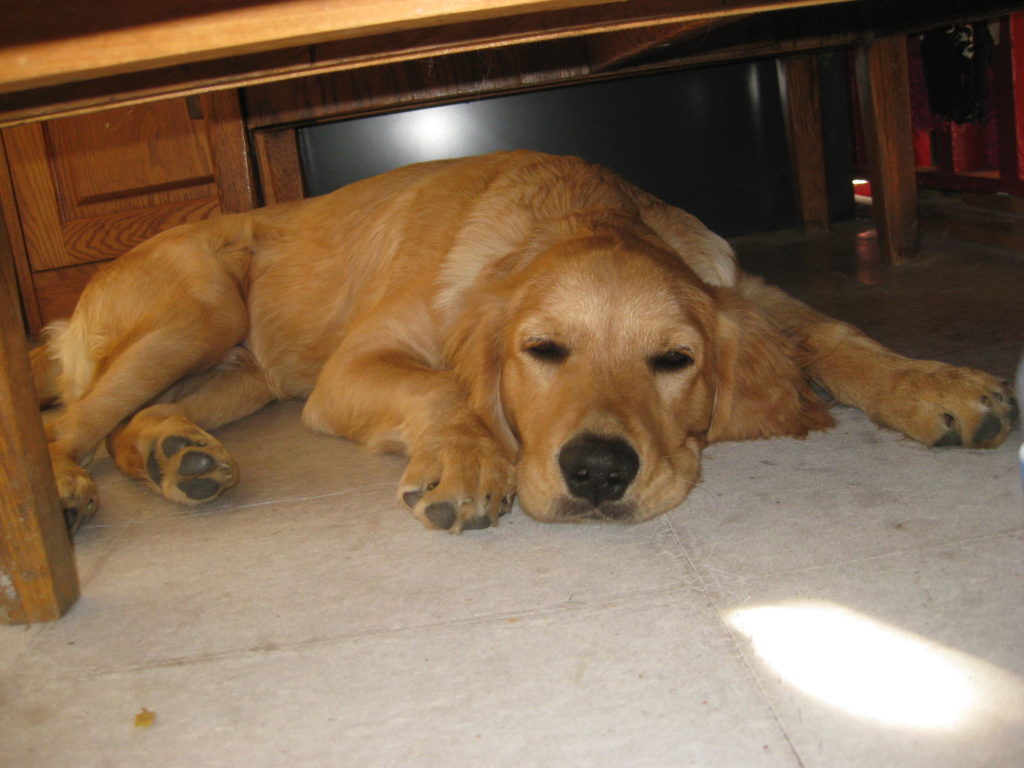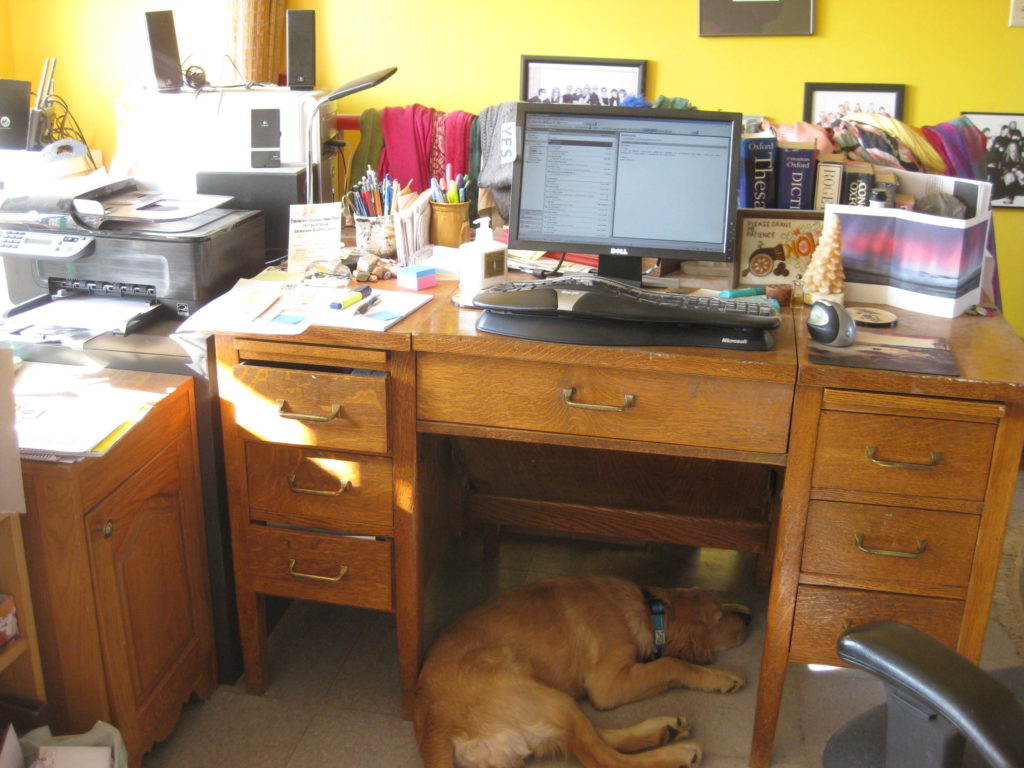 We're giving you a behind-the-scenes look into the writing process – straight from the desks of our contributors! Check out the full series here.