Writing Spaces: Sue Sorensen
This week in Writing Spaces, we take a look at the working space of Sue Sorensen, author of "Which part didn't you like?" and "You kept your name, I kept my name" in Issue #147.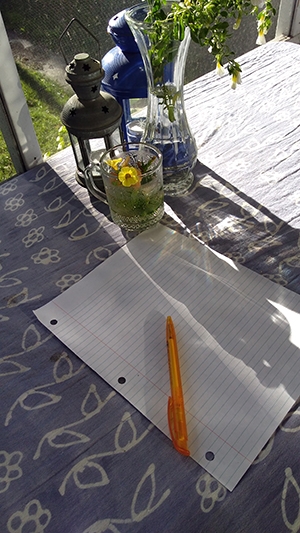 All I need to write a poem is a piece of paper and a pen or pencil. And I don't have any particular place I like to write. Like many writers I gravitate toward libraries and coffee shops. Sometimes I write in bed. But it doesn't matter all that much. I've written on the bus. Scribbled a line on the back of an envelope as I passed through the kitchen. Later I'll edit on the computer. But at a certain point it's back to paper and pen again. I can get happily lost in the editing process. The poem is usually fast, but the edit can take years.
I have two offices: at home and at my university. That's where my books are, of course, and I do find that reading other poets (or almost anything) does tend to generate my own poetry. I have self-consciously taken on Gerard Manley Hopkins and George Herbert for certain poems. Reading Margaret Atwood and Mary Karr charges me up. But my poetry is very personal, so really I write out of a deep, even dreadful need. Sometimes that primitive need will provide a phrase that gets the rest of the poem going. I have dreamed lines that I wrote down as soon as I awoke and they became poems. (Fiction is completely different in its designs on me.)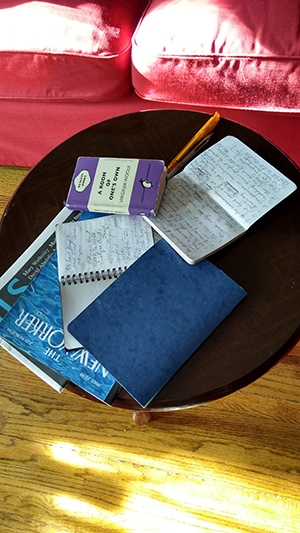 Many of my poems have started from jottings in notebooks. Right now I'm carrying two, for no real reason, and over the years I've had many. These notebooks have an almost unreadable superfluity of stuff in them: names and dimensions of IKEA furniture, notes I've written in the dark about movies, titles for short stories, blood pressure readings, and lots of dream fragments. Perhaps more than anything I collect quotations at lectures or when reading.
Some of my most painful poems, like these ones published in TNQ 147, wanted to be written in public places. Probably I needed the safety of that public space to do what I was doing. We don't talk enough about how dangerous poetry can and ought to be.
---
We're giving you a behind-the-scenes look into the writing process – straight from the desks (and decks, docks, beds, and favourite hiking trails) of our contributors! Check out the full series here.