An Interview with Anne Swannell
Anne Swannell's poem, "On Not Seeing Rocher Percé," shared third prize in the 2020 Nick Blatchford Occasional Verse Contest. The poem recounts three disappointing moments: a trip to the Gaspé peninsula to see the famous rock formation rising from the ocean, had it not been hidden by fog the one day they were there; a trip to Versailles, only to discover that "every mirror in The Sun King's Hall/ had been taken for renovation—(We were not, as we'd imagined, multiplied)"; and a venture into Gormley's Fog Box in London's Hayward Gallery ("we thought it would be fun—a lark") which was, instead, disorienting and unnerving.
The episodes seem, at first, disconnected but are instead tightly structured, a set of expectations and reversals, like an echo and a response. Or—a more comically apt metaphor—like smoke and mirrors. These three disappointing excursions are framed by the words "Expectations." and "Absences." at the start and "a sound     and a silence" at the end.  "One shackles us, one sets us free," we're told. The listeners feel both bound to one another and free to let imagination take flight.
Swannell is a West Coast poet, visual artist, and set designer. I asked her how these occupations resonate. 
"For me," she said, "poems always begin with the visual, with something I've seen…[that's] the artist in me, I suppose. When we came to visit the huge rock out in the ocean, it was totally obscured by fog so—though I couldn't actually see it—I saw it in my mind's eye. One fog simply conjured another. The last line, "one shackles us, one sets us free," insisted on being there, though I rewrote it several times. Eventually, I decided to shut up my editor and let the line be."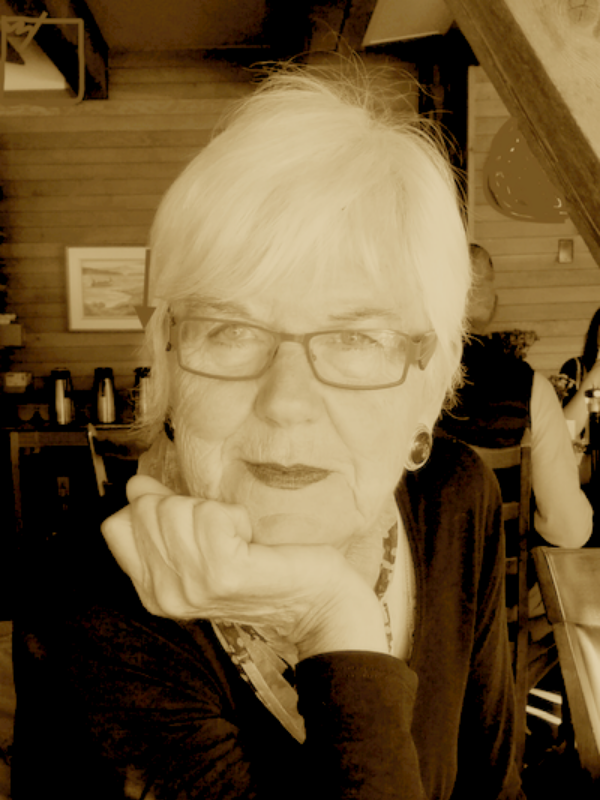 While we were on the subject of the imagination, I asked, "What is the poem that made you want to become a poet?" She responded with this early memory:
I was four years old when I first heard Browning's "Home Thoughts from Abroad." We were living in Essex, northeast of London. It was 1944: my father was away. My mother had two other children, younger than me: she was frightened because of the V2 rockets (buzz bombs), and lonely, and I suppose reading poetry in the light of a hurricane lamp to a little girl who was pleased to be allowed to stay up and have Mum all to herself was some small comfort. I could clearly picture the "blossomed pear tree in the hedge" that leaned to the field and scattered on the clover "blossoms and dewdrops—at the bent spray's edge" because we had one too! I had heard our own "wise thrush" sing each song twice over, "lest you think he never could recapture/that first fine careless rapture." I certainly didn't think of becoming a poet then, but hearing those words gave me an appreciation for what language could say—and do.
I like that addendum, the conviction that poetry is a force in the world, that it can comfort the listener in hard times or set before the mind's eye things that are absent or hidden. Also, that an occasion is what we (poet and reader) make of it.