You are trudging the last few hundred meters to work. The sidewalk ends here, as the area is solely industrial and everybody else drives. You pick your way through the lowest piles of snow, hoping it won't creep in and soak your socks. 
The shop door is heavy per usual. The smell of inert gas wafts all over you as you pull the door open. In fifteen minutes the inert gas smell will be conjoined by noises coming from every single machine in the shop, and some more inert gas.
The ball of your foot hurts as you change into your steeltoe. Ten more months, you say to yourself, just ten more months.
The bell goes off and you join the guys, grabbing a pair of ear plugs and getting back to your workbench. You are halfway through a chassis order. Twenty-two more and you can move on to something else. 
You can't get the vise grip to close, so you lift your right arm and shake off the welding gloves that are too big for your hands. Way better. The vise grip holds a chassis you have just welded up firmly in place. You lift the whip to touch up one last spot, shake off both gloves, and go in with a grinder to finish the surface. Metal dust isn't visible as it spins out into the air, but once you step back from the workbench, you can see the top part of your blue jeans are pitch black. You frown, that'll be hard to clean. But that comes with the job, and the job is good. 
The lead hand taps you on the shoulder, you put down the grinder and turn to him. "Forgot to tell ya," he says, "The blue labeled Tungsten does work better, but it could cause cancer. So, you know, wash your hands after you grind it, and don't breathe it in." You nod and get back to work, making a mental note to bring your respirator, easy. 
In a shop, your body is always extended by a tool, a wrench, a grinder, a milling machine, a forklift, a saw. When your body is not extended by a tool, you are on your way, walking to the next tool. The inner sides of your thighs brush against each other, chafing the inner lining in your jeans, wearing it away more quickly than you want it to. 
The chafing bothers you particularly when you get sweaty. Sweat glands go awry when you work hard, but they also run amok when unwanted attention floats closer.  
You see J tap another man on the shoulder when he needs a chisel. Later, you feel J's hand on your waist, pulling you aside, saying he needs to grab a grinder.  
Your breath quickens while trying to unload the 100th metal frame out of the mill, only to turn around to see the new guy who's been staring at you is still there. You are bothered to say the least, and want to ask him what he needs, but he beats you to speaking: "Why aren't you wet yet?" he asks, ambiguously referring to the coolant.
You clock out and a kind coworker offers a ride home. But before you can start telling him your address, another man wearing the company uniform, who you've never seen before, specifies your neighborhood for you. 
You decide to bus home.   
You can get about two wears out of a pair of jeans during a workweek before the dust and grease really starts bothering you and getting on your nerves. 
You use your nails to massage the dust out of your hair nightly, and let the washing machine massage the debris out of your jeans weekly. Unlike your hair, which stays dark brown, your blue jeans don't return to their original glory. Dark grease at best recedes to a grey patch, and a border forms where you lean your body up against the workbench. The chafed inner lining gets a little paler, notifying you of the days it has left. It's work, but it's trivial. It's good.  
So you do laundry, check the chafed lining, go back to work where you are covered by grease and dust. You manage.  
You do laundry, check the chafed lining, go back to grease and dust. 
Laundry, chafed lining, grease, and dust. 
Laundry, lining, grease, and dust. 
Laundry, lining, grease, dust. 
Weeks pass, then months. The source of your frustration does not mutate, it plateaus as your life ticks away. But the frustration festers, it multiplies. 
It's good. Isn't it good?

Cover image created by Zehra Nawab. Illustrated portrait by Sam Trieu.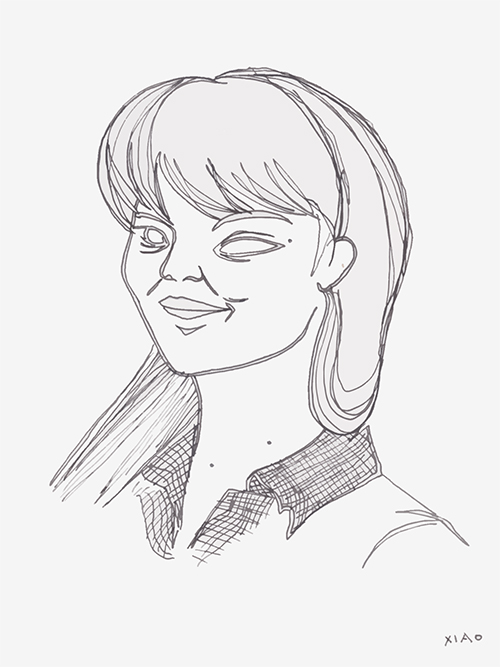 Xiao is born and raised in Urumqi, China. She arrived in Victoria, Canada to study art history in 2012, moved to Guelph to make more sculptures in 2017, then floated to Waterloo in 2019 as a welder and machinist. She spends most of the time learning and reading things that helps her understand what does it mean to be a person. 
This story was produced in
The X Page:
A Storytelling Workshop
with generous support from: