"True Detective": An Interview With Elana Wolff
Often, when people ask about the winners of our Edna Staebler Personal Essay Contest, I describe the first-place essays as a gift. I say this less because our eclectic judges see the winners as stand-outs and more because of what such works embody—a voice, a drive, an excursion to a place we think we know. Or an introduction to a place apart, a world that few have savoured. Such was the case with our 2015 winner, "Paging Kafka's Elegist," by Elana Wolff, which appeared in TNQ #136: Do You Know Who I Am?

The selection of Wolff's essay came on the heels of lively rounds of reading and re-reading, followed by a heart-stopping process of elimination. As with all TNQ contests, the essays were judged blind. No judge knew the identities of submitting authors. Judging blind allows us to attend to what's on the page, rather than be swayed by sentiment (the wish to reward familiar authors). Judging blind is freeing to an enterprise like TNQ, which is built on relationships—new and old, emerging and long-standing. The freedom to be surprised is the freedom to discover. And discovery, it turns out, is the genius of Elana Wolff. Read why, in my conversation with her, conducted in the fall of 2015.
—Susan Scott
Once our judges choose the winning essay, we immediately want to know the backstory—the essayist's journey, how and why her ideas took the shape they did. Tell us how this piece began, why or how the complex story that informs this work assumed the shape of an essay rather than, say, that of a suite of poems.
The essay started percolating in January of 2015, as a continuation of the Kafka-Langer project and the quest for "Kafka's Elegist" Georg Mordechai Langer. My husband David (I'm sticking to the pseudonym here) and I were again visiting in Tel Aviv, staying with cousins. We had the address of the apartment where Langer had lived the last years of his life—till his death in March, 1943. No. 8 Halperin. I'd found Halperin Street on Google Maps. It's a short street close to the hotel strip on the beach, about a ten-minute walk from our cousins' apartment. The Google Earth view shows No. 8 to be a newer apartment—not a crumbling vintage edifice like most of the others on the street. We were up early the day after we arrived. Of course the first thing I wanted to do was walk over to Halperin. I was disappointed to see the charmless 1990s-looking block that is No. 8. I photographed it anyway, along with some of the original buildings on the street, as part of my ongoing documentation.
While in Israel I received an email from our publisher announcing that our two-in-one flip-side book, launched in the fall of 2014, was scheduled for a second printing. We were thrilled. There were corrections to be made, and I briefly considered rewriting my Introduction, then decided against it. But there was more to say—new things, reflections, and I wanted to tell the quasi-comical story of the visits to Langer's grave at the Nachalat Yitzchak Cemetery. I felt Langer tapping at my back, as it were, asking me to write.
Why an essay, as opposed to poetry or fiction? I'm looking at the lives and work of real people, seeking to assemble a true picture of what was and what happened from pieces of extant yet disparate, sometimes obscured, writing. A poem, even a suite of poems, could not contain the investigative threads. And investigation is not the work of poetry, nor is it the work of fiction. Fiction is fabrication. It describes imaginary events and people. My focus here is real people and "true detective" work.
Actually, though, a number of readers have suggested that I write a film-script, and elaborate in the gaps. One reader even envisioned a cast of actors: Rupert Friend (of Homeland fame) as Kafka. Dan Stevens (the Matthew Crawley character in Downton Abbey) with a beard, as Langer. Tom Cruise in the role of David (my husband got a kick out of that), and either Julia Roberts or Catriona Balfe (heroine in the Outlander series) as me—mostly because Roberts and Balfe are tall women, as am I, and Tom Cruise, like David, is not as tall. It's silliness. But you have to laugh.
How did you come to writing in general and to the personal essay in particular? What attracts you to the form? Are there essayists whom you admire, look to for guidance, or for inspiration?
I've been a word-person since early childhood, writing tales and plays almost from the time I could read. Not long ago I came across an assignment from grade two that my mother had packed away in a trunk. I write in thin neat upright letters that I want to be an artist and a teacher when I grow up. Children often have a clear image of self and mission—before they get worn by the world and have to retrieve themselves in later phases. I never lost my interest in language and tongues growing up, but life led me on a circuitous route and I didn't take up writing creative non-fiction till quite recently—by way of poetry and art.
I'm attracted to the critical aspect of the essay—the working-out of ideas and beliefs, the clear  presentation of compelling subjects. There are so many fine examples of essay-writing. Today  I'll include on my short list: essays of Anne Carson, Walter Benjamin, Clive James, David Foster Wallace, Orhan Pamuk, Roberto Bolaño, Owen Barfield, Wallace Stevens. Charles Simic's three collections: Orphan Factory, The Unemployed Fortune-Teller, and Wonderful Words, Silent Truths have a permanently prominent spot on my shelf, as does Louise Glück's Proofs and Theories. Glück's spare, elegant prose is as matchless as her poetry, and her insights on courage, sincerity, and "the unsaid" have been beacons for me.
On a shelf of its own stands the writing of W.G. Sebald, works that straddle the boundary between fact and fiction: Vertigo, The Emigrants, The Rings of Saturn, A Place in the Country, On the Natural History of Destruction. Sebald himself called his writing "documentary fiction" and "prose narrative." It also reads as memoir, history, travelogue, and literary tribute. His main themes are memory, destruction, the uncanny, synchronicity. His writing is responsible, restrained. Chaste. I love it. I recently read the whole of Vertigo aloud to my mother during a road trip. (She was driving, I was in the passenger seat.) When I finished, I began again.
What drew you to The New Quarterly as a potential home for the Langer essay?
I started writing the essay soon after returning from Israel in January. I titled it "Paging Kafka's Elegist" from the start—wrote and revised, wrote and revised for about two weeks straight. My sleep was interrupted and I knew I couldn't keep up the obsessive pace for long. When I finished, I read the piece aloud to my husband. He laughed at the parts about the cemetery custodian.
Soon after, I received an email announcing The New Quarterly's upcoming contests, among them The Edna Staebler Personal Essay Contest. I'd just completed the essay and hadn't thought about where I might submit it. I perused the Edna Staebler Contest guidelines: the essay could be of any length. That worked for me, as my piece is quite long—about 7,000 words. The judging would be blind and any identifying names had to be changed. I could do that. I went back to the work, made the adjustments, and posted a hard copy on March 18th.
A week later I received an email saying that my submission had been received and that I should submit an electronic copy as well. I checked the essay again, found and corrected a typo, and submitted an e-copy on March 25, 2015. A little shiver went through me as I registered the date. On March 25, 1915—exactly 100 years earlier—Franz Kafka met and first mentioned in his diary Georg Langer: "the western Jew who assimilated to the Hasidim."
Now that "Paging Kafka's Elegist" is a prize-winning essay, has your relationship to it changed in any way? I'm interested in the enduring power of a work—not only how or why it resonates with readers but how it continues to inform the writer. Your work has made its mark on me, as on our many readers. What is its hold on your imagination?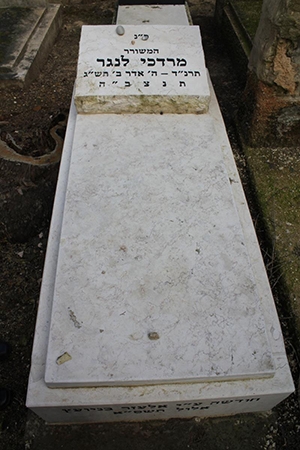 I've spoken in the essay and elsewhere of Kafka's enduring hold on me. I also wrote three other prose pieces on Kafka this past year. The first one, titled "Kafka's Death House," traces a trip my husband and I made to the town of Kierling on the northern outskirts of Vienna where Kafka spent the last months of his life at the Hoffmann Sanatorium—now an apartment house containing a Kafka Memorial Room. That piece is published in the Tel Aviv-based site, The Writer's Drawer, and features photos and a slide-show beautifully presented by editor Beryl Belsky.
I also wrote a short piece titled "Trying to Find the Man in the Hat" for the UK-based online project Placing the Author: Literary Tourism in the Long Nineteenth Century. In this piece I root Kafka in the "Long Nineteenth Century," though he's also one of the 20th century's darkest brightest lights. This piece features a photo of me in Prague standing beside Czech sculptor Jaroslav Róna's huge bronze statue of an empty suit, the Kafka character riding on its shoulders. The statue alludes to the early story "Description of a Struggle" in which Kafka sets down themes he would revisit in his later fiction and "private" writing.
And I contributed to Brick Books's 40th Anniversary Celebration of Canadian Poetry a long article on two of Anne Carson's Kafka-focused Short Talks. I'm not finished with Kafka, that's for sure. Not with Langer either.
Edna Staebler, our intrepid benefactor after whom the Personal Essay Contest was named, was determined to see Canadian writers supported, body and soul. Can we tell Edna's ghost what plans, if any, you have for your prize money?
We can tell Edna's ghost that the prize money is going toward a trip to Prague this November. David and I will be staying in the building that housed the Worker's Accident Insurance Institute, where Kafka served for most his working life as an insurance adjuster. The building is now a hotel, and we've booked the room that was once Kafka's office. We'll revisit the places of Kafka's birth and schooling, the various residences, and this time also his grave in the New Jewish Cemetery in the suburb of Prague-Žižkov—close to where Kafka and Langer first met on a Sabbath afternoon.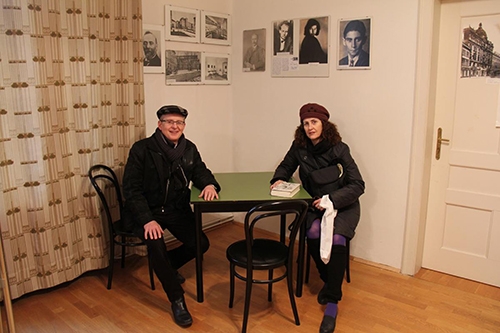 We're also planning a side-trip to the village of Siřem (formerly Zürau) west of the capital— where Kafka stayed with his youngest sister Ottla in the fall of 1917. Ottla was tending to their brother-in-law's farm and to her belovèd brother who had just been diagnosed with tuberculosis. From Siřem we'll proceed west to the spa-town of Mariánské Lázne, formerly Marienbad, where in 1916 Kafka spent ten days at the Schloss Balmoral Hotel with his fiancée Félice Bauer. Langer happened to be in Marienbad at the same time, and the two friends met up for long evening walks to the Ambrosius Spring. The Schloss Balmoral, it seems, is no longer extant—at least I haven't been able to find it on the Internet. We'll inquire in Prague and make our side-trip arrangements there. The prize money is going toward new research, hopefully more writing.
Thank you, Edna, for your support. Thank you also to the judges for recognizing this work. I'm deeply grateful.
Photos provided by Elana Wolff