Writing Spaces: K.D. Miller
This week in Writing Spaces, we take a look at the working space of K.D. Miller, author of "The Death of Me" and Four Poems in Issue #147.
Though I have trouble wrapping my science-challenged head around this kind of thing, I would have to say that my writing space is four-dimensional. That is, it has as much to do with time as with place.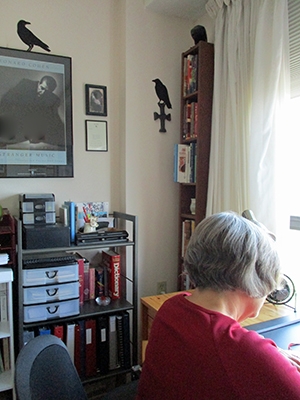 When I was working, there were all kinds of practical reasons for adopting a morning writing practice. Now that I'm retired, I still head to my desk much earlier than I need to. It's not about need any more. I'm not sure it ever was. The decision to write first thing in the morning was made for me decades ago when I read Mavis Gallant's "The Ice Wagon Going Down the Street." In that story, a young woman who grew up in a large family confesses that she always used to rise before dawn in order to have some privacy: "You get up early in the morning in the summer and it's you, you, once in your life alone in the universe. You think you know everything that can happen. Nothing is ever like that again."
We're giving you a behind-the-scenes look into the writing process – straight from the desks (and decks, docks, beds, and favourite hiking trails) of our contributors! Check out the full series here.