Finding the Form with Stephanie Harrington
"I think "Blackberries" divided people, which in retrospect, isn't a bad place to start. At least I provoked something in readers."
"Blackberries" started as an assignment for a creative nonfiction class at the University of Victoria. Our professor, David Leach, asked us to write a "Modern Love" essay like those published in the long-running New York Times column. A nearly 10-year relationship with my partner had ended months earlier. I was grieving the loss, but I wanted "Blackberries" to have a bigger scope than that relationship. I decided to incorporate other storylines and characters, including my family, into the work. Much of what we learn about relationships comes from the environment we grow up in, for better or worse. I tried not to impose anything on the material I included. I simply let my mind wander.
I loved the poem Meditation at Lagunitas by Robert Hass, and decided to write a call and response piece to the poem. I originally included stanzas from the poem in my essay and wound my four storylines around Hass's work. My classmates' responses to the early draft were interesting. I think "Blackberries" divided people, which in retrospect, isn't a bad place to start. At least I provoked something in readers.
"You gain a lot of insight into other people's lives as a reporter, but I realized the real work I had to do involved looking inward."
I also wanted to experiment with form, which I hadn't done much before. At the time, I loved lyric and braided essays. I'd worked as a journalist for several years prior to this and felt restricted by my training. You gain a lot of insight into other people's lives as a reporter, but I realized the real work I had to do involved looking inward. So much had happened in my life, and by my early 30s, I wanted to start exploring it, to make sense of things for myself, but also to connect with other people's experiences. Part of finding my voice as a writer meant swinging as far away from the objective reportorial style I had learned in journalism school and been practicing since my early twenties.
I put the essay away for a while. A friend of mine encouraged me to keep revising. Her faith in the piece kept me motivated. After several drafts, I shed one of the storylines, and gradually the essay began to have legs of its own. It didn't need Hass's stanzas anymore. I find structure the hardest part of writing—there are so many possibilities! Once I figured out the structure for "Blackberries," I felt confident it would work. How this essay came to be remains somewhat mysterious to me, to be honest. I can talk generally about the process, but the ideas, feelings and form came from somewhere I hadn't accessed before. It's a vulnerable, sad essay, an ode to a formative relationship in my life, as well as a meditation on relationships in general. I'm afraid every time I read "Blackberries" of what the material might bring up, but it also feels like a lifetime ago, a different version of myself that I have preserved in an imperfect and hopefully affecting way.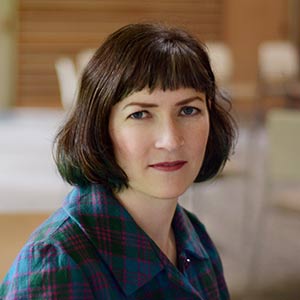 Stephanie Harrington holds an MFA in Creative Writing from the University of Victoria. In 2018, she was selected for the RBC Taylor Prize Emerging Writers Mentorship Program.