John Vardon's Writing Space
When I look through the dozens of other writing-space pieces, I am most impressed by, and slightly envious of, those writers fortunate enough to write from rooms overlooking gorgeous gardens or the shores of the "ramshackle sea," to use a phrase by Richard Outram quoted in the blog post of Luke Hathaway. My writing and reading space is much more mundane but I'm proud to say that it has one thing in common with a poet I admire, Susan J. Atkinson, from Ottawa, who writes that her writing day begins on the corner of her brown living-room couch. Like hers, my couch is brown (leather) and it allows me to look out the front window. And perhaps I should say the the "couch" isn't really a couch but "a love-seat commandeered as an armchair," to use my wife's words. Unlike the more dignified-looking piece of furniture on which Susan so photogenically sits, my couch is a more cluttered and untidy spot, often covered in newspapers, magazines, notebooks and novels, the foam in one of the love-seat pads compressed into a permanent depression contoured to my body. My wife, only half jokingly says she is waiting for me to get up so she can have it reupholstered.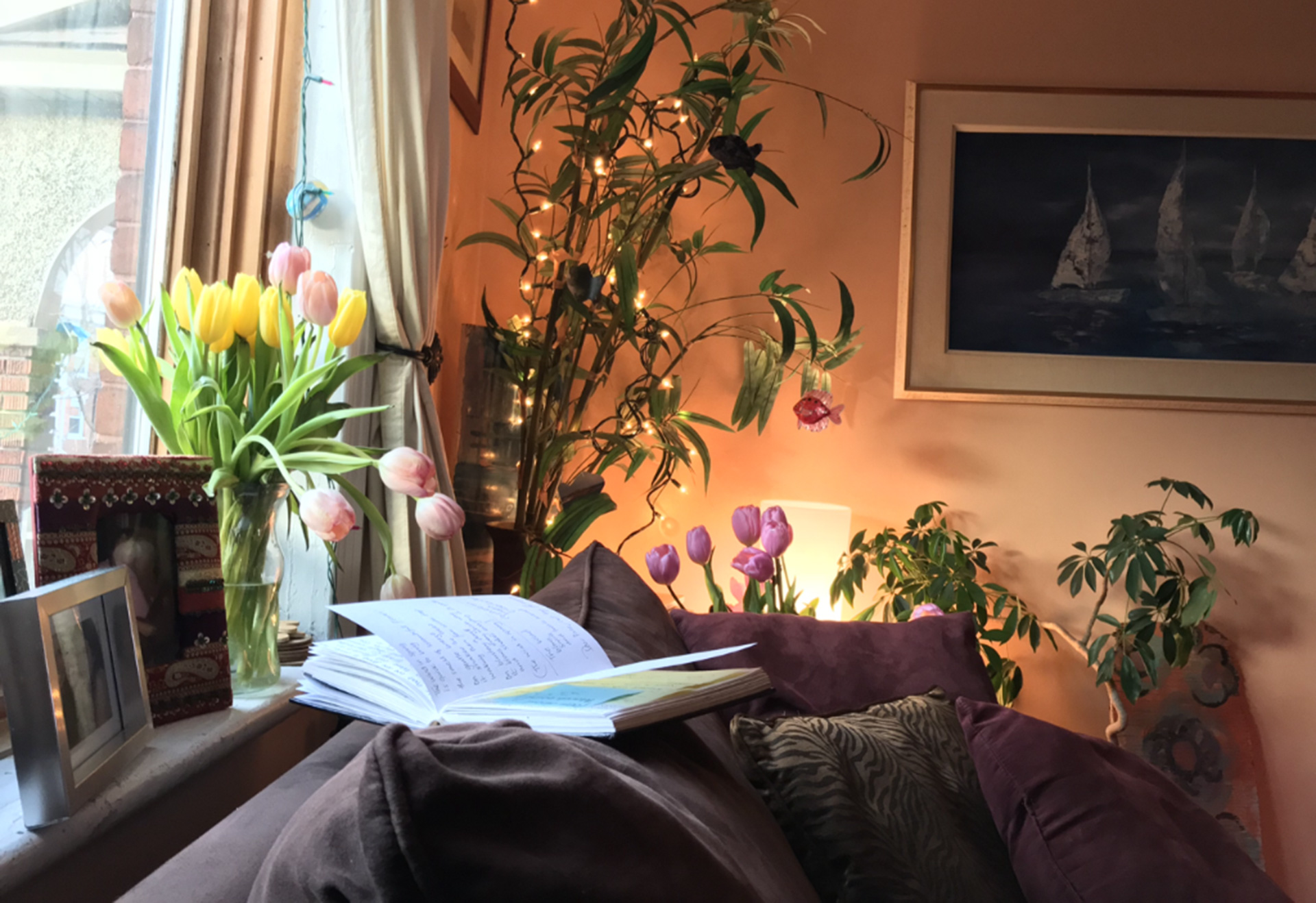 From this vantage point I can see our low, glass-fronted bookshelves beneath the window containing art books and reference works along with now ancient VHS movie tapes and CDs. On top are ceramic bowls, various glass-art-objects and framed photos of family members. The window allows me to see the limbs and branches of the large red maple tree on our front lawn where squirrels and sparrows squabble and where, a few months back, a red-tailed hawk perched one afternoon, munching on a songbird whose feathers floated down to form an untidy pile in the driveway. The window is also at a height where I can see only the passing heads of tall delivery people, mail carriers, occasional Jehovah's witnesses (always in pairs, one silent and one non-stop talkative), various solicitors for charities both well-known and unheard of, plus various itinerant charlatans, one of whom said he needed to see copies of my hydro bill.
At one end of the couch is a standing lamp with one very bright bulb and another special reading bulb which mostly doesn't' work but which in poltergeist fashion turns itself unexpectedly on and then just as unexpectedly off. Beside the not really a couch are stacks of books, read and unread. (Shelf space in our house was filled long ago.) Also within reach is grocery bag to be filled with dull or disliked books or surprisingly discovered duplicates headed for thrift shops. There are also various writing aids like pencils, pens, and pads of paper because I still sometimes write in longhand.
I have never  been a creative writer, at least not a poet, novelist, or short-story writer. My only foray into fiction was a parody published in TNQ (under a pseudonym) only because editor Kim Jernigan had a good sense of humour.  Perhaps not surprisingly, most of my attempts at fiction when I was younger began with sentences Bulwer Lytton would have used to start his own contest  for the most atrocious opening lines to imagined novels. Curiously, the only literary contest I ever won  was Books in Canada's version of that same infamous competition, in this case for the worst first sentence in a Canadian novel. Mine began:
"As she watched her ex-husband's head roll woodenly down the stairs of her front porch, the indoor-outdoor carpet turning quietly crimson in the senseless sunlight of another heedless dawn, Jessica was seized by the realization, as sudden as crows startled from a garbage bin, that today would not be the best time to have her toilet repaired."
But I also do most of my reading in the same couch-potatoish location, whether it's the hundreds of poems submitted to TNQ each year or the many books that retirement has freed me to read, now recorded in my book journals, which I began about three years ago when I realized how thoroughly I had forgotten what some of these these books were about and even what they looked like. Fortunately, my summaries and assessments are usually enough to jog my memory of their merits or shortcomings. At the very least, this habit reminds me of how many books I read in a year on average, much fewer than some and far more than most, if the annual depressing statistics on reading are to be believed. I think I am now on pace with my late mother, who read about two books a week.
One of the constant comments I encountered as I read through TNQ's Writing Space archives is that these spots also facilitate thinking—reflection, contemplation, inner argumentation, writerly and non-writerly wool gathering, all of which are essential to the creative imagination and sustained sanity. Another thing I can see through the window is the weather, and today the snow is falling faintly through my universe, inducing a sense of peacefulness and calm, interrupted too soon by the loud buzz of my neighbour's snowblower, a sound James Joyce, quite thankfully, may never have heard.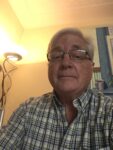 After about 35 years of writing, interviewing, and editing for TNQ,   John Vardon has had an article accepted for an upcoming issue of Canadian Notes and Queries.