Maybe the World is Ending: Interview with Alanna Marie Scott
Alanna Marie Scott was the winner of the 2013 Peter Hinchcliffe Fiction Award for her story "Maybe the World is Ending." The adjudicators were quickly drawn in by her distinctive turn of phrase. The story takes us on the adventures of a roving preacher and his unlikely protégé as they travel through the Maritimes spreading the good word. This quietly compelling story which explores the vagaries of faith and belief inspired a great discussion on the subject among the adjudicators. On the writing, however, we were on the same side of the debate: stellar work from an emerging writer to watch.
—Pamela Mulloy
Although this is a contemporary story there is a sense of it being a throwback to a time (and place) where old time revival groups led by charismatic preachers were not unusual. Was this something you intended?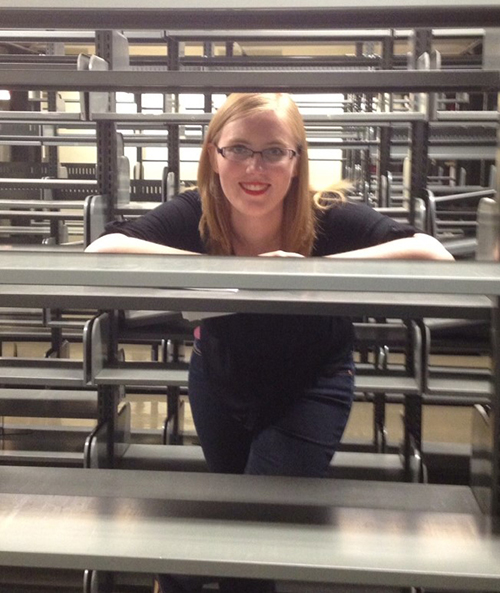 It was something that followed very naturally from the subject matter, and I was very aware of it while I was writing. I wanted Nuala and the conman to be divorced from the world, and their lives had to feel a step out of pace with everything around them.
I'm curious about the setting. I come from the Maritimes so I understand the appeal of isolated communities and a dramatic coast. What made you choose this location for your story?
The first image I had in mind when I started the story is the one that ended up at the ending—these two people in a boat together. So, water drove a lot of the decisions around setting. I've only been out to the Maritimes once when I was a kid, but I remember being really awed by the coast there, in a way that the coast in BC never managed. Part of that might be how hardcore the Atlantic Ocean is, but also just how exposed the Maritime provinces are to the ocean, and how integral that ocean and its particular character is to the region's identity. The isolated communities were a big part of it as well, and the history, but what ended up being really important when the story got underway was the weather.
The contest adjudicators had much discussion about Nuala—the conversation along the lines of: Could she really be that innocent, that devoted? For some, the fact that she is "too much like a sprouting vine seeking a trellis" required their own leap of faith about her sincerity and her intentions. Can you speak to this?
When I sat down to write the story, I intended to write it from Nuala's perspective. It was a very different story, with her as a sort of lieutenant figure. However, I never ended up writing from her point of view, or that version of the story. The first thing I wrote was the opening question, and then it was immediately a different story and the two of them were different people.
Which is a roundabout way of saying that Nuala was a challenge. Her voice in the story is filtered through the conman, but I was always really concerned with her presence. The tension between how Nuala appears and how she behaves was always important. If she were more introverted and nervous, or if there were some discussed trauma in her life, or if she was just plain, I think her devotion would be easier to believe. As it is, I think, she's not any of these types. There's so much the conman doesn't know about her, and writing her was just playing with levels of uncertainty.
This is a preacher as a charlatan, yet why is he so intent on telling Nuala that "none of this is real?"
He draws an arbitrary, hypocritical distinction between stealing money and stealing lives, and an equally arbitrary distinction between people who deserve better and everyone else. Nuala's inability or unwillingness to see through him is troubling. He likes her.
Is the perception of the world as "dissolving" one the preacher believes, or is it a belief he is perpetuating to make sense of his work? There is much in this story about cynicism and belief—a theme that runs throughout the story.  Is this something you wanted to explore?
Apocalypses are really popular right now, and I think part of the appeal of telling apocalypse stories is deflecting sincere anxieties into something less real. The conman's business is, more or less, storytelling. So, certainly in that respect it was something I had in mind. I'm not religious, so issues of faith and belief are ones I can only navigate from the outside. I suppose cynicism and existential anxiety are more natural to me. The latter influenced the story the most. In very different ways and for very different reasons, Nuala and the conman are both anxious about the state of the world and the state of their souls. I just had fun playing those anxieties off each other and seeing how they changed and absorbed each other.
In thinking of Nuala, the preacher wondered which would be worse: worship or disillusionment. Does she believe in the Rapture or is this just a means of escaping her small town?
Nuala asks about salvation and her soul far too often for someone who doesn't believe in some kind of Rapture, whether or not it's the one the preacher is selling. But if you think the world's going to end and you've never been more than an hour away from home, taking a chance on an uncertain thing might be worth it for the opportunity to see something new.
Thanks for your insight on the story. And now a little about you. As an emerging writer can you comment on your work and what drew you to the Peter Hinchcliffe Fiction contest in the first place?
The Peter Hinchcliffe Fiction contest came to my attention primarily because of my general interest in The New Quarterly. It's a journal that I had read fairly frequently, and I found a lot of pieces that particularly appealed to me in content and style, so I had an interest in submitting to the magazine. I had just finished "Maybe the World is Ending" shortly before the deadline for the contest and I was pretty happy with the way the story had turned out, so I figured it was worth a shot.
As for what I'm working on now, in typical fashion I am working on too many things at once. I've got a couple dozen pieces of short fiction in some state or another, and I'm working on a novel about reluctant femme fatales and Hollywood gangsters, but I'm also in the final weeks of my degree in Masters of Library and Information Studies, so it's fairly hectic with all manner of projects at the moment.